Click Here for More Articles on OPERA - LOS ANGELES
BWW Review: THE PEARL FISHERS at Dorothy Chandler Pavilion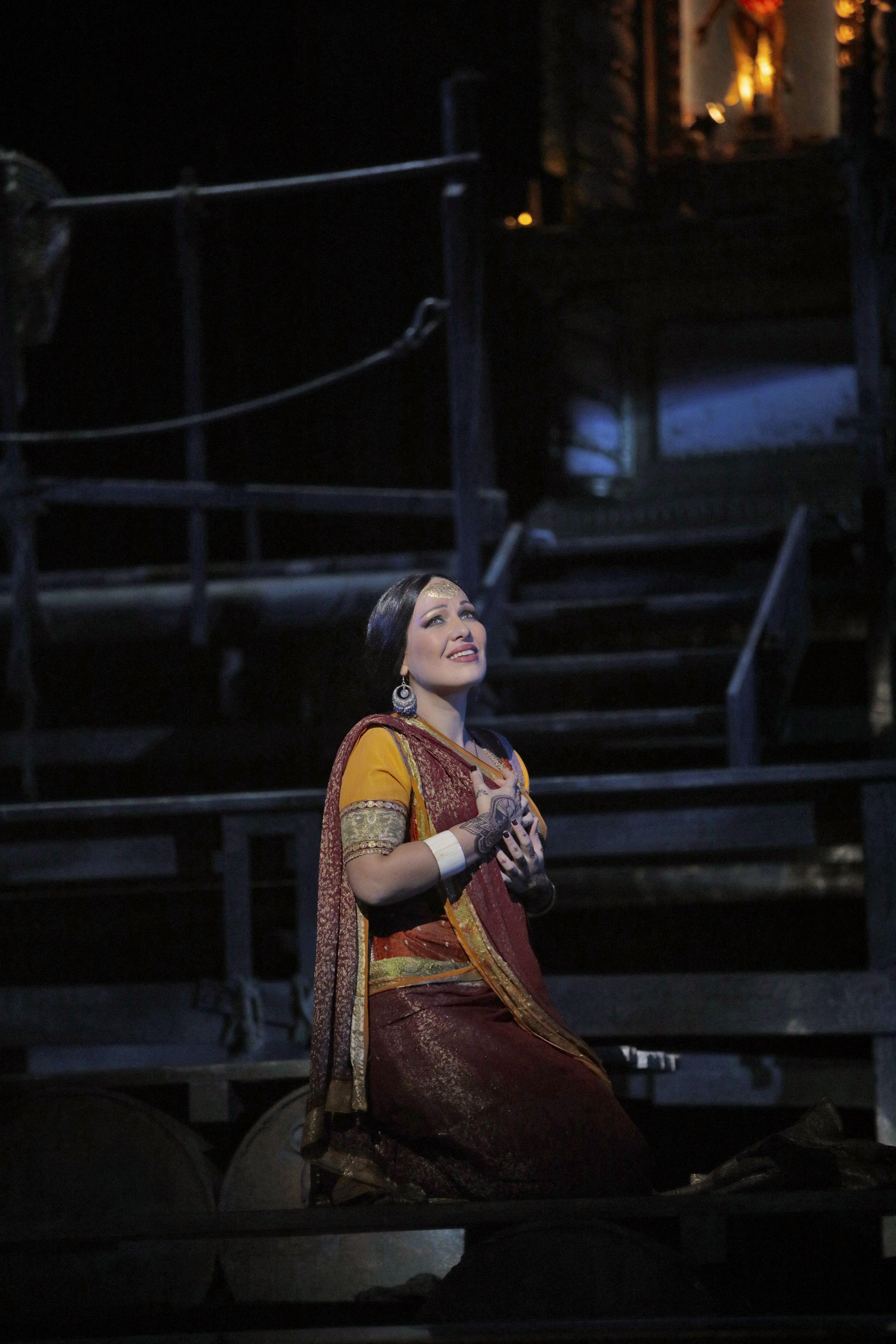 On October 7, 2017, Los Angeles Opera presented Georges Bizet's THE PEARL FISHERS starring sweet-voiced Mexican star tenor Javier Camarena as Nadir. Steel-voiced Mexican baritone Alfredo Daza, was Zurga, his rival for the hand of Leila, a beautiful priestess who had taken a vow of chastity.
Camarena and Daza sang the opera's most famous piece, the duet "Au fond du temple saint," ("Deep in the holy temple") with beautifully blended robust tones. At the same time, they gave the audience a real sense of the friendship between the two characters that was destroyed when they fell in love with the same woman, Leila.
Leila's superior in the temple is Nourabad, an evil-minded high priest who intends to burn both Nadir and Leila to death on a pyre as punishment for the sin of loving each other. Sung by Nicholas Brownlee, he was a frightening character whose sound and appearance will be remembered.
For her production of THE PEARL FISHERS, Penny Woolcock backed the action with multi-level platforms by Dick Bird along with colorful costumes, both modern and traditionally exotic by Kevin Pollard. Jen Schriever's atmospheric lighting helped integrate the work of the first scene's flying pearl divers and Projections 59's tsunami images into the production. First seen at English National Opera in 2010, this production was a major success there and at the Metropolitan Opera last year where it was transmitted around the world in HD.
Written in 1863, more than ten years before Bizet's most famous opera, CARMEN, THE PEARL FISHERS shows the composer's genius at the very beginning of his unfortunately short career. His enormous melodic gift was starting to be apparent, but at age 24 he was unable to attract a first class libretto. Thus, directors have had to invent ways of making this story end credibly every since. Hector Berlioz looked at the music from his own point of view. Writing in the JOURNAL DES DÉBATS he praised the music's originality and subtlety. Although a careful listener will hear what Bizet learned from Offenbach, Gounod, and from his idol of the time, Wagner, Bizet's own original musical gifts are heard throughout the score.
Because Camarena and Daza made their characters come to life, Nino Machaidze's veiled priestess became flesh and blood as well. Unfortunately, some of her singing in Act I was marred by an excess of vibrato that had not been heard in her previous appearances. She was, however, a vision of heavenly femininity in her brightly embroidered red chiffon costume and she sang her second and third act music, including the aria "Comme autrefois dans la nuit sombre," ("At other times in the dark of night") with silvery bell-like tones.
Like CARMEN and other late nineteenth century French operas, PEARL FISHERS has important, well-focused choral music. Members of Grant Gershon's chorus were the fisherman, hunters, artisans and homemakers of Ceylon who commented on various situations in many-layered harmony. The sopranos were particularly pleasing because they sang with excellent articulation and a plethora of overtones.
In a few weeks, Los Angeles Opera will celebrate Placido Domingo's fiftieth year of performing. When he appeared to begin conducting PEARL FISHERS, the applause was deafening. I doubt that any opera public has ever loved an artist more than LA loves Domingo. That was a match made Valhalla if not in heaven. Having sung Nadir on many occasions, Domingo gave a sensitive and lyrical rendition of the score that allowed the more delicate voices to be heard to best advantage. At the same time he maintained a forward thrusting pace and kept the orchestral sound clear and translucent.
THE PEARL FISHERS is a seaside fairy tale that can appeal to all ages and there were school age children in the appreciative audience on Saturday night. It was a fascinating three hours in the theater. LA Opera's performances of this enthralling work continue through October 28th. www.laopera.org
Photo of Nino Machaidze as Leila by Ken Howard.