Review: South Coast Repertory Revisits Classic Play OUR TOWN
Thornton Wilder's Pulitzer-Prize winning play gets a beautifully diverse revival that still resonates
Evan Lugo and Grace Morrison
Arguably one of the most ubiquitous American plays of the 20th Century, Thornton Wilder's Pulitzer Prize-winning 1938 three-act play OUR TOWN remains a classic work of theater that continues to be produced for stages around the world---often re-staged and (at times) re-worked for modern audiences that are either new to or are familiar with the well-known material.
To my own surprise, I myself have never seen a full mounting of the play until now---here in a superb new production at South Coast Repertory in Costa Mesa, which continues performances on their main stage through June 4, 2022. Before this production, my only prior exposure to OUR TOWN's quaint presentation of small-town life and the kind of community it fosters was seeing snippets of the play's 1940 film adaptation that included an ending that differed a bit from what I saw on stage.
For this new regional revival, Director Beth Lopes employs a wonderfully diverse cast to pay honorable reverence to Wilder's original narrative and thematic machinations, as it re-stages its seemingly ordinary but ultimately impactful vignettes of everyday life that occur within a 13-year span in the fictional town of Grover's Corners, New Hampshire, beginning in May of 1901.
OUR TOWN depicts a turn-of-the-century bygone era that feels so entirely foreign from the busy, fast-paced lives we live today. In this tiny hamlet, things move much slower and with less urgency---a quality of small-town life that is reiterated in the play's overall theme of cherishing our time on this Earth... including all the tiny and seemingly mundane things that make up our daily lives while we are alive.
In its own way, the play posits that though life may seem humble and simplistic here in Grover's Corners, it's also the kind of environment that allows life's little moments---and our many interactions with others---to become more important and fulfilling with the passage of time. In its purposeful simplicity and its broadly-painted characters, the play is offered as a universal stand-in for idyllic small town life in America---one that can safely shelter your lifespan from the cradle to the grave.
So what do we observe? Here, highfalutin' big-city culture may be absent, but citizens don't feel it necessary to lock their doors at night, and fresh milk is delivered daily (!) with a friendly smile by the local farmer. Any issues like equality, temperance, and social/economic justice are, yes, something people are aware of, but are often swept under the rug to keep things generally less problematic (not a great quality, actually, but I digress).
Hal Landon Jr.
Perhaps the juiciest bit of PG-13 gossip circulating around town is the supposed alcoholism of the local choir director---a problem that's talked about in hushed, judgmental whispers, but is also mostly glossed over, even though its pointed inclusion feels much more important to the overall theme than it is actually treated.
And, of course, most important of all is that here in Grover's Corners, a lovely, popular young girl---with the passage of, yep, time---can eventually fall in love, marry, and start a family with the nice cute boy-next-door.
On the surface, the play---by today's standards---might seem lazy and plot-less, and, as a consequence, is wholly reliant on a folksy narrator, here dubbed the "stage manager," to fill in many of the narrative blanks and to expound further on who is who, and what is what, directly to the audience.
SCR veteran actor Hal Landon Jr., plays this role with instantly likable, friendly ease, orating with knowledgeable authority using stage directions, detailed exposition, and lengthy monologues that wax poetic on the town's local landmarks and any of the present (and future) events unfolding. As the "spokesperson" for the play, he is our man-splaining all-seeing, all-knowing tour guide, and Landon Jr.'s pleasant, everyman performance is as impressive as it is informative.
The presence of such fourth wall-breaking entities make OUR TOWN an example of a meta-theatrical play---essentially a self-aware play-within-a-play---in which the fictional characters know they are in a play being played by actors, and the audience in attendance, often addressed directly, is also in on the ruse. To that extent, sets, scenery, and props are implied, mimed, and mimicked as if they exist in the spaces the actors occupy. Minimal objects like chairs, tables, door frames, and ladders are used merely for suggestive means.
In many instances, Landon Jr.'s "stage manager" summons actors to take their places, and then later dismisses them after their vignettes finish, very matter-of-factly thanking them for their service. On many occasions, he even inserts himself as one of the play's actors to portray a minor character here and there, as needed. And in other times, the "stage manager" also introduces a subject-matter expert to explain historical, geographical, or just general facts about the town in an almost TED Talk-like lecture.
It's certainly quite atypical, and utilizing such theatrical machinations helps OUR TOWN become a visual and narrative universal stand-in for other small towns and the communities that populate them.
But with such a minimalist, bare-bones-feeling production in our midst, it can be understandable that modern theatergoers of today---expecting the usual sustained high drama, anxiety-inducing conflict, or a rewarding sense of forward momentum---may find OUR TOWN oddly antiquated or even frustratingly choppy in its strange, self-aware structure.
But some---myself included---might find the whole enterprise somewhat intriguing in its stubborn adherence to this "exposed" structure, especially as one begins to dig deeper to reveal the play's overarching theme that places importance on the cherishing of our everyday moments.
Spread out over three acts (the play includes two intermissions) that mark the passage of time, OUR TOWN somewhat focuses on a pair of neighboring households, paying close(r) attention to the relationship that forms between sassy Emily Webb (Grace Morrison) and her future husband, nice guy next door George Gibbs (Evan Lugo).
Act I finds the pair first as teenagers with facing adjacent windows, while Act II---occurring three years later---shows the now betrothed couple's preparations for their impending nuptials. The third Act flashes forward nine years later, shifting moods as it depicts the afterlife of several town residents---a stark reminder that all mortal beings must come to an end sooner or later.
Throughout the play, various townsfolk---including Emily's parents (Michael Manuel and Elyse Mirto) and George's parents (Corey Jones and Kwana Martinez) and their respective positions in the town---are also featured as part of the greater picture that depicts everyday life in Grover's Corners. But with no real character development allowed in many of these characters, the audience is left to see them as mere spirits that hover about in the periphery, who may or may not resemble similar people we may know in our own lives (and, in the play's darker third act, many of them literally are ghosts).
Simple yet deeply meaningful in the larger sense, OUR TOWN is surprisingly resonating even today, despite its squarely antiquated depiction of what Thornton deems makes everyday life important. Sure, many of its promoted outdated ideals---of keeping bigger dreams at bay in favor of settling/accepting a simple, ordinary life; of always striving to gain a life as part of a traditional, heteronormative couple (people were "made to live two-by-two")---are romantic notions from a bygone era that doesn't quite mesh with 21st Century life. But the play's central conceit---that every moment of life should be seen and treated as precious---is still a universal lesson that can apply to anyone even in today's modern, cynical, and very divided times.
Evan Lugo and Corey Jones
SCR's production---true to the play's original intent---succeeds in expressing this sentiment, buoyed by a terrific ensemble cast and high-caliber production values that is present even with the play's minimalist requirements. Kathryn Wilson's lovely period costumes help fill in the visual gaps left vacant by the play's minimal use of sets, backgrounds, and props, while Karyn D. Lawrence's lighting design help create moments, spaces, and moods for each vignette to find its story.
And breaking from the play's tradition of not having actual sets and props, the somber third act of SCR's production features (SPOILER!) a surprise visual reveal designed by scenic designer Efren Delgadillo Jr. that gives the latter act an extra layer of emotional pathos for the town's temporary visitor, whose past is brought to fruition as a vivid reminder that everything---even the smallest and minuscule of details---is there to be memorialized and savored... all the good, the bad, and the mundane in between.
The assembled acting company---a beautifully diverse collective that resembles what America looks like today---deserves enormous praise, including Lugo and Morrison as sweethearts-turned-married couple George and Emily, respectively. Martinez as George's mother and Mirto as Emily's mother share a lovely dichotomy that places the roles of mothers on a deserved pedestal. Jones and Manuel also provide strong turns as the patriarchs of their respective families. brad culver also has brief stand-out moments as Mr. Stimson, the local choir director with an alcohol problem, as does Paul Culos as Mr. Newsome.
But most noteworthy of all is Landon Jr. whose performance as the amiable "stage manager" is marked with a kind, folksy cadence that eloquently delivers his multiple, very wordy monologues that is tinged with the wistfulness and introspection of a caring guardian worried for the state of his children in an uneasy changing world. Like a wise grandfather regaling the audience with tales of another time, there's an embracing comfort in hearing him speak about the lives that have passed through this small, ordinary town.
This kind of deep inward contemplation feels awfully familiar as I took in OUR TOWN with fresh eyes. During the start of the pandemic (that is sadly still ongoing), many of us---locked indoors to quarantine by ourselves---were given a lengthy stretch of time to stew in our own thoughts and feelings, and to re-examine what's important. Alone and isolated from others, this forced solitude gave way to epiphanies and other personal realizations about our lives thus far. It's this luxury of time and introspection that gave rise to people reevaluating what is truly important in their lives.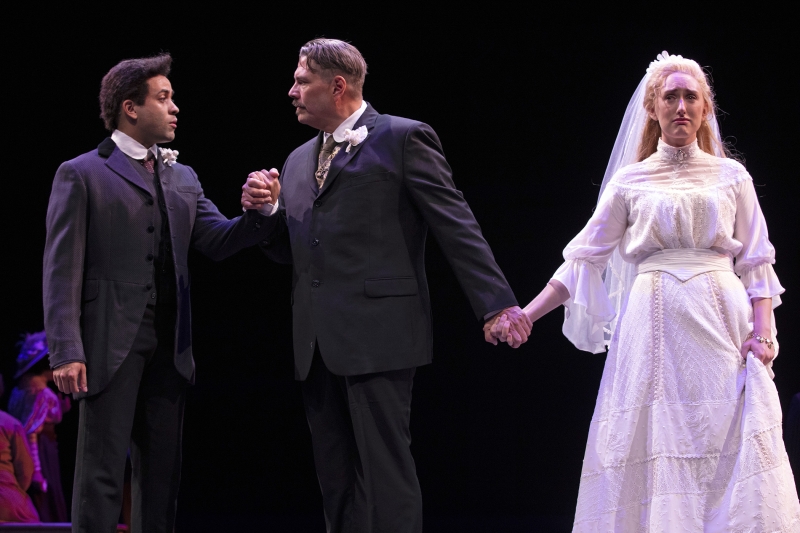 Evan Lugo, Michael Manuel, and Grace Morrison
OUR TOWN triggers that same thought process, but in a broader, more general sense. In simpler terms, the play reminds all to never dismiss the importance of even the little things in life---because they too have value.
* Follow this reviewer on Twitter: @cre8iveMLQ *
-----
Photos by Matt Gush for South Coast Repertory.
Performances of Thornton Wilder's OUR TOWN, directed by Beth Lopes continue at South Coast Repertory through June 4, 2022. Tickets can be purchased online at www.scr.org, by phone at (714) 708-5555 or by visiting the box office at 655 Town Center Drive in Costa Mesa.
***