BWW Review: Snaps! Cupcake Theater Stages Elle Woods' Adventure to Law School in LEGALLY BLONDE THE MUSICAL!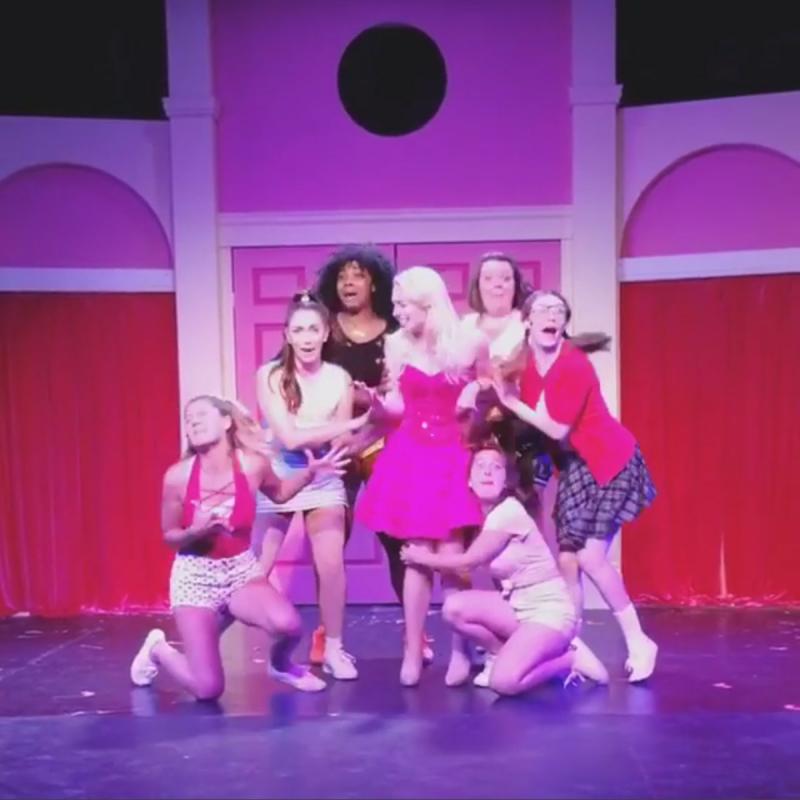 (Pre-Review Confession: On my first day of law school, I blared the Original Broadway Cast Recording of Legally Blonde the Musical, loud and proud, as I sat stuck in traffic on the 22 Freeway. This show has long been a guilty pleasure of mine. As an Irishman who majored in Theatre Arts before attending law school, it would actually be more ridiculous of me not to be obsessed with this wildly fun musical. Needless to say, this show has a very special place in my heart, and I love everything about it.)
North Hollywood's emerging Cupcake Theater knows how to play me like a sucker. Between Little Shop of Horrors, Hairspray, American Idiot, and now Legally Blonde the Musical, Cupcake's inaugural season in their new Magnolia Boulevard home has managed to hit four of my top-five guilty pleasure musicals. Not only does this theatre have an impeccable taste in programming, they also always manage to wildly exceed my expectations with their larger than life productions. Legally Blonde was no different.
The story needs no introduction. Elle Woods (Arri Leigh), the fashionably blonde and pretty-in-pink president of UCLA's Delta Nu sorority, is dumped by her Harvard Law School bound boyfriend, Warner Huntington III (Daniel Floren), because Warner doesn't think she is "serious" enough. He claims that Elle is a "Marilyn Monroe", and he needs a "Jackie Kennedy" if he ever hopes to become a US Senator. Elle decides to follow Warner to law school to prove that she has both beauty and brains. She crams for the LSAT, scores an impressive 175, and applies to Harvard. Her admissions "essay" is a well-choreographed dance number, performed by UCLA's Spirit Squad, after they fly from Los Angeles to Massachusetts and barge in uninvited into Harvard's office of admissions. Her ballsy tactic works, and Elle is admitted into Warner's same track at Harvard Law School...
How Was It?
Short Answer: Cupcake's high-energy cast definitely has the potential to do this amazing show justice. I challenge you to attend any production of Legally Blonde the Musical without having a bunch of songs get stuck in your head. The upbeat music is catchy; the well-crafted story is moving; and, it's just a fun musical that literally anybody can enjoy. Combine the excellence of the musical with Cupcake's emerging reputation for dazzling North Hollywood with Broadway caliber entertainment with just about everything they touch, and I suspect this production of Legally Blonde will be a show not to be missed.
That being said, Cupcake's opening night saw quite a few technical hiccups (Okay, I'm being nice here --"quite a few" and "hiccups" are probably the understatements of the year. A performer's entire private backstage conversation was captured on a hot mic and piped into the house during the show for a good twenty seconds before it was muted.). However, most the glitches opening night saw are easily correctable and will almost certainly be fixed by this coming weekend.
While a good chunk of this review will rehash all the stuff that went horribly wrong on opening night, my gut and past experiences with Cupcake tells me that the rest of the run will go seamlessly and this will be a show you won't want to miss. And even if there are still a few mistake here and there that persist after opening night, mistakes are what make live theatre so interesting!
Longer Answer: Although I left the theatre ultimately loving this production, I feel like the show opened a week before it should have. Performers were still occasionally flubbing lines and lyrics (I have the entire musical memorized -- don't judge me); the band didn't seem to always know when to start musical numbers; and, the technical bloopers the show experienced would give Spider-Man: Turn off the Dark a run for its money.
Before I go any further, I want to make it abundantly clear that these types of problems are quite unusual at Cupcake Studios, and I suspect they are nothing more than temporary hiccups that will probably be fixed even before this review is published. Sometimes shows have to open before they're ready to, and opening night is unfortunately the performance that the press attends and is forever memorialized in reviews. That being said, I'd be remiss if I didn't report on some of the things I witnessed last Friday night:
First off, the live band was slow to start several numbers, thereby creating some really awkward bridges between moments of dialogue and song. Actors would deliver their final quip right before a musical number, begin to mouth the first syllable of the song's lyric, and then wait a painful couple of seconds for the band to kick in and play the first note. Mad props must be given to most the performers who just jumped right into the song without the band, kept the scene's timing, and let the band catch up to them. A good chunk of the performers, however, just stood on stage in anticipation for the music to start, which is a sure fire way to kill the emotional arch of a scene.
Second, somebody's mic kept loudly popping during the first act. And then, quite hilariously, one of the performers finished her scene, exited, and began talking to somebody backstage about whose mic she suspected was malfunctioning. I actually know the intimate details of this private conversation because the performer's mic was never muted after she exited the stage and her whispers were loudly played for the whole audience. It was probably about a full twenty-seconds before the hot mic was discovered and muted.
Third, it was apparent multiple times throughout the night that we were sitting in the wrong light cues. Characters would sometimes sing in the dark. Random parts of the set nobody was near would occasionally light up. Lights would then begin spazzing out, strobing, and changing colors for no apparent reason as the light board operator seemingly cycled through every single cue attempting to find the correct one. (Free Advice: The "GO TO CUE" button is your best friend when you accidentally slip into the wrong cue. Or, even better yet, you can just leave it be for a few seconds. Cycling back and forth through a bunch of light cues is far more noticeable to an audience than simply being in LX 50.5 a moment early when you should still be in LX 50.)
The amount of technical problems opening night saw would give Spider-Man: Turn off the Dark a run for their money. I only included a partial list of all the technical bloopers I witnessed. In addition, mics faded in and out during monologues; performers tripped over scenery during dance numbers; set pieces were not properly set at the top of scenes, resulting in stage hands awkwardly rolling out large set pieces (like doors) at inappropriate times in the middle of emotionally tense scenes. These rookie mistakes were so numerous that I was actually left with the impression that opening night might have been the first time Cupcake did a full tech run-through of the show.
The good news is all these problems are easily correctable. Had this production been allowed just a few extra days of tech rehearsals, I think I would have seen an entirely different, well-polished, show. These mishaps were all the types mistakes you only make once, laugh off, and then never make again. I suspect that by the time this review is published, every single one of them will have been corrected.
Notwithstanding the abundance up technical hiccups, the cast brought their A game to the stage. Worth mentioning was Arri Leigh, who took on the role of Elle Woods. Leigh's spot-on portrayal of Elle masterfully explored the nuisances of this deceptively complex character. At first glance, Elle might seem like nothing more than a bubbly and fun blonde from Malibu, but from the very first scene there are hints that beneath Elle's charmingly well-maintained exterior is an untapped natural intelligence that probably far exceeds even the most brainiac nerds at UCLA. Leigh was able to package Elle's beauty, social intelligence, fun spirit, and intellect seamlessly into an remarkable and memorable performance.
Another standout was Tristen Ross, who embodied the character of Sundeep Agrawal Padomadon, an ethnically ambiguous prince who fled whatever native country he comes from after a violent coup d'état ousted him of power. He now attends Harvard Law School where he dreams of making new friends before returning to his home in a bulletproof Mercedes Benz. While Sundeep is a rather minor, verging on ensemble, character, Ross managed to completely steal the stage with one of the best voices I have heard in the role. This talented vocalist was completely on pitch as he captured the very unique vocal characteristics of Sundeep's character.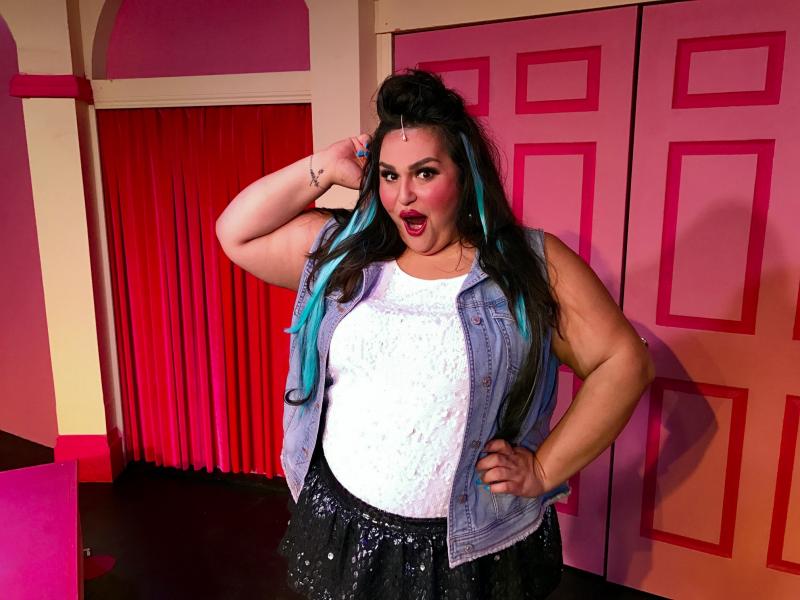 Kristen Pickrell played Paulette, Elle's frumpy hairstylist who is unlucky with the guys and devoid of any self-confidence. Pickrell swooned the audience with the crowd-pleaser of the night, "Ireland", and through her heart-warming connection to this beautiful song made it impossible for the audience not to cheer and give a mini-ovation after she belted out the last note.
Daniel Floren had the pleasure of portraying Warner Huntington III, the character we all love to hate. Floren dove into this stuck-up role a little too perfectly and managed to personify the cold ambition that manages to take hold of all too many law students. Caroline Wilson played Warner's cut-throat girlfriend, Vivian, with a natural vindictiveness that helped cement the seriousness of Elle's situation. Tim Jenkins embodied Emmett Forrest, the meek third-year law student and Criminal Law Academic Fellow, with a loveable spark that helped carry the show. Elle's sorority sisters consisted of some well-cast triple-threat performers that were led by the highly watchable Kelly Hancock, the bright and bubbly Adelle Panico, and the always sassy and glamorous Thurzday.
Overall, I really enjoyed Cupcake's rendition of this upbeat and ridiculously fun musical. If you've never seen Legally Blonde the Musical before, go and check it out! It's a treat, and you won't be disappointed.
Who Should See It
Legally Blonde the Musical is truly a show for everyone. You don't need to have seen the movie to understand what's going on -- the story is really easy to follow and stands by itself. Bring the kids; bring grandma and grandpa; bring that special someone. If they don't fall in love with this show, they probably don't have a soul and you should dump them.
How to See It
Legally Blonde the Musical runs through August 6th at the Cupcake Theater in North Hollywood. Ticket prices vary, and can be purchased here.
PLEASE BE SURE TO ARRIVE AT THE THEATRE WITH PLENTY OF TIME TO SPARE. CUPCAKE THEATER IS A SMALL VENUE AND SHOWS FREQUENTLY SELL OUT WITH LARGE STANDBY LINES. IF YOU ARE NOT CHECKED IN AT LEAST FIVE MINUTES BEFORE THE START OF THE SHOW, YOUR TICKETS WILL ALMOST CERTAINLY BE RELEASED TO SOMEBODY WAITING IN THE STANDBY LINE. THEY ALSO HAVE A VERY STRICT NO LATE SEATING POLICY.
The Cupcake Theater is located at 11020 Magnolia Blvd, North Hollywood, CA 91601.
More Pretty Pictures