BWW Review: SCARE PAIR: USHER HOUSE AND THE CANTERVILLE GHOST at The Broad Stage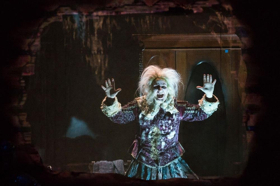 On Sunday June 24, 2018, Los Angeles Opera gave a matinee presentation of two one-act Gordon Getty operas, USHER HOUSE and THE CANTERVILLE GHOST, which LAO calls SCARE PAIR. USHER HOUSE is Getty's 2014 edgy, operatic version of Edgar Allan Poe's story, THE FALL OF THE HOUSE OF USHER. Welsh National Opera, San Francisco Opera, and New York's Center for Contemporary Opera performed the work before Angelinos got the chance to see it.
Getty uses Poe to narrate the story. Portrayed by Dominic Armstrong, Poe, the character, is a high lyric tenor who sings with flowing vocal colors but shows increasing discomfort as he interacts with Roderick Usher. Getty makes the Usher family relatively appealing compared to the weird family and their strange doctor in the 1839 tale.
The character of Roderick, portrayed by Keith Phares, changes from a companionable brother with a disabled sister, to a man who dreams of power with veiled references to Wagner's RING CYCLE. Phares sang with a resonant baritonal sound that contrasted well with Armstrong's tenor. The voices of the two men surrounded the audience with an ocean of sound in The Broad Stage's five hundred-seat house. Getty writes extremely well for male voices and his lead singers did him proud.
Stage director Brian Stauffenbiel told Poe's story in a straightforward manner, which lent a solid footing to the unearthly aspects of the story. He used David Dunning's perspective-influenced scenery and David Murakami's projections to change scenes and show Roderick and Madeline's party-going ancestors. Callie Floor's costumes indicated the eras in which their wearers lived.
Although people have compared Getty's music to that of Puccini, I think Getty's music shows influences of composers and orchestrators like Ippolitov-Ivanov and Rimsky-Korsakov as well. He also has occasional sonorities reminiscent of Bartók and Mahler in what is totally original music. Conductor Sara Jobin brought out the character of Getty's orchestral harmonies and the mysterious overtones he designed to set the scenes of this unusual opera. Getty's music always supported the singers with tonal, sometimes melodic, underpinnings and he saved his higher decibel level passages for some very listenable orchestral interludes.
I read that Getty once aspired to be a singer. Clearly, he understands both the abilities and the limits of operatic voices and uses this knowledge to benefit those who sing his vocal music. This composer also understands the possibilities of using orchestral music within opera to paint tonally vivid scenes. In that way his work resembles that of Benjamin Britten, but Getty's music has its own individual style. Getty's orchestra is much more than mere accompaniment for the voices. Since Roderick's sister, Madeline, is a dancer, Getty writes fully fleshed out orchestral music for her.
While dancing Yayoi Kambara's lyrical choreography, gauze-clad Jamielyn Duggan eventually floated away to become a projected image. She gave the impression of a live ribbon blowing gracefully in a malevolent breeze. As her physician, Matthew Burns was an intense, growling Primus. Off stage, Summer Hassan sang Madeline's few lines with gusto. Each of these two singers was to have a great deal more to do in the second opera.
Like THE FLYING DUTCHMAN, THE CANTERVILLE GHOST wants oblivion, but for centuries it has eluded him. As the Ghost, Matthew Burns needed the help of a pure, sweet young girl like Wagner's Senta. Although no one tells us what she does for him, Virginia Otis, the daughter of an American family visiting Britain, allows him to escape his earthly Purgatory. Summer Hassan was a steely voiced Virginia who easily sang over the large orchestra. Burns sang with a wiry bass voice that fit well into the concept of a comic ghost who was more afraid of the teenage twins than anyone in the family was of him.
Murakami's projections hinted at the presence of mysteries lying deep within the walls of the Otis's rental house, while David Dunning's scenery included a realistic looking suit of armor that "bled" each night. Mr. Otis suggested a commercial cleaner for the antique, but the stain changed colors as the Ghost used up his paints refurbishing it. Designer Callie Floor clothed the women in long dresses with bustles indicating a time early in the twentieth century. They played croquet, too, and that spoke of a simpler era.
Jessica Ann Best was a pleasant Mrs. Otis with excellent diction. Portraying a pair of twin boys, Augusta Caso and Hilary Ginther were a bumbling but energetic pair of teenagers who performed various types of sight gags. As Cecil Cheshire and Hiram Otis, Dominic Armstrong and Keith Phares had less to sing in the second work but they still showed their acting ability and beauty of tone. Kevin Wetzel was a commanding Canterville.
THE CANTERVILLE GHOST is a romp in the theater that cleanses the palate after the heady mystery of USHER HOUSE. The SCARE PAIR operas go well together. Composer and librettist Gordon Getty is an excellent craftsman and a good dramatist who writes well for the voice. He seems to be a very young octogenarian. Let's hope he will write a few more operas for his wide-ranging public.
Photo: S. Pisano.