BWW Review: Powerful Lead Performance Elevates END OF THE RAINBOW at La Mirada Theatre
Not everyone likes to admit it, but there is---in our viral-fueled, celebrity-pervaded culture---a certain level of curiosity for the private lives of famous people... that is, in how they really act and behave when the cameras are turned off, when the publicists and spin-doctors have left their side, and when the audience has long since departed the theater or concert hall.
The nosy public, it seems, displays a continuous thirst for salacious tidbits and gossip. When it comes to celebrity news, the juicier and more titillating the info, the better---and these days, these "news items" spread much, much faster thanks to social media-enabled, push button share-ability. The appetite is even stronger for celebrities that present a mysterious, hard-to-read public persona.
But back in the early days of the studio system and just before the dawn of tabloid journalism and paparazzi chasing, there was actually a time when celebrities had the luxury of a certain amount of privacy, even if the rumor mill persists on keeping certain "gossip" aspects of their lives top of mind. Some stars can even have one acceptable persona in public view while successfully hiding their more "ugly" truths behind high walls guarding their mansions. In some way, this mutually beneficial facade offers some comfort for both the celebrity and the fan, even if it's a false one.
Perhaps this is why playwright Peter Quilter's unfiltered, devastatingly intense play, END OF THE RAINBOW, is a little bit unsettling to experience, as spectacular a play as it is. Now back in Southern California in a thrilling new regional production at the La Mirada Theatre for the Performing Arts through November 12, this play---under the excellent direction of Michael Matthews and featuring a powerful, breathtaking performance from Angela Ingersoll---showcases a can't-look-away implosion of a beloved icon whose battles with her personal demons make her a relatable human being with real, tangible problems.
While the play does manage to be utterly riveting in its wealth of juicy, lurid details, much of END OF THE RAINBOW is still a guilt-inducing shock to the system, as we helplessly watch one of the world's most iconic, treasured stars, Judy Garland, in her lowest depths of despair---one that apparently wasn't well hidden from the public during the last months of her career and, well, her life.
A raw, flaws-and-all insider's look at the legendary superstar's final months that led up to her death from a drug overdose at age 47, END OF THE RAINBOW attempts to dramatize the Garland most people only knew about in whispered rumors: the feisty, erratic, demanding, unapologetic, yet still self-effacing diva with a penchant for hard liquor and even harder medications (the seemingly go-to tools for stars in order to numb the pressures and pains of being a beloved celebrity).
More specifically, Quilter imagines (or does he?) the behind-closed-doors havoc that accompanied the very public, recorded behavior others actually witnessed first-hand during Garland's 6-week planned concert engagement for London's The Talk of the Town that began in December of 1968 (Garland passed away a few months later in June of the following year).
When the play begins, it is the relative calm before the storm. In the darkness, you hear a lone pianist playing the melancholy but hopeful tones of "Over The Rainbow," the theme from The Wizard of Oz that helped propel Garland to stardom.
Suddenly, like a whirling tornado, an anxious Garland whooshes into a hotel room at the posh Ritz Hotel.
Right away, Garland already has a lot weighing on her mind: She's arrived in London with her new, much younger husband and manager Mickey Deans (a superb Zachary Ford) in a critical last-ditch attempt to make a career "comeback." Sensing that her relevancy is waning, Garland desperately wants to please the audience "for as long as they want me!" At the same time, she wants a similar assurance of love from her fifth husband whom she somehow fears she will lose just as she has done with her first four husbands. Her solution is to try to abide by Mickey's strict managerial rules and demands, which can be hard when all she wants is to quiet down the voices telling her it's perfectly okay to get drunk or to take some drugs.
There to offer emotional and musical support is Garland's longtime pianist and band leader Anthony (Jon Steinhagen) who doesn't think Mickey is good enough to be married to the one and only Judy Garland. Anthony adores Garland unequivocally, in that very familiar manner that turned Ms. Garland into a lifetime icon of the gay community.
For his part, Mickey---well aware of his wife's predilections and her very dire financial position---is trying to curb any of her demons from coming up to the surface---a task much easier to plan than it is to actually practice. He wants everything to go smoothly, too, motivated by this concert engagement's fee which will hopefully help whittle down Garland's 10 years worth of outstanding debt.
Though he may seem to be all business with her, his affections for her seems to be genuine, expressing his desire to be better than her past ex-husbands whom he seems to still be "competing" against thanks to Garland's frequent reminiscing of the great things her past beaus did to and for her. Nonetheless, Mickey feels that Garland has been "the best thing that's ever happened to me."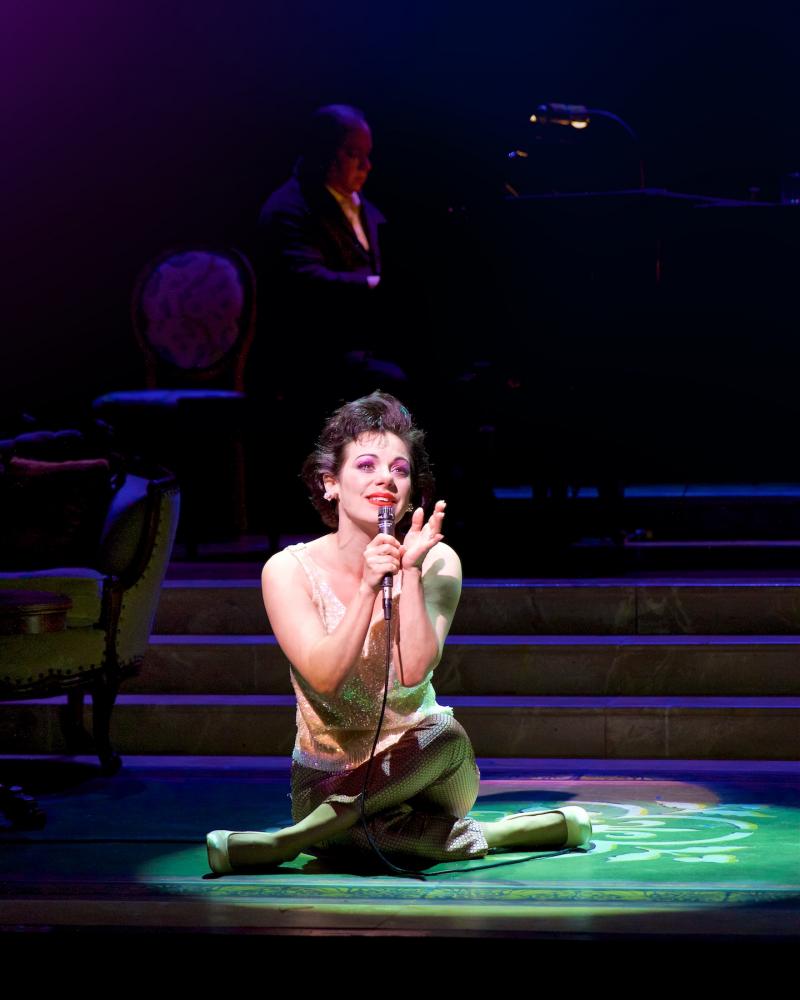 As the play continues to unfold, it presents a rather bold assumption: because Garland was already acting erratic in public (her notorious radio interview and her mid-concert walkout are just some of her many inexcusable gaffes), is it hard not to assume she was similarly unhinged behind closed doors? Quilter follows this line of logic and in the process provides a not-so-flattering portrait of Garland---as she openly struggles with her need to be loved both on stage and off. Be that as it may, the play does provide a somewhat empathetic view of a star plagued by insecurities---an affliction that seems to be part and parcel with some of the world's most talented individuals. And in between tantrums, crying, and melodramatic pleas for help, we watch as Garland sings classic after classic in flawless perfection---a vivid reminder of why we love her in the first place.
In an astonishing portrayal that will give you chills throughout, Ingersoll embodies Garland in a way that transcends mere acting or even impersonation (though, to be sure, she basically has her vocal mannerisms and body language mastered). As Garland, Ingersoll is transcendent, hilarious, awkward, luminous, sensuous, and, ultimately, heartbreaking. When she triumphantly sings through tears in "The Man That Got Away" with the same ache and longing that Garland displayed in her Oscar-nominated turn in A Star Is Born, it's not difficult to heap praises on her performance. And, damn, can this girl BELT a song!
Really, it's a role written to be purposely tumultuous and over-the-top erratic and Ingersoll definitely has the acting and singing chops to carry it off. Seriously, whether she's acting up a brewing storm of emotions in a hotel room or singing the divalicious crap out of a torch song on a stage while crazily futzing with an unruly microphone cord, Ingersoll gives her Garland her deserved icon status and a down-to-earth humanity that easily earns our affections and empathy.
Ingersoll is so amazing in the role that the performance really helped sell the believability of this version of Garland: one that, despite having an undeniable musical prowess, being able to spout out wonderful, witty comebacks at any given moment, and having romantic notions of love, is deep down a woman who's also in desperate inner turmoil---pain that can only be alleviated by substances that has already done its damage and doomed her to a shorter than normal life. Even by today's standards, watching someone who brought so much joy to so many people just fall apart at the seams before our very eyes is still gut-wrenching, no matter where your affection for this star may stand. Ingersoll's beautiful, gutsy portrait helped paint a picture---and as an audience, we can't help but ache for Garland.
A remarkable, undeniable talent haunted by self-inflicted demons that claw at her self-esteem and self-worth, it's not hard to speculate that when the irrational Garland that appeared to fumble on the London Stage retreated back to the hotel room she sadly couldn't even afford, what we see of her in END OF THE RAINBOW, is perhaps closer to the truth than we would prefer to accept. For many of her fans, the Judy Garland that lives in our hearts and minds is the one skipping down the yellow brick road and hoping to spot bluebirds flying over the rainbow. This play strips away that fantasy a bit, giving us the cold reality of a tortured artist.
I first saw this "play with music" (though it's not referred to as a "musical" for some reason) when the original Broadway production transferred over to L.A.'s Ahmanson Theatre. Similarly, that production was buoyed by its leading star, Tracie Bennett, who originated the role on Broadway. The casting of Judy Garland for any production of this play appears to be quite crucial to the enjoyment of this material, and La Mirada's casting of Ingersoll certainly elevates this already engrossing play even more. Her scenes with Ford are electrically charged while her heart-to-hearts with Steinhagen offer moments of reflective zen. (Additionally, Brian Wallace appears in various roles including the radio interviewer).
Also worth noting in this production is its top-notch technical aspects. Pulling triple duty as the play's musical director and principal pianist while also playing the role of Anthony is Steinhagen, who leads a rousing, terrific orchestra situated at the rear of the stage. Stephen Gifford's impressive set which switches from a hotel suite into the Talk of the Town stage then back again is helped along by Steven Young's precision-timed lighting design during the venue conversions. And Bill Morey's richly textured costumes suitably recalls the time period.
But, overall, I must say that the true draw for this new production of END OF THE RAINBOW is to witness Ingersoll's note-perfect portrait of Garland in the latter stage of her life. Rendered with great humanity and empathy, you may never look at Garland the same after seeing this captivating performance.
** Follow this reviewer on Twitter: @cre8iveMLQ **
Photos from the La Mirada Theatre for the Performing Arts' production of END OF THE RAINBOW by Jason Niedle.
---
The McCoy Rigby Entertainment presentation of END OF THE RAINBOW continues at The La Mirada Theatre for the Performing Arts through Sunday, November 12, 2017. The theater is located at 14900 La Mirada Boulevard in the city of La Mirada. Parking is Free. For tickets, visit www.LaMiradaTheatre.com or call (562) 944-9801 or (714) 994-6310.