Click Here for More Articles on Hamilton
BWW Review: OC's Segerstrom Center Finally Becomes the Room Where HAMILTON Happens
Like most Broadway and musical theater fans who live on the west coast without unlimited access to a jet plane or a big enough disposable income to go to New York constantly to see every theatrical offering on the Great White Way, my first exposures to new Broadway musicals are usually either by viewing short clips online or, even better, by listening to the original cast album.
So, naturally, when a very buzzed-about, Drama Desk-winning new musical from Tony winner Lin-Manuel Miranda finally moved from its off-Broadway home at The Public Theater to the Richard Rodgers Theatre in 2015, I was more than excited to know that the cast album for this monumental project will finally be available for those of us common folk unable to snag a flight or a ticket to experience it live in New York.
That groundbreaking show is, of course, HAMILTON: An American Musical, Miranda's ingeniously constructed, powerfully-rendered masterpiece---which, in 2016, would later go on to win the Tony Award for Best Musical, the Grammy Award for Best Musical Theatre Album, and the Pulitzer Prize for Drama. It tells the story of Founding Father Alexander Hamilton and his rise from being a poor, orphaned, but smart young immigrant, whose tenacity and shrewd acumen for political maneuvering turned him into one of our nation's most important and significant historical figures.
Though previously not as widely known as his fellow Founding Fathers have been, Hamilton, is, shockingly, responsible for a lot of amazing firsts during his short but productive time amongst the living. I mean, really, among his many accomplishments, he created everything from the Coast Guard and Wall Street, to America's banking system. During the revolutionary war he served as General George Washington's "right-hand man." Later, when Washington became the U.S. President, he served as Treasury Secretary.
Oh, and yep, that's him on the ten dollar bill.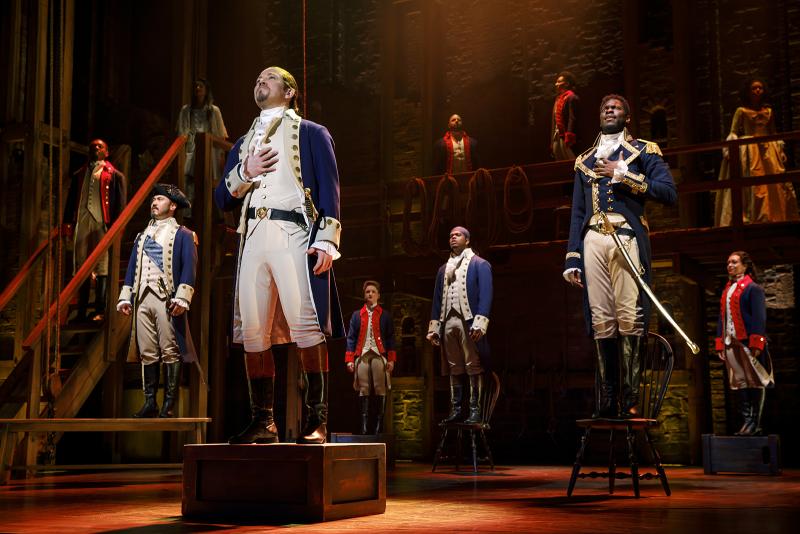 But the cool factor of this musical? The entire story is told via hip-hop/R&B/pop/soul music, and purposely casts lead actors of color to portray the various real people that populate this wholly absorbing, surprisingly riveting narrative, which, in its own way, is an excellent way to bridge how America used to look back then with how America looks like now.
In reading Ron Chernow's comprehensive biography of Hamilton---the source material that inspired Miranda to create the show---Miranda saw that Hamilton's story---someone yearning desperately to rise above his station and be noticed and to make something of himself---is one that deeply correlates with the language of hip-hop music, and, my gosh, before the opening number even finishes, you know this to be true... reiterating again why HAMILTON is beyond just a work of genius. It's a work of searing, peerless, soul-penetrating art.
The day the cast album was released, I poured over it repeatedly, and it quickly became the soundtrack of my daily life for months, as I became in awe of Miranda's lyrical and rhythmic genius and giddy over this awesome mashup of the musical genres I personally love: show tunes and R&B/Hip-Hop music. As a huge fan of both, the music felt like the best of both worlds---which, perhaps, is something Miranda has realized all along, particularly when you look back also at his previous Tony Award-winning musical IN THE HEIGHTS.
Even better is that you can immediately tell that Miranda has a scholarly command of the influences that went into the material: there are so many references to classic hip-hop and even contemporary R&B that I felt like I was back in my high school bedroom jamming to the radio---hearing homages to everything from LL Cool J, Brandy and Monica, to DMX and the Notorious B.I.G.---and all coming from a frikkin cast album to a Broadway musical!
Of course, the theater nerd in me also enjoyed hearing whispers (whether purposely or accidental) of past musicals... everything from WICKED, SOUTH PACIFIC, to SWEENEY TODD.
I laughed, smiled, and (quite often) cried my way repeatedly while listening to the songs over and over again. I was able to memorize much of it, and half-jokingly even said to myself that I have become a de-facto American history buff overnight, at least in terms of Hamilton and his remarkable life story filled with tenacity, audacity, and, well, tragedy. And much of the show's smarts is in how Miranda has managed to make even discussions of the minutia of war and politics into beautifully-crafted, exciting hip-hop and R&B songs.
Even without visuals to pair with the beautifully-emoted songs on the cast album, Miranda, just with the songs alone, created a grand masterpiece where the words and music and rhymes vividly made Hamilton's narrative come to life in the most fascinating, illustrative way possible. Every emotion and even every nuanced line delivery had so much layered context oozing just from its sounds that I was able to visualize in my head everything that was transpiring. That, for me, is already quite a remarkable achievement all on its own.
And still to this day, just hearing the opening seconds of "It's Quiet Uptown" immediately elicits tears from my eyes automatically. Heck, I'm even getting a lump in my throat just typing that sentence.
But, of course, being confined to enjoy just the cast album repeatedly since its initial release, I still became increasingly envious of the videos and posts I saw online of people able to actually see the show in the flesh, then afterwards, come out singing the show's praises. I can't recall hearing this much ravenous buzz for a show before. I mean, even people I know who normally are very uninterested or know very little about the world of Broadway or theater have actually heard of HAMILTON and were even expressing a genuine interest in seeing it, perhaps merely out of FOMO (fear of missing out).
Cut to Fall of 2017 and HAMILTON's first national tour finally arrives at Los Angeles' historic Pantages Theatre, which brought the most coveted theater ticket on the planet a little closer to my hometown.
During its almost 5-month sit-down engagement in Hollywood, I woke up every morning with the same slightly laughable bad news: that I did not score tickets via the show's infamous daily $10 lottery. However, not leaving it solely up to chance, I miraculously was able to snag some rather pricey orchestra tickets to see the show as a Birthday treat and... well, after experiencing it for the first time, I can honestly say that all my glorified expectations were certainly met.
All that hype? Completely justified.
The music that I had only created images for in my mind finally came to life---where I finally witnessed before my very eyes the boastful, toast-happy initial meeting of The "Sons of Liberty," where I saw lovestruck Eliza (and, yes, even overly cautious Angelica) pine for Hamilton, where I saw the seething enigma that is Aaron Burr wear his envy and impatience on his sleeve, and where I saw the bawdy King of England prancing his way center stage to threaten our land across the sea.
Surrounded by both rabid HAMILTON fans and curious theater never-beens (I can only assume from their lack of theater etiquette), the show was, deservedly, met with thunderous applause. For me... it was utterly transcendent.
Brilliantly directed by Thomas Kail, the show dazzles in its energetic efficiency, allowing the cast to tell and build up the story as organically as the free-flowing of rhymes that they dispel. Visually, David Korin's static but otherwise arresting set---now an iconic piece of scenic design---comes alive thanks to an always-active stage turntable and the stunning lighting work of Howell Binkley that created various spaces for the story to unfold.
Paul Tazewell's spectacular costumes, paired with Charles G. LaPointe's hair and wig designs, adorn the cast in pristine colonial flair that also feels like it's been kissed by modern sensibilities on purpose. Andy Blankenbuehler's lyrical, hypnotic choreography gave the show a dynamic backdrop of dancers that swirled their way into the action as if their slight movements have a hand in what transpires for the characters in the foreground.
To borrow a song title from the show... I walked out of the theater very much "Satisfied"... and in a daze of happiness.
But as I drove back behind the Orange County curtain, one thing did nag me a bit after reflecting on finally seeing HAMILTON on stage: that I was glad and, frankly, thankful that I had a three-year head start in learning the music from the show, because if I were a newcomer to this incredibly dense, fully rapped/sung-through musical, much of the historical and political discussions in the show would probably whiz by me so fast before I could even absorb its specific significance or context.
And while I had the advantage of knowing and understanding everything that's rapped and sung because of the cast album, the people who accompanied me to the show, however, were listening to all of this material for the first time and admittedly told me later that not everything specifically came across to them.
Fast forward to May 2018 and HAMILTON has finally arrived right in my backyard!
Here in Orange County's Segerstrom Center for the Arts in Costa Mesa for a three-week sold-out run through May 27, the show's second national tour company (dubbed the "Philip Tour") has not only successfully reignited my love for this show, but it has also promptly solidified it as, in my humble opinion, hands down one of the best musicals of all time.
Apart from being one of the most undeniably creative stage shows ever produced for the American theater, HAMILTON is also one of the most deeply moving and shrewdly intelligent stage musicals I have ever experienced---made even better thanks to an insanely talented ensemble cast that raps, sings, and acts their way into this gripping, very American story.
Even better this time around: Every single lyric and every single rhyme came through comprehensibly, rendering me into a giddy fanboy in the first act, and into a huge puddle of tears for much of the second act. This beautiful production reminds me of exactly what enamored me with HAMILTON in the first place, as it hit all the right moods and attitudes it needed. Yes, I don't mind admitting that I was one of the first ones to leap to my feet with ecstatic applause during the finale of the show's Press Opening Night performance this past Wednesday evening.
HAMILTON is, at its core, enriched with organic storytelling, cleverly-constructed rhymes, emotional highs and lows, and a riveting, and ultimately uplifting history lesson that fiercely resonates, especially in today's even more divisive geopolitical environment.
Many may raise their eyebrows at this show's loosened tether to historical accuracy, but, to be fair, much of it is pretty much dead on to what really happened. Liberties taken with the story (for dramatic purposes, of course) are surprisingly minimal if---by now---indistinguishable from the actual details, thanks to Miranda's mastery of laying out what Chernow first outlined in his heavily-researched original tome.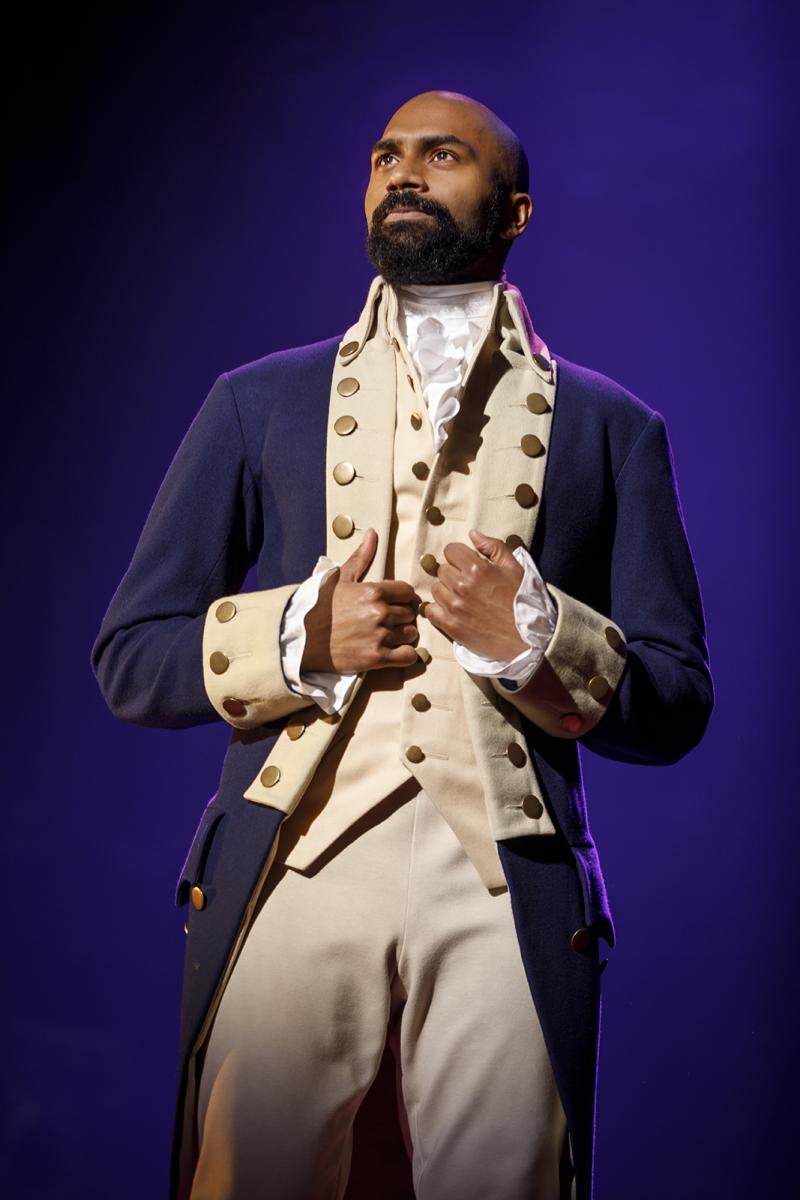 HAMILTON doesn't just stylize history for theatergoers, it makes history come alive with a fervor and intensity that mimics the very nature of its subject matter.
But, lest we forget, Miranda is an artist after all, and, as such, he has every right to append his project with his own artistic license.
Aside from using mostly hip-hop and rap as the main musical device for storytelling, HAMILTON's most hard-to-miss historical deviation---its usage of a purposely diverse cast---is actually its most genuinely appealing quality, providing the audience an essentially historically-accurate American drama, but portrayed not by the usual, expected suspects but by the diverse faces and voices of the America of our present day.
I cannot begin to tell you, personally, how empowering and inclusive it feels to see actors of Asian descent like myself stand center stage portraying important icons of this nation's history so nonchalantly. It really hits you with a wallop and makes one still hopeful for our future society in general.
This link from the present to the past is what gives HAMILTON such groundbreaking gravitas that not many other shows can truly boast. Here, our founding fathers (and mothers) are proudly seen portrayed by various races including African-American, Asian-American, and Latinx-American actors, which, in turn, not only allows for the story to take on a universal connectivity, but also lends well to how the contemporary music of the show is expressed to the audience.
And, like I touted earlier, HAMILTON's music---all credited to Miranda---is one of its strongest, most enjoyable assets: a seamless marriage of contemporary sounds and clever, witty wordplay with the revered expectations of musical theater. Miranda, more than anything, is a huge, admitted fan of hip-hop music as well as musical theater, and both show up here in the most reverent of treatments.
There is no denying that Miranda's almost encyclopedic knowledge of both hip-hop and musicals benefited HAMILTON in the most delightful way: hearing references to everything from hip-hop pioneers Jay Z and NAS to Grandmaster Flash, Eminem, and Mobb Deep mixed in with cues from the likes of Stephen Sondheim, Rodgers and Hammerstein, Andrew Lloyd Webber, Jason Robert Brown, and even a little old-school Gilbert and Sullivan all give the show a hefty foundation for its musicality, aided by the stellar work of music supervisor and orchestrator Alex Lacamoire, who gave Miranda's original creations their texture and scope.
I have no doubt that many music fans (like myself) loved hearing (and seeing) many of the brilliant, familiar homages, including ones to R&B Diva Girl Groups (during "The Schuyler Sisters"), those rap battles (during the Cabinet meeting debates), the British Invasion (during King George's "You'll Be Back"), and even New Orleans Jazz (Jefferson's "What'd I Miss"), to name a few that stand out.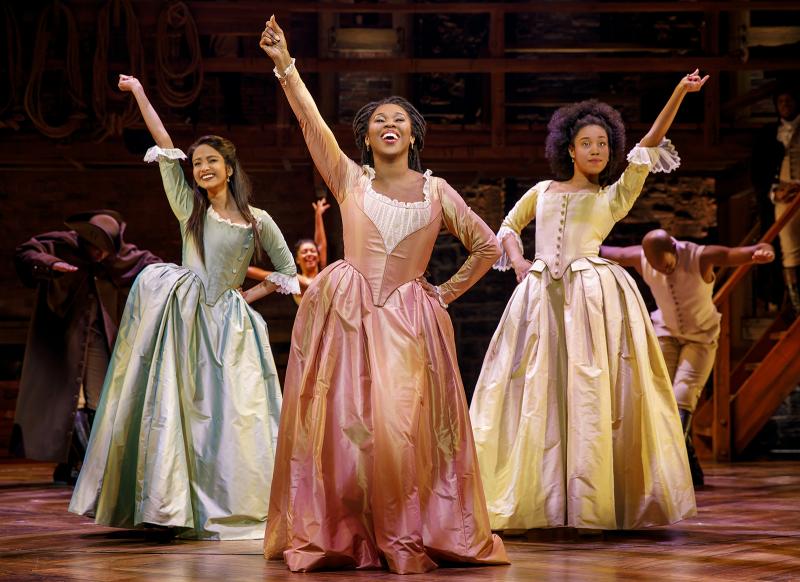 As for musical theater references, the show has a ton of so-called "Easter eggs" that recall everything from WEST SIDE STORY and LES MIS to EVITA and GYPSY. The opening song, in a way, feels very much like the opening epilogue of Sondheim's SWEENEY TODD, where various characters talk about the title character as if "warning" us of what we're about to see. Much later, the show's finalé has characters talking directly to the audience that vividly reminded me of the ending of RAGTIME, each providing a quick summary of what happens after Hamilton's tragic death (my apologies for that spoiler, in case you're one of the three people in the world who didn't know that historical fact).
There's definitely lots to absorb musically and, my gosh, it's all a plethora of ear candy.
But what truly made this Segerstrom Center stop of HAMILTON so astutely enjoyable is the cast that blessed this "Philip Tour" with their undeniable talents and enthusiasm for the material. These guys will thrill you, will move you, and will have you standing up and cheering.
Front and center is Joseph Morales who is quite excellent in the title role, bringing a pronounced sexiness and vulnerability that beautifully aligns with his acting and singing choices for the role. I remember Morales quite well portraying the lead role of Usnavi in IN THE HEIGHTS on this very same stage many years ago and thought, well, of course he's a natural choice to be back in another Miranda-originated role! But, make no mistake, Morales has certainly put his own stamp on his version of this Founding Father.
Morales clearly has a commanding presence, especially when he's the prime focus of a scene. But he's also a very nuanced sparring partner and a thoughtful supporting player, too, particularly in his touching scenes with his loving wife Eliza (a radiant Shoba Narayan), his constant frenemy Aaron Burr (the superb Nik Walker), and his mentor/commander-in-chief George Washington (the regal Marcus Choi).
For their part, Narayan absolutely enchants as Eliza, whose gorgeous ethereal voice coupled with her acting talents easily earns the audience's heart and affections. Choi's strong presence makes for a believable leader in his portrait of commander turned first US president. What Choi lacks in height, he makes up for in his palpable, unwavering fierceness and stature, as he barks commands and plays fatherly mediator.
Nik Walker, for me, is the impressive surprise, who turns in a very layered and even more complex Burr, whose emotions are clearly on display but still shelter an almost eerie mysteriousness underneath. When it all finally bursts out into an erratic madness---right before he duels with Hamilton---Walker has an eye-opening metamorphosis that the audience wholeheartedly eats up. I really appreciated everything he did to make the role his own---from his pointed, very purposeful cadence to his vocal stylizations and riffs in his solos (I enjoyed his versions of "Wait For It" and "The Room Where It Happens" quite a lot).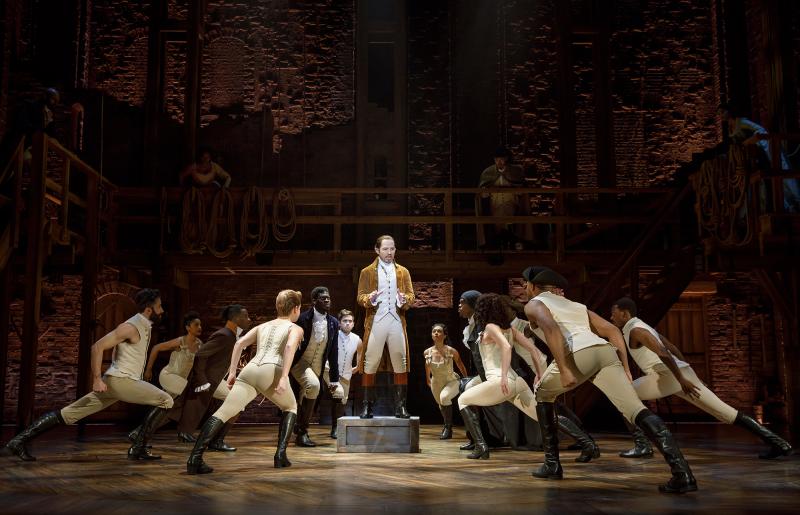 Others worth noting are Jen Sese, who admirably does a great job stepping in for the very vocally-intriguing role of Eliza's older sis Angelica Schuyler (normally played by Ta'Rea Campbell) during the Press Opening performance. Scene-stealing Jon Patrick Walker is undoubtedly having a fun time portraying King George. His every over-the-top appearance in the musical becomes a reliably hilarious highlight. Nyla Sostre also stands out in her brief but highlighted dual roles as the third Schuyler sister ("And Peggy!") and Hamilton's scandal-baiting mistress Maria Reynolds. Her beautiful, seductive vocals in the second act gave me chills.
And finally, Hamilton's squad deserves their own shout-out, because as the "Sons of Liberty" in the first act, then later as two of Hamilton's political adversaries and his own son in the second act, these trio of rapper-thespians easily gave the audience plenty of reasons to cheer for them. Kyle Scatliffe's turns as Frenchman Marquis de Lafayette and later Secretary of State Thomas Jefferson arm him with the show's most complex, tongue-tripping raps, but he attacks them all with gusto. Fergie L. Philippe is a terrific teddy bear of a side-kick, a hulk of a warrior in the first act that turns into a humorously timid politician in the second. And young Elijah Malcolmb endears himself quickly as both anti-slavery advocate (and Hamilton's BFF) John Laurens, and, later, as Philip Hamilton, Alexander's talented son who has his father's good looks and swagger, but, unfortunately, also his father's propensity for dueling in New Jersey.
The remaining full ensemble cast---who morph in and out of the show in various roles such as soldiers, citizens, and, in some cases, mysterious figures that control objects that enter the action---all provide hypnotic dance moves and harmonious backing vocals that complete these musical's edges.
But, ultimately, aside from HAMILTON's glorious use of hip-hop and rap as a brilliant storytelling device, as well as its progressive, generous practice of diversity in casting, the musical's true strength is its existence as an important piece of art that not only entertains but also educates. It does so by presenting a balanced portrait of one of our founding fathers who rose up from the hardships of being an orphan in what seemed like an inescapable, dire situation. Through hard work, someone always took the time to notice his undeniable genius, which would then lead to a series of events that prompted him to keep "writing his way out"---to use his intellect to rise up.
Sure, he's a complex, very flawed man, and whose obsession with success is almost partly a hindrance to his own happiness. At times he even thought that, well, he was the shit---the "smartest in the room," that often made others dislike him or envy him. But at the end of the day... this egotistic "bastard, orphan, son of a whore" worked and worked to achieve good, noble things all for the sake of this new nation. He contributed to this country's foundation and we're all the better for it. In the end, we look to his tenacity for achieving---for leaving a lasting legacy---as something we all strive for, too.
And speaking of leaving a lasting legacy, there is no doubt that what Miranda has concocted here will indeed be remembered for a long time. But looking at HAMILTON now---in which the opening song actually first came to light in the public eye thanks to a fateful "workshop" tryout at the White House in front of then President Barack Obama---it's stunning to think that the show itself feels like a remnant of a better, more open-minded time in our country, one that would openly champion such a remarkable artistic endeavor. HAMILTON was also a musical whose diverse cast was once hosted and welcomed into the White House for a performance aimed at educating children about American history. I think it's fair to ask... would such an event happen in today's White House?
For me, it's almost like an echo of rallying cries from a more progressive era (which, funny enough, was just three measly years ago). HAMILTON is a musical, that, in its creative core, is very much unapologetically pro-immigrant, pro-Constitution, pro-America, and quite visually, pro-diversity. Seeing it NOW feels more important and significant than ever---like a beacon of light in the darkness.
But I still have hope. When we look back, I feel history will definitely have its eyes on this musical for centuries to come.
** Follow this reviewer on Twitter: @cre8iveMLQ **
Photos from the Second National Tour of HAMILTON by Joan Marcus, courtesy of Segerstrom Center for the Arts.
----
Performances of the Second National Tour of HAMILTON at Segerstrom Center for the Arts continue through Sunday, May 27, 2018. Tickets can be purchased online at www.SCFTA.org, by phone at 714-556-2787 or in person at the SCFTA box office (open daily at 10 am). Segerstrom Center for the Arts is located at 600 Town Center Drive in Costa Mesa. For tickets or more information, visit SCFTA.org

Related Articles
A So. Cal. Contributing Editor since 2009, Michael Lawrence Quintos is a talented, mild-mannered Designer by day. But as night falls, he regularly performs on (read more...)