BWW Review: No Sleepin' on the Job in DREAMGIRLS at The Cupcake Theater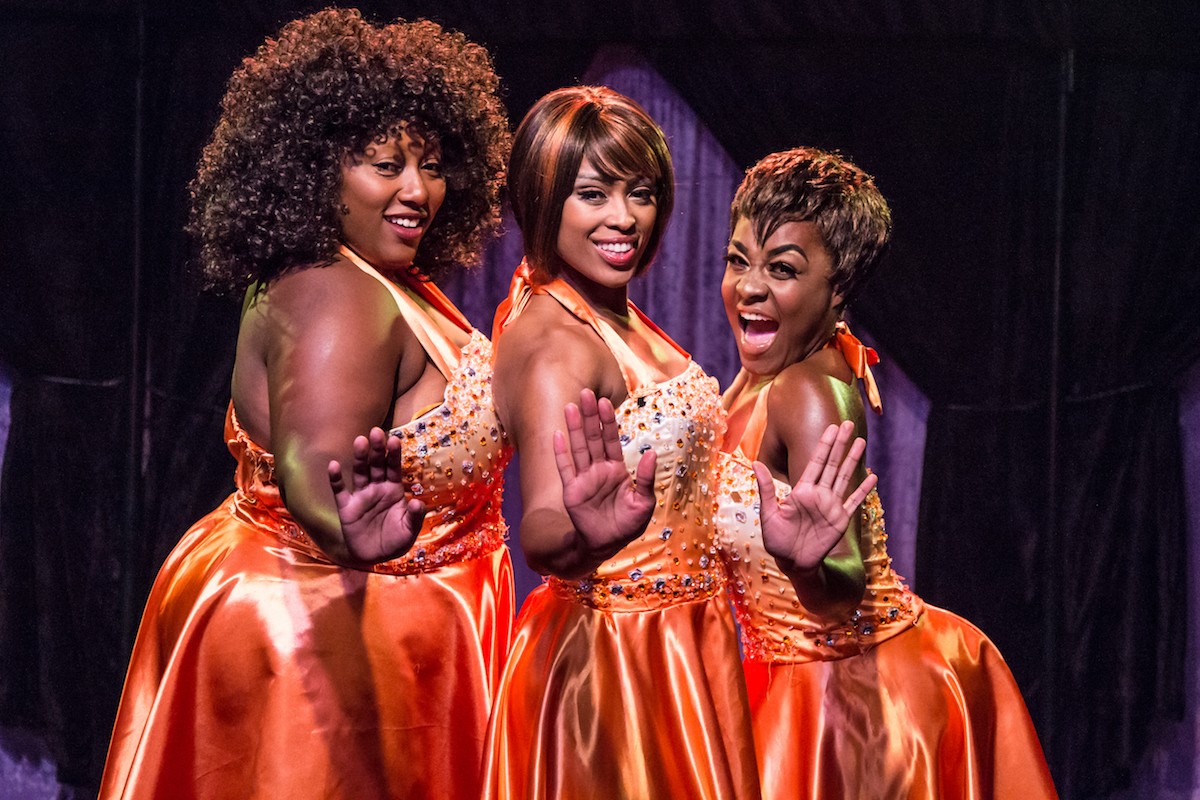 This musical is one that everyone loves, but it is not an easy one to put together and do right. Tor Campbell, the Director and Choreographer, has accomplished that with an abundance of clever ideas, high energy, style, conviction and talent. The entire Cast is on top of it, feeling and selling this Broadway treasure like nobody's business!
There is so much heart in this large Cast that it just spills out everywhere on stage all the way to the back of the house. Besides non-stop movement, full-out everything across the board performancewise, each Principal and each Ensemble member puts their all into it.
Book and Lyrics by Tom Eyen, Music by Henry Kreiger, Originally Choreographed and Directed by the great Michael Bennett.
Opening up on audition/talent night at The Apollo in the '60s, we see Marty, wrangling a few singing groups, Little Albert & The Tru-Tones, The Stepp Sisters and a soloist, Tiny "Joe" Dixon, (played, unconventionally and regally by Amber Monet) singing a bluesy "Takin' the Long Way Home," all auditioning to win the night as they sing and dance to "I'm Lookin' for Something, Baby," and "Goin' Downtown" when our girls, fresh in from Chicago, show up to try out. Deena, Lorrell and Effie call themselves the Dreamettes, and have all busted their butts to get here. One of their moms made their red audition dresses and they are ready!!
One of the signature songs from this show, "Move (You're Steppin' on my Heart)" is their audition song and they're fabulous! Unbeknownst to them, Jimmy "Thunder" Early's, (played over-the-top, but appropriately so by Chad Ra'Shun, with an abundance of moves that will drive you crazy, a celebrity mixture of James Brown and Little Richard) manager, worked out a deal on the side to make the Dreamettes lose the talent contest so that he could grab them up to be part of Jimmy's next tour as back-up singers. When the girls get wind of it, Effie says, NO! I don't do back-up! She knows she is the powerhouse of the group and wants to stick to her guns.
The girls do end up on tour with Jimmy, beginning to make a mark for themselves. Jimmy's Act is stepped up a notch with the addition of the girls, and things are going great. The incredible list of songs that roll by as the action is jam-packed, with great dance moves by all, and as they transition to each level toward stardom, include a very entertaining "Cadillac Car Suite," "Steppin' to the Bad Side," "Baby, Baby,"
"Dreamgirls," and "Heavy." Each tune becomes a full production number and is just bursting with energy! One scene blends right into the next, so it is constant high energy for the audience to drink in.
The Dreams, as they are renamed and revamped are Lorrell Robinson (played uniquely and effervescently by Courtney Kendall), Deena Jones (Shaunte' Massard, who is the epitomy of all that's needed to become a star; talent, beauty, brains and heart) and the incomparable character of Effie White (Dominique Kent, belting out and powerfully combining vocal and soulful depth to play this pivotal role). Effie is also, alternately, played by Jania Foxworth for other performances. Effie is the connecting character to all the others and drives the story to it's conclusion.
In the ever-changing world of show biz, things change, as time goes on. Effie has always known she was a lead singer and wants to move on from here to bigger and better. She holds tight to her dream but when push comes to shove, she opts out of the group, which has by now achieved considerable success. The "love-the-one-you're with" guy, their's and Jimmy's manager, Curtis Taylor, Jr. (played suavely and masterfully with sex appeal by Apollo Levine, who is also Assistant Choreographer) takes up with Effie at first, then switches to Deena as they tour, of course confessing his love for each of them.
Effie's brother, C.C. White, played beautifully by J-Blake White, who has a smooth, caressing vocal sound somewhat like Peabo Bryson, is wonderful as Effie's brother, who is along for the entire ride, both as moral support, composer and eventually boyfriend to the replacement for Effie's spot, Michelle Morris (played equally as stunning by Emuna Rajkuma); right at the same time that Curtis has restructured the girls to go out on their own.
With Effie out, Deena now in the spotlight and singing lead (and abed with him), they are reaching for the stars. Curtis and actually all the main male characters in this play tend to be opportunists, sly and a little cut-throat, which I suppose represents how things were, in that era, in that line of work. Especially since they were trying to "cross-over" from R&B into more "mainstream" sounds.
A lot of this musical is like a libretto in structure. Most of the words are sung, to varying degrees of speaking/vocalizing with accents on certain words, on certain accents in the music. What is wonderful in that is the fact the transitions were seamless from play to musical. The costumes were dazzling and classy and perfect era-wise, mostly perfectly fitted to each performer. I was amazed at the extent of the wardrobe changes ~ everyone, crew and performers, was bejeweled, bedazzled and lookin' sharp. The three leads wore the most beautiful show gowns, a whole closet full by the end, complete with boas, fur-lining and trimming, sequins and lots of lace and jewels. A gold star definitely goes to La Tanya Louis for the thoughtful and exquisite costuming. Kudos to the Musical Director, Darrell Alston and his musicians for playing an immaculate performance, as well as wonderful period Hair & Wigs by Byron Batista, Lighting Designs by Jim Smith and Chris Wehba and Sound Designs by Sean Peterson, fulfilling and exceeding their contributions. It 's evident they coordinated well to make this show come together so tightly.
So many truly tender moments, while the main characters are going through their individual strife, but when they all finally accept and deal with those smothered emotions, it blossoms into something almost surreal that no one could have planned... Kind of like sometimes Dreams do come true, but there are nightmares and challenges encountered along the way... it's how you deal with all of it that counts, long run.
All of the dance movement/choreography was absolutely exhilarating because of the energy put forth, and very true to the disco era. Some wonderful additions were the (faux) playing, (really) dancing horn section, with some of the best choreography in this production, as part of the total picture on stage, that filled the stage and energized the intent so that most of the audience was bopping in their seats right with them. All the dancers were doing the same steps, but putting in their own individual style, according to character, which made the steps come even more alive as a whole.
Each scene contained just the right amount of interesting staging, sometimes where different things were happening on different parts of the stage at the same time - that also kept the pace tight and bursting forward. The huge cast on stage all at once was very cleverly choreographed and staged for maximum impact. Very well done!
The last number of the first act is when Effie actually makes good her threats to leave the group, singing "(And I am Telling You) I'm Not Going." This song, as well as in the second act "I Am Changing," really sets her apart from all the other wonderful voices, with so much power and deep emotion that it seemed to spew out from way deep down.
Other standout songs in the second act, after Effie has left the group are "Dreamgirls, the Reprise" (not to mention it being a fabulous Vegas-Style production number) where Deena is now the lead and being promoted to high-fashioned major stardom, with Curtis pushing her without let-up to do appearances, a film and going solo, and "One Night Only," which marks Effie's solo recording career going gangbusters, backed by Marty (deftly played by Ryan James Hull), her now manager and new love interest, with this song on the rise in the charts that her brother, C.C. wrote. The now dueling Dreams put out their own disco-ized version of the same song, Curtis's idea, which becomes a race to number one on the charts. The managers, agents and Emcee's are like gamblers at a horse race, trying to beat each other out, hour by hour, constantly checking the stats. Effie and her troupe decide to sue Curtis over the rights to the song, which ousts him from everyone, including his beloved Deena, as Effie's version rightly goes to number one.
All's well that ends well, and everyone has come to understanding the past and accepting the new reality. They girls decide to get back together one last time, mend fences and focus on a brighter future, but each as an independent woman and not shackled by the men that didn't deserve them. (The audience cheered and whistled like crazy during this section.) There is certainly a feeling of closure and contentment at the end of this powerhouse musical. It all comes out in the wash, so to speak... and we are all re-cleansed and renewed and feelin' gooooooooood... yep.
Again, with Tor Campbell at the reins, this musical makes for a fantastic experience in theatre-going.
Another shout-out to Shaunte' Massard, who really shines like the true star she becomes in the play. The rest of the very able cast members are Adam Turney and Brian T. Jones as the Emcees/Announcer, Kimberly Ransom-Lundy, Regan Carrington, Valerie Fruge' and Emuna Rajkumar as The Stepp Sisters, Joanne, Kiera Williams, and Charlene, Brittany Marie Anderson as the backup singers, Bralyn Medlock, Christian Gray, Justyn Malik Burney, Jabrile Frazier-Sears and Cameron Allen West as Little Albert & The Tru-Tones and as The Five Tuxedos at the end; and Alexandra Almendarez and Karlee Squires as the Sweethearts. Amber Monet also returns to play Jerry, a club owner, (usually played by a male actor) in act two. Several of these actors play a few different roles throughout the night.
Michael Pettenato has surely carved a niche at his No Ho Art District theatre and a thriving enterprise it is. Nice to see musical theatre kept alive, decade after decade, and this production proves that point. Do yourself a favor and go see Dreamgirls at The Cupcake Theatre, 11020 Magnolia Blvd. No Ho, now extended through September 30th. Visit www.cupcaketheater.com for ticket info.
Photos courtesy of Joel D Castro ~