Review: Murray Mednick Probes History in MAYAKOVSKY AND STALIN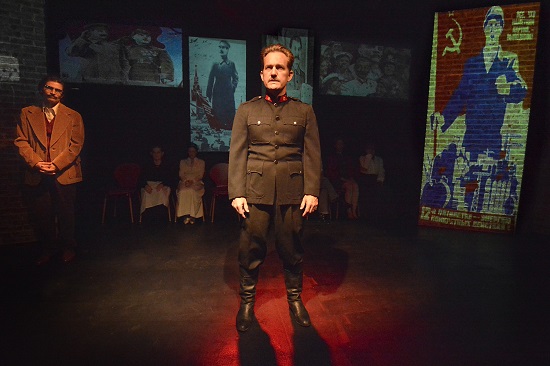 There are plays that tell a story and there are plays that ponder ideas. Murray Mednick's latest world premiere MAYAKOVSKY AND STALIN is the latter, an intellectual dissection of two Russian revolutionaries who were as integral to Eastern European history as beets are to borscht. But in Mednick's drama it is their thoughts that are under the microscope, or what he imagines their thoughts to be, rather than their actions. For, as his Chorus (Max Faugno) reminds us, "We know next to nothing of the past."
This process of uncovering what might have gone through their minds as their politics and art shaped Soviet consciousness is the basis of the play. It means the characters talk a lot and move a little, which can be frustrating if you don't give over to the abstruse nature of the piece.
Its presentational staging often feels like you're watching a series of minimalist museum dioramas populated with life-sized figures against a dark background of archival images. The severity of the setting fits the subject matter. Somber lighting lends an emotional coldness to the austere set and, with the cast seated in one long row of chairs upstage, it also takes on the appearance of an early twentieth century interrogation lineup.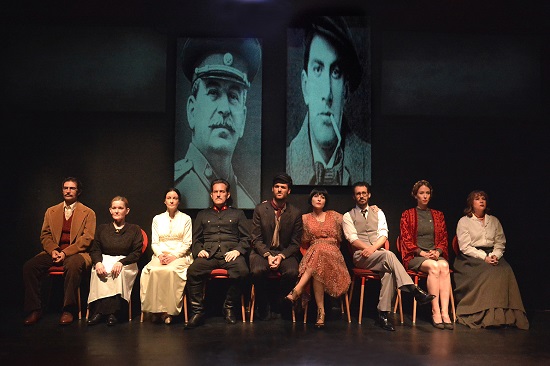 An obsessed Joseph Stalin sought to change history as the leader of the Soviet Socialist Republic, refashioning government to fit his dictatorial ideology and, quite literally, killing anyone who crossed him. Writer and artist Vladimir Mayakovsky was an equally driven rebel-with-words whose writings fueled the Russian Futurist movement. He had a complicated relationship with the Communist Party, and his taste for gambling and women was legendary. He would commit suicide at the age of 37.
Censored by the Association of the Proletarian Writers after his death, it was Mayakovsky's lover and muse, Lilya Brik, who would appeal to Stalin to restore the poet to favor for his important contributions to Soviet art and culture. That he did is in some ways surprising given his opinion of the man placed him on no pedestals while he was alive.
Mednick's characters are compelling, with the two central figures, in particular, solidly constructed. As Stalin, Maury Sterling is a stiff and uncompromising brick of a man whose face is locked in a perennial sneer. In contrast, Daniel Dorr shows Mayakovsky to be a charismatic dissident, a playboy artist of ideas and excess and a casualty of his own vices.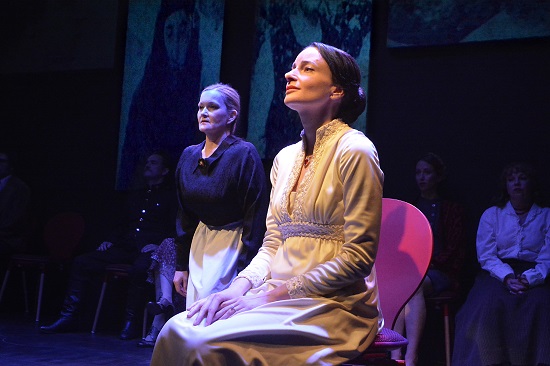 A second suicide is part of Mednick's narrative, this one committed by Stalin's disillusioned wife, Nadya (a fragile but brittle Casey McKinnon). Near the end of Act II, she spits out, "We live in the hell of history," one of the most insightful comments in the play.
It can be easy to judge actions and draw conclusions about the big events in the history books after the fact but the minutia is harder to discern. As Faugno, the questioning "professor," constantly reminds us, we don't really know what they were thinking so Mednick's relentless focus on the existentialism of their choices provokes much esoteric food for thought.
Laura Liguori's Lilya is a spirited example of one woman's method of exerting influence using her sexuality - often the best or only asset at her disposal - in a society where women existed mainly in the periphery of their men's lives. The subtext in Ann Colby Stocking's short stage time as the Stalins' servant, Masha, reveals more about the social construct of the era than could possibly be captured in dialogue.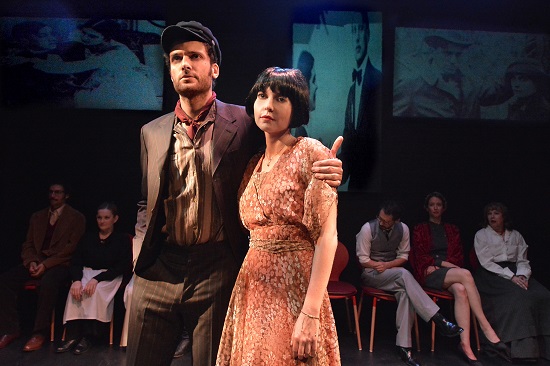 MAYAKOVKSY AND STALIN won't be for everyone. The dramatized snapshots can feel tediously repetitive without the propulsion of plot and movement to accompany them. But if you're up for a philosophical outing meant to stimulate discourse, this one's for you.
MAYAKOVSKY AND STALIN
July 21 - August 19, 2018
The Lounge Theatre
6201 Santa Monica Blvd.
Hollywood, CA 90038
Tickets: (323) 960-4443 or www.plays411.com/stalin
Photo credit: Ed Krieger