Review: MTW's OLIVER! Exudes Thrill and Joy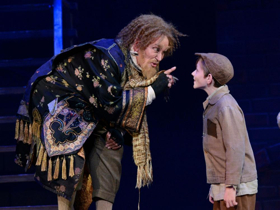 Oliver!/book. lyrics and music by Lionel Bart/ based on Charles Dickens' novel Oliver Twist/directed by James A. Rocco/choreographed by Hector Guerrero/musical director: Ryan O'Connell/MTW (Musical Theatre West)/The Carpenter Performing Arts Center, Long Beach/through February 24
Oliver! is a devilishly fine musical by Lionel Bart who wrote the book, music and lyrics without collaboration. It's an uplifting story of an abused orphan who learns how to survive in 19th century London with the help of acquaintances from both sides of the track. Currently onstage via MTW at the Carpenter Center in Long Beach, the musical boasts a superb cast headed by Davis Gaines as Fagin and 15 delightful and talented child actors.
If you have forgotten the plot, Oliver (Travis Burnett) speaks out at the highly disciplined orphanage where he has been placed and asserts himself as a totally independent, free-thinking boy. ("Food Glorious Food" followed by "Please sir, I want some more".) He is quickly dismissed and sent to work for an undertaker where he also gets into a peck of trouble. From there he meets up with the Artful Dodger (Jason Brewer) who leads him to a merry band of thieves headed by Fagin (Gaines) a conniving, despicable villain. ("You've Got To Pick a Pocket or Two") Nancy (Cayman Ilika) is the likable ladyfriend to crook Bill Sikes ( Kenny Landmon), who ends up kidnapping Oliver and almost killing him. Motherly Nancy tries to save Oliver, but is victimized by Sikes, who turns on her. ("As Long As He Needs Me") As for Oliver, will he find a happy ending? Come see the musical and find out for yourselves!
Guided skillfully by director James A. Rocco and choreographer Hector Guerrero, the ensemble are fantastic. It is difficult to find kids who can sing, dance and act, and that is most likely the reason this show is not mounted that frequently. MTW has found 15 triple threats led by Burnett as a wonderfully sensitive Oliver. Brewer is the tough Dodger, but could go even further with his nasty behavior. Gaines as Fagin is wonderfully disgusting, adding much humor to the role. This actor really knows how to shift his vocal instrument to bring the character to life. Ilika is a beautiful Nancy with a tremendous voice and is consistently a tower of strength. Landmon as Sikes is a terribly scary scoundrel. Character work is so important in this story and all of the actors bring so much to their roles, many of them playing multiple parts. William Hartery is a deliciously evil Mr Bumble and Cathy Newman a hilariously indulgent Widow Corney. Cynthia Ferrer and Kevin McMahon are grim and sassy as the Sowerberrys. Ferrer also stands out as the loving nurse Mrs. Bedwin. Nikki Elena Spies, Christine Negherbon and Bill Ledesma are vocally outstanding as the singing vendors and Doug Carfrae is tremendously caring as Mr. Brownlow who plays into Oliver's life far more than we expected. Guerrero creates wonderfully snappy choreography especially for the kids and Ryan O'Connell does superior work as musical director.
Sets by Dennis Hassan are functional on two levels and costumes by Tamara Becker are period fine. Loved Fagin's first outer coat in a blue print. Lighting by Paul Black and sound by Audio Production Geeks, LLC are right on target.
Don't miss this stellar production of Oliver! For a show that is based on a dark Dickens' classic, there is a lot of humor sprinkled throughout, so you will have a great time! Congrats to MTW once more!
(photo credit: Caught in the Moment Photography)