Click Here for More Articles on WAITRESS
BWW Review: Hit Musical WAITRESS is the Sweetest Treat at Segerstrom Center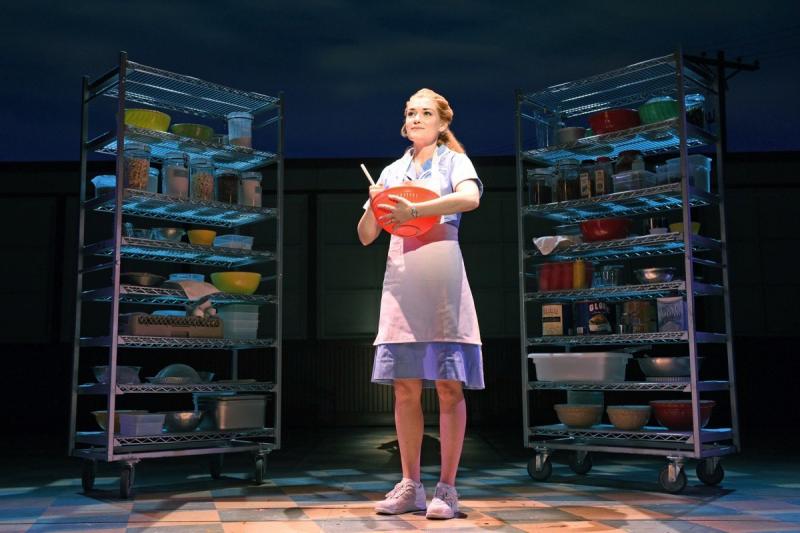 Can you recall the last time you were truly enamored by a stage musical?
Well, that is exactly what transpires while watching the all-together endearing hit Broadway musical WAITRESS, which continues its national tour stop at Orange County's Segerstrom Center for the Arts in Costa Mesa through November 25, 2018.
Like the warmest of embraces, the yummiest of comfort food, and the most cherished camaraderie of dear friends or loved ones, WAITRESS is, overall, quite an adorable, extremely likable show. Even its forgivable flaws are trounced by its irresistible delicacy and its winsome machinations.
From its appealing central character and her delightfully hilarious pals, to its captivating staging and, most significantly, its glorious, pop-gasmic original music compositions from Grammy Award winner Sara Bareilles, WAITRESS goes down like a tasty, satisfying meal with great company. Never mind that it feels purposely designed and keenly manipulated to elicit those kinds of emotions. One thing is for certain: this lovely little musical serves up spoonfuls of enchantment that will definitely touch your heart and will have you smiling at its predictably happy ending.
And judging by the wildly ecstatic reaction to the show's recent OC opening night performance, WAITRESS is a genuine crowd-pleaser.
Yet another musical based on a feature film, WAITRESS is the 2016 stage adaptation of the 2007 cult favorite independent film written and directed by the late Adrienne Shelly (who also co-starred in the film but passed away tragically before the film's release). Similarly enchanting and witty, the film also had lots of charm and spunk, and featured terrific performances from its lead stars Keri Russell and Nathan Fillion.
The stage musical iteration, however, noticeably improves on its source material, not only with the addition of Bareilles' perfectly fitting songs, but also with the mesmerizing staging of Tony Award-winning director Diane Paulus. Together with book writer/adapter Jessie Nelson, the all-female creative team does provide a palpable, inspiring pro-feminine vibe throughout the show.
And while the original movie's plot---and even some dialogue---remains intact, the stage adaptation feels somehow more energized and livelier, perhaps because, yes, unlike the movie there is no physical, screen-induced disconnect between the actors and its audience, but also because many of the periphery characters all get an extra boost of stage time, making way for more character development and, even better, sassier, sitcom-ready line readings from almost every single character, big or small.
But aside from the enjoyable comedic aspects of the musical, WAITRESS presents us with rich, emotionally resonant scenes that tug at our heartstrings, thanks to a central "heroine" we not only root for and empathize with, but also want to see genuinely achieve success and happiness.
That central figure is Jenna, performed magnificently by Christine Dwyer, in a role that sees her juggling bubbly highs, snarky back-and-forths, and devastatingly melancholy lows---all wonderfully and, at times, achingly relatable. Oh, and then she sings, too, providing Jenna a gorgeous singing voice via hauntingly heartbreaking ballads countered by manically buoyant uptempo ditties. It's a beautifully-performed role that peaks with Dwyer's take on the 11 o'clock number "She Used To Be Mine" that will have everyone reaching for tissues, and will have every young female aspiring musical theater performer in the audience a new role model to emulate.
As for the character itself, Jenna, as the title suggests, works as a waitress at a local small-town diner, Joe's Pie Diner, alongside her two best friends, sassy, and hilariously back-talking Becky (the absolutely awesome Maiesha McQueen) and nerdy, boy-shy Dawn (the very funny Jessie Shelton). The two ladies are Jenna's sole outlet for much-needed human support because her home life is a truly unhappy one, having to put up with her emotionally and physically abusive husband Earl (scary good Matt DeAngelis, who happens to be Dwyer's real life beau). While the Earl in the film was an evil but more cartoonish buffoon, the Earl in the stage version is much more openly menacing, dangerous, and hostile---allowing for us to empathize even more with Jenna's unfortunate situation.
Understandably, Jenna longs for escape from her dreary life, but can't seem to conjure enough nerve to do so for fear of being hurt even worse.
To cope with her troubles and to escape her reality, she often finds temporary relief by channelling her feelings directly through her pie-baking, for which she clearly demonstrates a passion and a talent for---a pastime she used to enjoy with and was passed down to her by her now deceased mother, who herself may have also been a victim of marital abuse at the hands of Jenna's father.
Thankfully, her tasty creative creations---humorously named after a particular feeling or occurrence in her life at the moment of its invention---are a hit with the customers, particularly with the diner's cantankerous investor-owner Joe (Larry Marshall), who has a sort of father-lectures-daughter rapport with Jenna that both mutually enjoy.
As if her life isn't already challenging enough, Jenna soon learns she's---oops---pregnant, an ill-timed complication that may have been a result of one drunken evening with Earl. This prompts a visit to the local obstetrician, who happens to be handsome new-doc-in-town Dr. Jim Pomatter (adorkable but undeniably swoon-worthy Steven Good).
The two clearly share instant chemistry, despite the fact that both of them are married (albeit, Jenna isn't in a happy or safe one). Predictably, the mutual flirtation continues with each visit, even though both Jenna and the Doctor agree that it's a "bad idea." Even Dr. Pomatter's curious assistant, Nurse Norma (a fun-to-watch Rheaume Crenshaw) ain't having it... well, except Jenna's pies.
Therein lies Jenna's repeated question about her troubles---do they all stem from her constant bad decision-making?
Understandably, Jenna wants to hide her pregnancy for as long as (visibly) possible, not only with Earl but with her boss, the diner's ornery manager/cook Cal (Ryan G. Dunkin). Since she's essentially the main breadwinner in her house (Lord knows Earl's no help), Jenna simply can't afford to lose her job. Besides, she needs to keep earning if she wants to save up to leave Earl once and for all one day, and fulfill her dream of entering---and maybe winning---the Pie Baking Contest.
Meanwhile, new romantic trysts seem to be spilling over to Jenna's pals. Dawn goes on an awkward blind date with adorable odd weirdo Ogie (incredible scene-stealer Jeremy Morse, who basically incited the longest, loudest laughs of the show thanks to several full-out, unbridled comic explosions with each appearance), who, shockingly, despite her trepidation, becomes head-over-heels crazy for Dawn. Across the way, snarky (but, um, horny) Becky has a secret man of her own that has her giddily preoccupied.
Yes, the joy exuding from this show is simply infectious.
Both funny and heartwarming, WAITRESS is one of those musicals that seems quiet and unassuming on the surface, yet packs a punch with emotion, heart, and laugh-out-loud moments that pleasantly surprise with each viewing. Coupled with Bareilles' ear-candy catalog of songs and a wit-laced, easy-to-digest story adapted by Nelson, and performed by a truly winsome ensemble of actor-singers, there is so much to enjoy about this production as a whole. Like Jenna's culinary concoctions, WAITRESS is very much like comfort food for the musical theater soul.
Even the show's many technical aspects are designed to do just that: be like theatrical manifestations of sugary, delicious-tasting treats that beg for multiple helpings. Scott Pask's diner set, lit beautifully by Ken Billington, as well as Suttirat Anne Larlarb's costumes all pop with color while still maintaining its realistic Southern charm. The rousing sounds of the on-stage band led by musical director Robert Cookman and conductor Lilli Wosk add a down-home, almost intimate house-band feel to their music.
I especially loved the hypnotic, almost dream-like way Jenna's recipes "come to life" via "assistance" from modern dance movements from the cast, which is such a clever way to translate how the film interpreted Jenna's feelings and emotions as they become her pies. Bravo to choreographer Lorin Latarro for her significant contributions to the movements in this musical.
My one gripe---and it's a repeated one here at Segerstrom Center---is that the cast's microphones are set way too low for our listening comfort. Not sure why they refuse to turn these mics up volume-wise for some reason, because it's always extra hard to hear in this hall combined with the orchestra's music.
Another disappointment? I never got to indulge in any actual pies.
But fret not... the evening, overall, promises to be a satisfying buffet of entertainment goodness. There is something so admirable about a musical comedy so intent in making its audience fall in love with it---and then handily earns that sentiment. I believe if you liked the film, you will absolutely love the musical. While the film certainly had an indie spirit and more nuanced storytelling, on stage, WAITRESS amplifies its sweetness, its emotionally-stirring moments, and even some of its more tart edges even further. The comedy may be broader and more obvious, but that collective laughter experienced by the audience just gives us all more to love. The power of live theater has a knack for bringing forth that kind of magic, even more so when performed by a superb collection of actors that truly seem to be enjoying the material.
Order up, because this show doesn't have very many slices left to give here in the OC, even though the show itself has, I predict, a long shelf life ahead of it for many years to come.
----
Photos from the National Tour of WAITRESS by Tim Trumble, courtesy of Segerstrom Center for the Arts.
Performances of the National Tour of WAITRESS at Segerstrom Center for the Arts continue through Sunday, November 25, 2018. Tickets can be purchased online at www.SCFTA.org, by phone at 714-556-2787 or in person at the SCFTA box office (open daily at 10 am). Segerstrom Center for the Arts is located at 600 Town Center Drive in Costa Mesa. For tickets or more information, visit SCFTA.org.
** Follow this reviewer on Twitter: @cre8iveMLQ **
Related Articles
A So. Cal. Contributing Editor since 2009, Michael Lawrence Quintos is a talented, mild-mannered Designer by day. But as night falls, he regularly performs on (read more...)