Review: Flashy New Production of CABARET High-Kicks Into La Mirada Theatre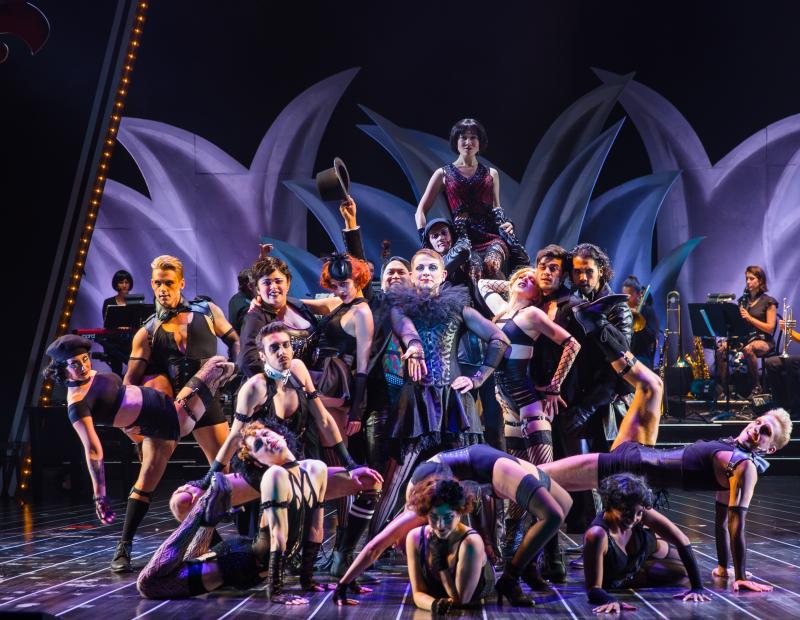 Thanks to its seemingly endless longevity, it's rather difficult to picture the ubiquitous 1966 John Kander and Fred Ebb Broadway musical classic CABARET staged in any other way than the brilliant, Tony Award-winning 1998 Roundabout Theatre Company revival co-directed by Sam Mendes and Rob Marshall---which itself also served as the springboard for the newer 2014 revival that still continues to tour North America today. Many, including myself, consider it to be the show's definitive stage iteration both visually and musically, backed up by the fact that this RTC production still stands as the third longest-running musical revival in Broadway history. If you've seen a large theater production of this musical in the last two decades, chances are pretty good you saw this one.
But just because something is done one way most times doesn't mean there isn't room for other, slightly different interpretations.
Yes, despite my well-earned affection for the RTC production, I found myself vigorously entertained by McCoy Rigby Entertainment's flashy and buoyant new regional production of this theatrical staple, under the solid direction of Larry Carpenter and featuring spectacular musical performances from its lead cast. This deliciously bawdy but at times sneakily ominous musical continues performances at the La Mirada Theatre for the Performing Arts through February 11, 2018.
Working with Joe Masteroff's book---which was based on the original play by John Van Druten that was inspired by by Christopher Isherwood's short novel---Carpenter has fashioned a production of CABARET that utilizes some of the embellishments that have been introduced into the RTC production, though aims his pointedly to present its machinations in the most straightforward manner possible, blurring any lines of ambiguity and subtlety in favor of highlighting its visual splendor, a more engaging, articulately undisguised narrative, and dazzling musical numbers that all combine to make it quite a highly entertaining production.
Carpenter's enjoyable staging of CABARET feels genuinely refreshing, primarily because many of us have been so conditioned to expect a certain kind of CABARET from RTC's perspective. Seeing this updated La Mirada iteration---presented less like a revue but more like an honest-to-goodness book musical, where the musical numbers don't feel too much like interruptive interludes---pushes this risqué show into a more mainstream follow-through that I feel most audiences will enjoy more.
When the first act closes with a [SPOILER ALERT!] huge swastika backdrop as most of the cast loudly reprise the Nazi-like anthem "Tomorrow Belongs To Me," there is no longer room left for mystery and ambiguity. Yup, these assholes are about to ruin everyone's lives.
Beyond the staging, I also really enjoyed what this production had to offer. Here, the angled frames of John Iacovelli's set---lit effectively by Steven Young---opens up the infamous Kit Kat Klub from the usual claustrophobic dark box into a much more expanded space (with allowances for bursts of color once in a while) for these "beautiful" Euro creatures to retreat to from the harsh realities of the outside world. Inside, you'll hear the infectious hot jazz sounds from the production's rousing band led by musical director David O. that make an appearance once in a while from the rear of the stage (all donning similar short-cropped wigs). Out front and scurrying all around, the scantily-clad male and female ensemble---all (barely) dressed in form-fitting costumes by David Kay Mickelsen---provide caffeinated high-kicks and sensual Bob Fosse/Jerome Robbins-esque moves courtesy of choreographer Dana Solimando, whose work here is especially intoxicating.
With various cast members lurking and observing like creepy bystanders on the sides of the stage throughout---sometimes facilitating door knocks and sound effects, too---there's always an extra heightened feeling of foreboding danger at every turn that I have never experienced in previous productions. In the shadows, but not asking for your full attention, these dark pieces of curvy flesh leer and stare with daggers of judgment and naughty thoughts dancing in their heads. The snark on their faces is hard to miss, as if saying to themselves... "look at these damn fools! They have no idea what's about to come their way!"
Two main narratives that occur within 1929 and 1932 in Berlin, Germany dominate CABARET.
On one side is the budding relationship that forms between visiting American writer Cliff Bradshaw (Christian Pedersen) and British expat-slash-Cabaret singer Sally Bowles (Zarah Mahler), two seemingly in-flux souls who found each other across a crowded, smoky room. On the other side is the budding relationship between Cliff's German landlord Fräulein Schneider (Kelly Lester), an independent woman who has chosen to comfortably settle into her advanced age and social status, and one of her adorable tenants, Herr Schultz (Jack Laufer), a Jewish German who owns the local fruit store.
Smack dab in the center of it all is the Kit Kat Klub, the notorious cabaret club known for its unpoliced debauchery, openly-fluid sexuality, and wild, carefree attitude. Oh, and, yeah, I guess they play jazz music there, too.
"In here... life is beautiful!" declares the Kit Kat Klub's very forward Emcee (played magnificently by Jeff Skowron), who also serves as the musical's unofficial narrator and oracle of "wisdom" as he is surrounded in a sea of unbelievably sexy staff of dancers and waiters.
"Leave your troubles outside!"
Well, of course, that's not as easy to comply with as it sounds.
Sally's flirtation with Cliff gets her boss Max (Richard Bulda) jealously angry enough to fire her, leaving her homeless. She barges into Cliff's home and situates herself to live with him, even though he himself can barely afford to live in his apartment. Lucky (or is it?) for Cliff, his new German buddy Ernst (Matt Koenig), who helped him find his pad when he first arrived, is also willing to help get Cliff some much-needed funds via mysterious odd jobs as a courier and as an occasional English language tutor for some of Ernst's random German friends.
Across the hall, the romance between Fräulein Schneider and Herr Schultz is growing more and more---enough that both decide to marry. Alas, evil Fräulein Kost (Erica Hanrahan-Ball)---angry that her landlady Fräulein Schneider hassles her about entertaining a steady stream of young men in her apartment---crashes the couple's engagement party with a revelation: that Herr Schultz is Jewish, exactly the kind of man that Fräulein Schneider may not want to associate with once the onslaught of the Third Reich comes knocking on everyone's door.
What previously feels like the show's subplot feels extra elevated here---thanks to the superb performances of both Lester and Laufer. Their respective characters' romantic entanglement becomes both a heartwarming and, eventually, heartbreaking example of the many tragedies of the era.
Straight-laced (but slightly not straight-acting) Cliff, meanwhile, continues to be entangled in the dizzying, joyful excitement of being with an off-kilter gal like Sally. But she, naturally, comes with baggage, and, um, has this annoying habit of being completely naive about the world around her. Nevertheless, Cliff is in love, and wants to do right by her---even if it means knowingly crossing over to the dark side.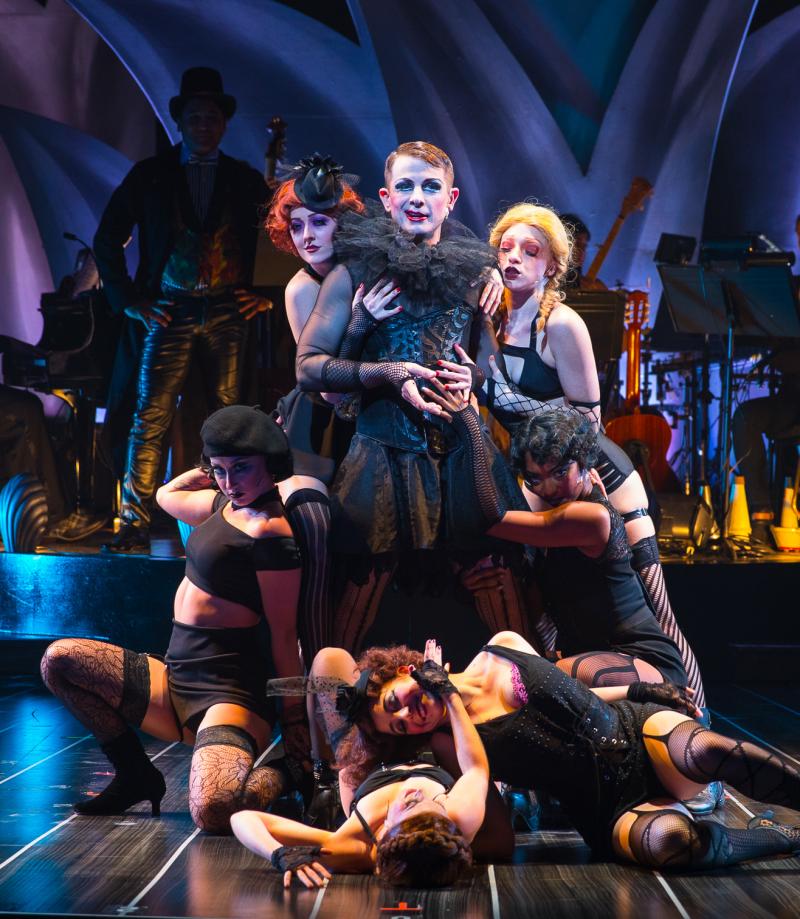 While this production of CABARET is indeed an enjoyable one from an overall standpoint, I have to say that the production's performances are truly what elevated it for me. Skowron---one of the many So. Cal. musical theater actors whose chameleon-like turns in various shows over the years I have been awed by consistently---is once again in top form here. From my fourth row center seat on Opening Night, I was treated to one of my favorite Emcees ever---a terrific role that he tackled with full, unbridled gusto. Over-the-top, menacing, seductive, enigmatic, and even a bit vulnerable, Skowron should probably make room on his mantle for another statue soon for this.
As the up-and-down Sally Bowles, Mahler really impressed me with her vocals. Though she can belt the bejesus out of the hight notes in "Maybe This Time" and "Cabaret," I was especially bowled over (hehe, sorry) by her lower register---a sort of seductive temptress shielding a vulnerable, very scared young woman, fearfully trudging along to meet life's next challenge. Lester's take on Fräulein Schneider was beautifully done, capped off by some of the show's most memorable musical solo work in "What Would You Do?" and "So What."
Pedersen, Koenig, Hanrahan-Ball, and particularly Laufer all provided admirable acting performances to their respective roles as well. The remarkably flexible ensemble cast is a hard-working bunch, filled with lots of very talented young actors that added to the enjoyment of the show. Their tight harmonies and beautiful footwork should be commended. A few standouts from the ensemble include all the Kit Kat Girls and Boys who gave the audience plenty of reasons to cheer; Rodd Farhadi whose turn as Victor provided some surprise laughs; and Neil Starkenberg (Hans), who (if I'm not mistaken) truly stepped up by joining the band to play the saxophone. Some of these guys are multi-hyphenates!
Whether you've seen the RTC production of the show or have not seen the show at all (or have only seen the Oscar winning 1972 film adaptation), this production is well worth checking out, if only to bathe in the glory of these brilliant singing performances or to simply watch and learn from this cautionary tale of folks living in a bubble, unaware of the dangers that lay ahead (um, oh... wait)...
** Follow this reviewer on Twitter: @cre8iveMLQ **
Photos from the La Mirada Theatre for the Performing Arts' production of CABARET by Jason Niedle.
[ UPDATED 1/24/18 to properly credit Erica Hanrahan-Ball in the role of Fräulein Kost which was mistakenly left off the original review]
---
The McCoy Rigby Entertainment presentation of CABARET continues at The La Mirada Theatre for the Performing Arts through Sunday, February 11, 2018. The theater is located at 14900 La Mirada Boulevard in the city of La Mirada. Parking is Free. For tickets, visit www.LaMiradaTheatre.com or call (562) 944-9801 or (714) 994-6310.