BWW Review: DON'T HUG ME, WE'RE FAMILY Has World Premiere in North Hollywood
The small house at T.U. Studios quickly filled as 8 p.m. ticked closer. The set was reminiscent of a small-town restaurant and bar set in the Midwest: Minnesota Viking banners adorned the walls and bar, a mounted deer head peered over the coat rack, and beer propaganda took up all other open spaces. A small table with a few chairs set center stage, and a bowl of mini pretzels sat on top of the table. It felt homey, warm and strangely inviting.
With a book and lyrics by Phil Olson and music by Paul Olson, DON'T HUG ME, WE'RE FAMILY is the sixth musical comedy in the DON'T HUG ME franchise. The book and lyrics are best described as kitschy and corny, and Director Doug Engalla ensured the hilarity and campiness came across to the audience.
It helped Engalla had a cast of talented actors and actresses. I was impressed everybody held the accents for the entire show, be it the Midwestern one or the Brooklyn one. After a short amount of time, a Midwestern accent starts to sound gimmicky, but those who played the Minnesotans pulled it off, don't cha know?
In short, Truett Jean Butler (Clara) and Andrew Carter (Gunner) played a married couple that hosted two separate radio shows in their small bar, The Bunyan. Gunner was far less successful with his "Crappie Talk" show and eventually lost his only advertiser, who also happened to be his friend Kanute (David Pluebell). Clara's "Book Beat" raked in advertisers, which angered Gunner and revved his competitive nature. However, when two Brooklynites (Sal, played by Michael Cortez, and Donna, played by Christina Gardner) moved to the small town, everything was overturned.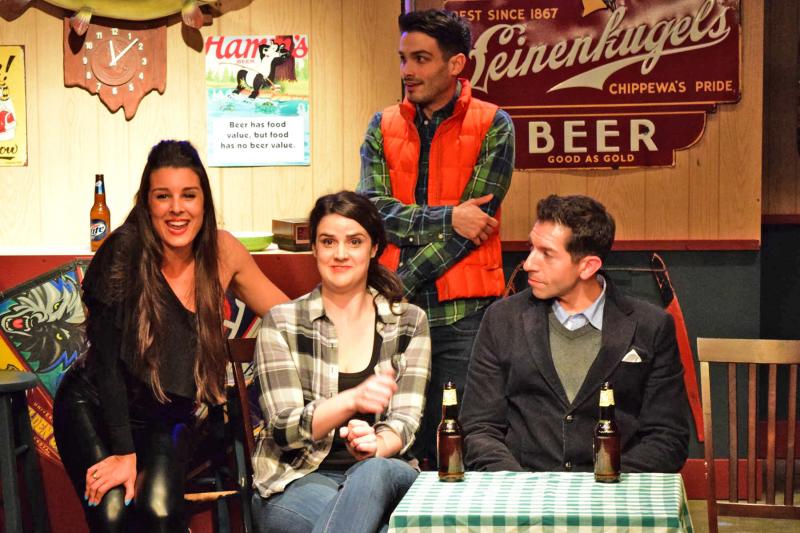 A theme evident throughout the show was gender roles, hinting women could do anything just as well as men, like the potato sack race brought up in the first act or Clara's radio show. Women have quite a say in this production. In the first scene, two of the female leads sang "What Women Want," which was basically a call to arms for how men should please women by "not farting in bed" and telling women they are never wrong. As a woman, I am slightly biased in what I thought about this song, but looking at it from a universal point-of-view, women can be satisfied in ways besides verbal affirmation.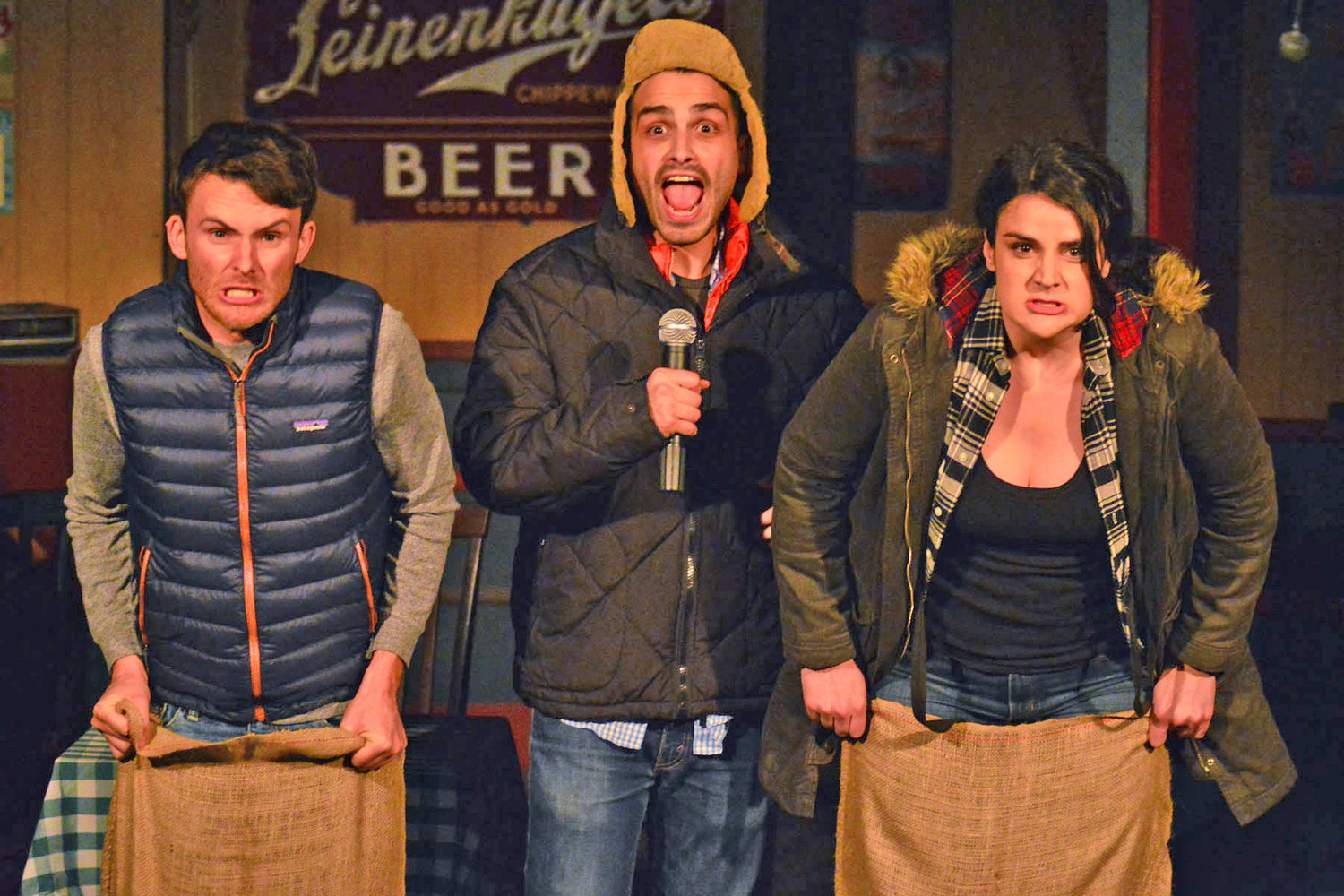 In all honesty, the ones who stole the show were Allison Hawkstone (Bernice) and Micky Shiloah (Aarvid). Hawkstone's timing and delivery of lines had me gasping for breath, especially when she compared Kanute to a hamster whose wheel did not spin. She managed to hit every beat on the dot throughout the entire show. Her facial expressions that accompanied her deliveries amplified the "funny factor" of her character. Shiloah, who played her doting yet unaware husband, also had impeccable timing. I also thought his accent sounded the most believable of all the Midwesterners.
The one who needed some improvement on delivery and timing was Pluebell. His character was supposed to be the jokester of the group, and although Pluebell knew that, he made it very obvious. Instead of letting the audience determine for themselves if he was funny, he kind of forced them into thinking he was. I thought he was trying too hard to come across as funny instead of saying the line organically and on the right beat.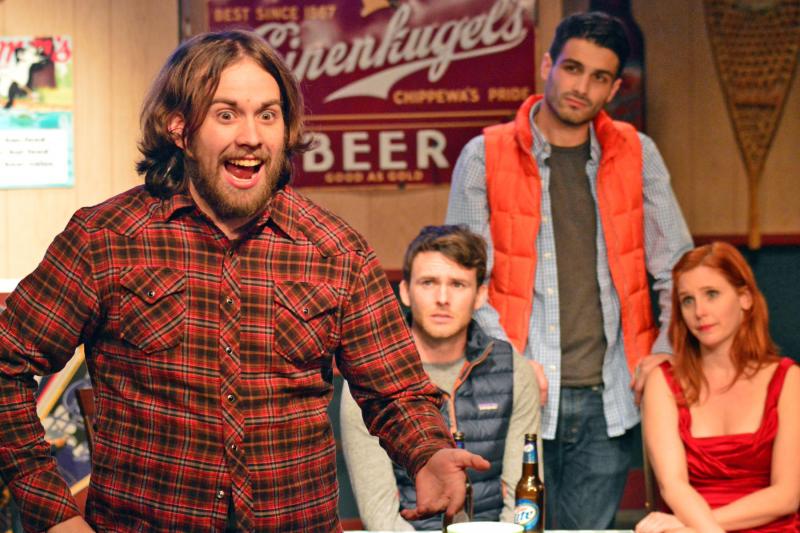 Another issue I had - and maybe Engalla decided this because of how ridiculous the show was already - was how vocally weak a majority of the actors and actresses were. Of course the songs were nothing close to Broadway stature, and none of them were more than two minutes long; they were just as cheesy as the writing itself. But vocally speaking, it sounded like true community theater at its best. However, the songs and radio jingles were hilarious and enjoyable once I got past the singing part.
That being said, Shiloah sang one of my favorite lines at the very end of the show. In essence, he said relationships work better when no one is wearing pants. In a comical and literal view, it was sexual in nature. However, looking at it from a pragmatic view, it was interpreted to mean if both people were on an equal playing field, relationships would work better. Tasks would be shared; blame would be shared. And I found that line to be very eye opening considering the world we currently live in.
I found DON'T HUG ME, WE'RE FAMILY to be a good laugh, a good time and in no way serious. If you are looking for a way to de-stress after a long Friday at work or are looking for a fun weekend nighttime activity, by all means attend a performance of this show. Despite a few mishaps, the point of this show is to bring joy and happiness to the audience, and on opening night, it did exactly that.
DON'T HUG ME, WE'RE FAMILY is playing now through March 25 at Theatre Unlimited (T.U. Studios) in North Hollywood (10943 Camarillo St.). Performances are at 8 p.m. Fridays and Saturdays, and at 2 p.m. Sundays. Tickets are $24 (general admission) and $18 (seniors and students with a valid ID). They are available online at donthugme.brownpapertickets.com or by calling 818-850-9254. (Use code HUG for $5 off general admission.)
(Oh, and by the way, there was a fun, little Easter egg with the karaoke machine. Will you spot it like I did? Hats off to Engalla for that clever direction.)
Photo Credits: Doug Engalla and Phil Olson
Ilana Lifshitz is a University of Florida alumna who hails from Wellington, Fla. but resides in Los Angeles. She moved to LA after her college (read more...)