BWW Review: ARSENIC AND OLD LACE - A Most Potent Showcase for Sheelagh Cullen And Jacque Lynn Colton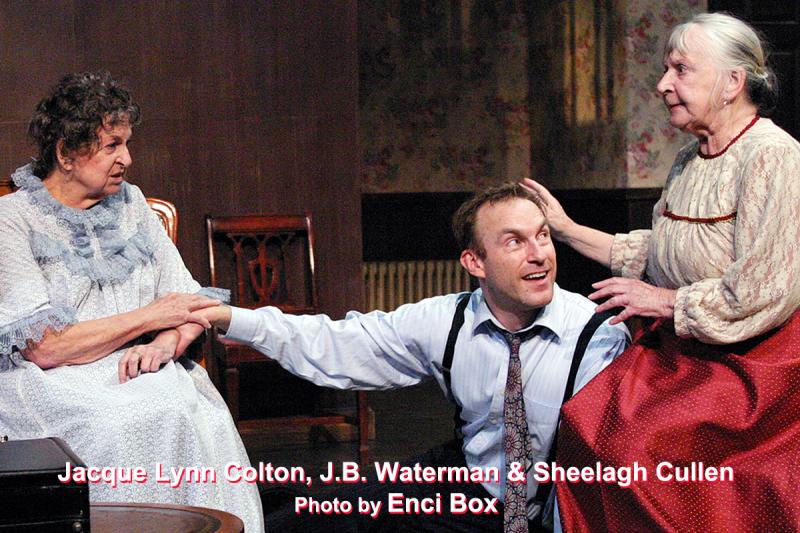 ARSENIC AND OLD LACE/by Joseph Kesserling/directed by Elina de Santos/Odyssey Theatre/thru October 8, 2017
The 1941 ARSENIC AND OLD LACE (directed by Elina de Santos) gets a dusting off from the Odyssey Theatre Ensemble providing a wonderfully expressive vehicle for the acting talents of Sheelagh Cullen and Jacque Lynn Colton as Abby and Martha Brewster, the seemingly harmless and most delightful murderers of their single unattached male boarders. Cullen and Colton totally charm while dithering on ever so casually describing their deadly deeds as calmly as sharing a recipe of elderberry pie. (Well, actually elderberry wine, dosed with a little arsenic, strychnine, and just a pinch of cyanide.) Cullen and Colton handle their scenes together like pros in a championship tennis match. Cullen zings, Colton returns. Colton zings, Cullen returns. Very nice! Who wouldn't want a pair of caring, problem-solving aunts like them?
J.B. Waterman effortlessly handles the pivotal role of two spinsters' nephew Mortimer Brewster (and playwright Kesseling's most obvious nemesis), a lowly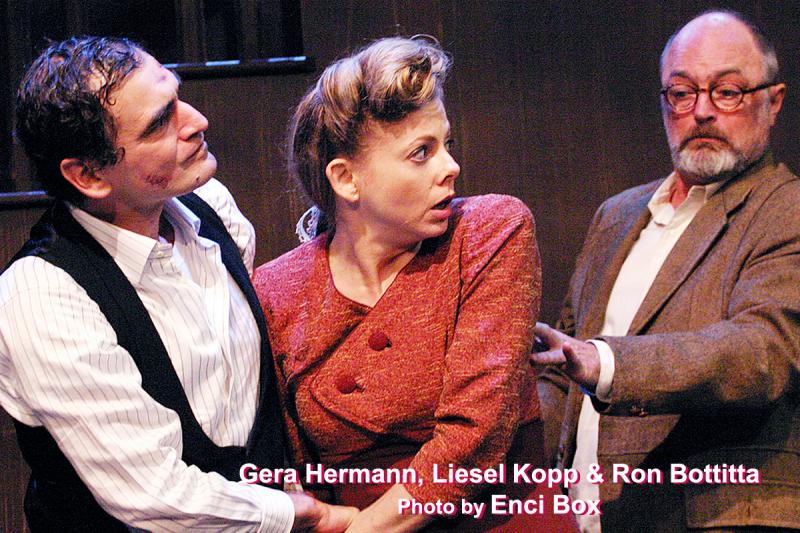 theatre critic, lower than a reporter writing on real estate. The pointed barbs periodically aimed at Mortimer throughout the three acts definitely registered with this theatre critic. Too, too funny!!!
Mortimer has come to visit his aunts in their Brooklyn home (a beautiful, elaborately detailed living room set complete with staircase from designer Bruce Goodrich) in part to visit their next-door neighbor's daughter Elaine Harper (the winsome Liesel Kopp). An accepted proposal occurs before Mortimer's discovery of his aunts' illegal past time of serial poisoning. The aunts make the most of their other nephew Teddy (as most whackily portrayed by Alex Elliott-Funk) who lives with them and who has total delusions of actually being Theodore Roosevelt. In the guise of marching to the Panama Canal (the Brewsters' cellar), Teddy has the duty to bury those single men who've 'died of yellow fever,' er, the aunts' arsenic potion.
The re-appearance of long-lost third brother/nephew Jonathan Brewster (a heavily-accented Gera Hermann) with his accomplice/plastic surgeon Dr. Einstein (Ron Bottitta) further stirs the hijinks and mayhem.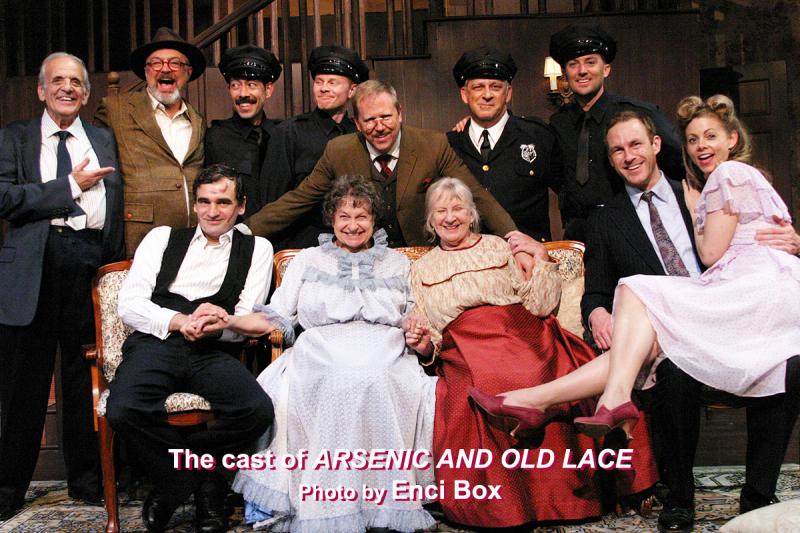 Neighborhood policemen frequent the Brewster household for welcoming coffee and sandwiches from the most hospitable aunts. Clever synchronized physical comedy bit of leg crossings from Mat Hayes (as Officer Brophy) and Darius De La Cruz (as Officer Klein). Michael Antosy as Officer O'Hara effectively puts everyone in the living room to sleep with his never-ending recitation of his yet-to-be-published script. Alan Abelew essays a number of integral roles while Yusef Lambert makes his authoritative presence known in his third act entrance.
Kudos to costume designer Amanda Martin for period suits and hats for the men, Elaine's lovely ensembles and the funereal black dresses of Abby and Martha.