Review: ARGONAUTIKA Brings Gods, Monsters, Mortals, and Kings to Life at A Noise Within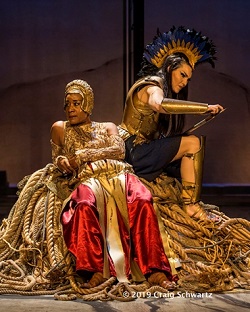 The best way to characterize Mary Zimmerman's adaptation of the mythical tale of Jason and the Argonauts is as a playground for adults in which theatre artists use every storytelling trick in the book to bring gods, monsters, mortals, and kings to life. Puppets, masks, stilts and aerial silks trade stage time with original music, dashing fight scenes, and flights of fancy in Jason's epic adventure to find the Golden Fleece.
Each episode has a different gimmick, and director Julia Rodriguez-Elliott uses every ounce of creativity the stage can hold to devise a wildly inventive array of magical effects. In one, Hercules (Frederick Stuart) slays a sea monster conjured out of the air. In another, his lover Hylas (Richy Storrs) disappears through a trap door in the stage floor, lured by a nymph (Angela Gulner) to a watery end.
Storms threaten to destroy Jason's (Ty Mayberry) ship, the Argo, brought to life with only ropes, oars, and coordinated movement, while a giant lollipop captures exactly the right tone for a spoiled boy-god of love (Marc Leclerc as Eros) motivated to action with the promise of a toy.
By the time our hero yokes two bulls and slays the skeleton soldiers to get to the dragon who guards the fleece, it feels as though we've circled the globe ten times over. It can be daunting to keep up with it all, but if you let yourself be carried away by the fun you'll have a great time. "Don't be so literal; you'll miss a lot," says one of the characters in the second act. Take it to heart and the exploits in this theatrical romp will be a delight.
Standout performances (and there are many) include Mayberry, who takes on all tasks - heroic, romantic, or ordinary - with grounded sincerity; Stuart's deliciously bubble-headed strong man; Alan Blumenfeld's blunt and boisterous comedy king; Cassandra Marie Murphy, who is perhaps the only person who can sing like an angel while hanging upside down suspended in the air; Gulner's touching portrayal of Medea in love; and Veralyn Jones (Hera) and Trisha Miller (Athena) as two powerful goddesses who hold the story in the palm of their hands. Miller, in particular, is mesmerizing.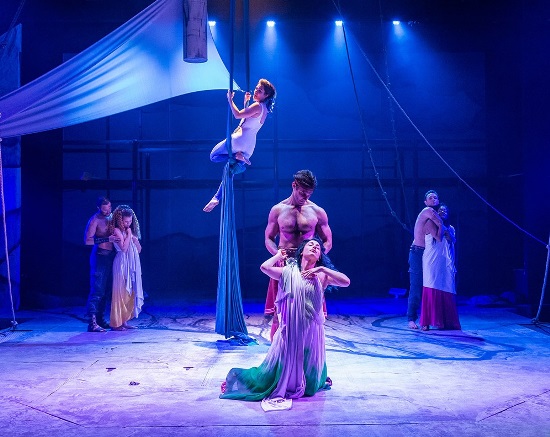 Robert Oriol's evocative sound design and Ken Booth's lighting create a fair amount of theatre magic of their own, culminating in a moment of tender resolution as the characters are immortalized in the sky as stars. It's the final "ahhh" in a rousing tale.
ARGONAUTIKA
March 20 - May 5, 2019
A Noise Within
3352 E. Foothill Blvd., Pasadena, CA 91107
Tickets and info: 626-356-3100 or www.anoisewithin.org