BWW Review: ALL MY SONS at Wasatch Theatrical Ventures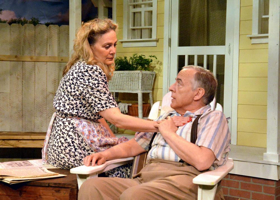 "All My Sons" is the story of Joe Keller (played by the engaging Mark Belnick), a successful, middle-aged, self-made man who has done a terrible and tragic thing, by framing his business partner for a crime that caused the death of hundreds of servicemen from World War II, and engineering his own exoneration. Now, his son Chris (the charismatic Jack Tynan) is about to marry the partner's daughter (the solid Alexis Boozer Sterling), the incident is revisited, and his lie of a life is unraveled.
The challenge with such Arthur Miller classics is to honor the script, itself, but do it in a way as if the audience is seeing it for the first time (even though many of us have read it in high school, performed it in undergrad and/or grad school, and seen multiple productions).
It was a slow start at the beginning for the cast to warm up with their relationships and dialogue, but by the end (and I won't give away the ending) this production and its actors had this reviewer captivated so much so that when the big ending came, I jumped out of my seat with the rest of the audience.
This is a talented cast and what they do best is emotion. Specifically Belnick, Tynan, Sterling, and Francesca Casale (Kate). Each draws on whatever acting technique to stir up and purge out true, real, heart-pounding emotion. Specifically, on opening night performance, Tynan's ugly-cry and Casale's gut-wrenching bellow of pain and sorrow at the end of the play that came from the pit of her stomach and echoed throughout the small space of the theatre.
The rest of the cast do quite well in their respective roles, but some seem out of place with their more caricature deliveries, next to the above four and their real emotions. The role of Bert is double cast between Jack Heath and Beckett Wilder (performing opening night). This reviewer noticed the support and camaraderie between both boys as Heath was sitting in the front row and even applauded after Wilder's first entrance. Kudos to the parents for lending their mutual support, as well. May that kind of support and genuine kindness never leave these two young actors on their journey through The Business, it will serve them well and make for a refreshing change for the next generation of performers.
Kudos to the design elements of the production. They were top level. But with such design professionals as Pete Hickok (Scenic), Derrick McDaniel (Lighting), Shon LeBlanc (Costume), David B. Marling (Sound), and Bonnie Bailey-Reed (Props)...I would have expected nothing less.
Director Gary Lee Reed and the Wasatch Theatrical Ventures (WTV) have done a wonderful job in bringing a classic to a small stage and presenting it with a 2019 flair while keeping the integrity of the writing and the style.
"All My Sons" runs through May 12 at the Lounge Theatre. Ticket Reservations/Information: www.wasatchtheatricalventures.com
Pictured: Francesca Casale (Kate) and Mark Belnick (Joe); Jack Tynan (Chris), Alexis Boozer Sterling (Ann), James McAndrew (George)
Photo Credit: Ed Krieger