BWW Interview: Miranda Wynne Returns To Family & The Familiar In ROTTERDAM
Skylight Theatre Company's 2017 production of ROTTERDAM has been chosen to be remounted at the Kirk Douglas Theatre as part of Center Theatre Group's third annual BLOCK PARTY. The talented cast of four (under the very able direction of Michael A. Shepperd) have already begun reprising their respective roles. I grabbed the opportunity to chat with Miranda Wynne who essayed Alice at Skylight.
Thank you for taking the time for this interview, Miranda! I loved your production at Skylight November of 2017. Thanks for including my quote on your website! So, what was your first reaction to hearing ROTTERDAM being picked for BLOCK PARTY 2019?
When I first heard that we were chosen for Block Party, I was over the moon! The four of us in the cast were told that Block Party was a possibility when the Skylight had first applied, and I think we were all holding our breaths until we got the news that it was official. When we did, it was like we could all breath again. This show is so dear to all of us and I did not feel finished with Alice at the end of our first run, so the chance to play her again was a dream come true.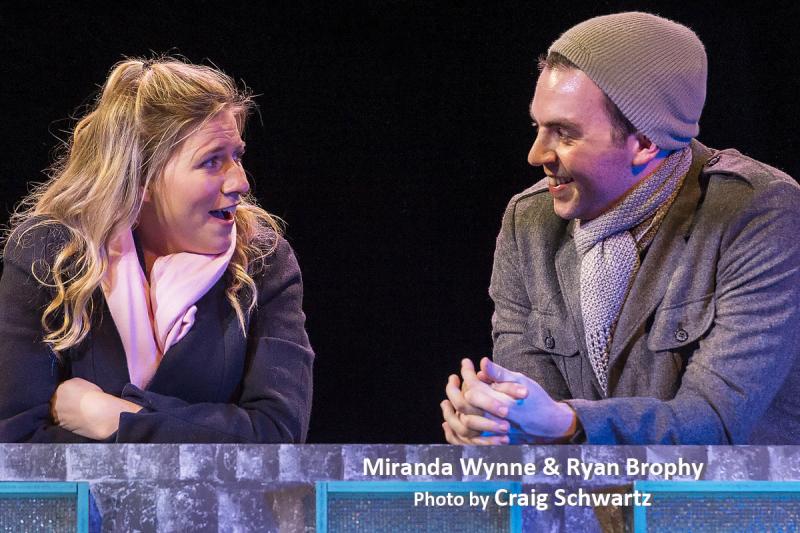 Have you been keeping up with each others' various projects since you west coast premiered at the Skylight?
We have all stayed pretty close in the year that has passed. Ryan Brophy and I have been joined at the hip, playing husband and wife in OPPENHEIMER at Rogue Machine Theatre. Ashley and Audrey have been doing a lot of film and TV, which I cannot wait to see. Coming back to the rehearsal room after all this time, feels like we were just together yesterday. The cast and entire team are unbelievably easy to work with and just plain hilarious.
So, after over a year since you performed Alice, did Alice's thoughts and words come back easily for you?
Surprisingly, everything came flooding back in when we started rehearsal. Michael had us jump right in to see what we remembered and, Wow! Talk about muscle memory! It is amazing how not only our bodies, but our hearts remember the slightest details and inner monologues you thought would be lost with time.
Have you had any other theatrical experiences where you've returned to a role? Or is this your first reprisal?
This is my first time reprising a role, especially one so dear to me. I was worried that I would try to make a cookie cutter version of what Alice was before, but that hasn't happened. We have such a solid base, that now we are getting the chance to play. We can try new things and take risks knowing that we have everything we need for success.
What life insights of your own have enriched your interpretation of the character of Alice since the Skylight production?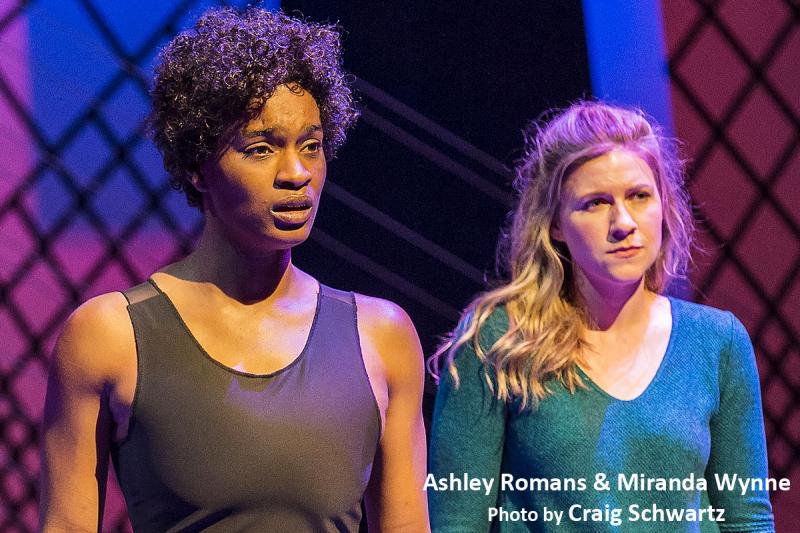 Since the last performance, I was granted the wonderful opportunity to work with children at elementary schools all of over southern California. I've met a number of transgender students and I'm constantly in awe of the strength and confidence these kids have. I see the acceptance and the openness of their peers and it gives me a newfound hope and pride for this next generation. I think of Alice and realize that we are a special group here in California, and how important it is to tell this story so that more kids can grow up with this mentality.
Will Michael Shepperd be tweaking or making any changes to this remount?
The main changes will be adjusting to the size of the space. The Skylight was an intimate 99-seat theatre while the Kirk Douglas seats over 300 people. We are working on filling the space with our bodies and voices while keeping the tender moments that make the play special. With this extra time, our assistant directors have also been able to dive deeper into some areas that we were previously exploring. For example, Shen Heckel, led us through a gender workshop where we talked about trans theory and terminology. We even did an exercise to help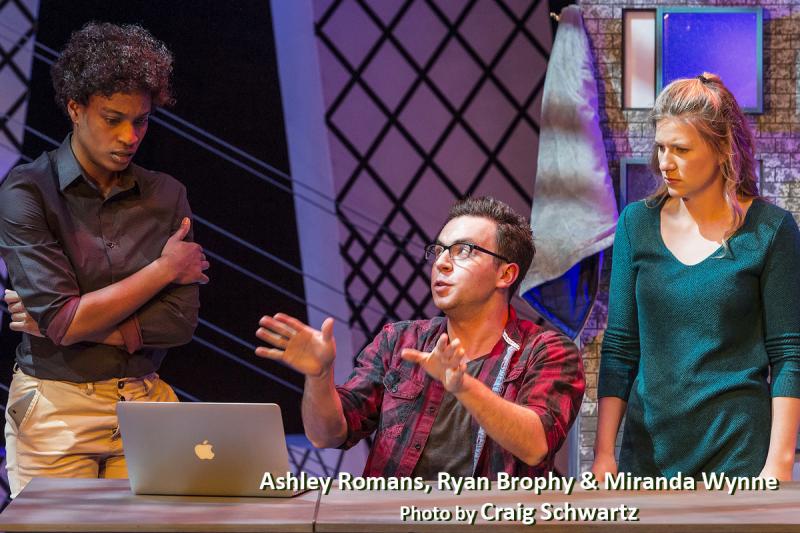 physicalize the trans experience by seeing how it might feel to have what you see in the mirror be dissociated with your inner self awareness. Our other AD Shaina Rosenthal introduced us to intimacy training which is a beautifully emerging practice right now.
Have any of you had a chance to meet your playwright Jon Brittain, who won an Olivier Award for ROTTERDAM in 2017?
We haven't met him in person, but we did have a lovely Skype call with him last year. Michael and the producers worked with him closely on changes to the original script for both productions. From what I know, he was very accommodating and open to adjusting the script to fit our cast and community.
Any particular audience response at the Skylight that surprised you or your fellow cast?
I think what surprised me and the cast the most was the fact that this show affected people from vastly different backgrounds. We had a number of people from the LGBTQ center, and specifically the transgender community come to the show. Hearing that we captured some of these vital and delicate moments authentically was everything we could ask for. On the other end, I know people who came to the show with a very narrow view of what it means to be transgender and leave with their hearts minds changed. My own mother is a very religious person who used to believe that being anything but cisgendered was a choice, but after seeing the show once, then twice, then over seven times - she was changed. She became our number one fan and would sit in the talkbacks every Sunday listening to parents, partners, families and the like talk about their experiences.
Now that you're returning to ROTTERDAM, any urge to visit the actual Rotterdam in the Netherlands?
I am like Alice in more ways than I can count, but there are two things we do not have in common. One, I love cheese. And two, I love to travel. I definitely want to visit Rotterdam. I would walk around the streets pretending to be Alice, not knowing any Dutch and eating lots of bitterballen. Hey, maybe our next stop will be to perform the show in Rotterdam!
You earned your B.A. in theatre from UC San Diego. How old were you when you decided you wanted to be "an AC-tor"?
I started acting in the sixth grade because I was always one of the last kids to get picked up from school and needed somewhere to go, but lord knows, I fit right in with the drama crowd. I started doing DTASC drama festivals from that age all the way through high school. I was involved in every part of the department I could get my hands on from directing to designing to producing. I fell in love with it all and didn't think I could be more obsessed until I went to UC San Diego and realized that theatre could be used for social change and not just entertainment.
You're a native Los Angeleno and have performed at various Los Angeles theatres. Have you noticed any particular changes or differences in the L.A. Theatre community over the years?
Growing up in Los Angeles, I knew about the big theatre like the Ahmanson and the Pantages, but it wasn't until I came back from college that I realized how rich and diverse our intimate theatre community is here. I have had the privilege to perform at a number of these theatres, and I have found that each theatre company has a unique dynamic and mission. I think L.A. is so well-known as the film and TV capital of the world that our theatre scene gets pushed to the background, but I have seen some beautiful work that should not be taken for granted. I also think that there is a major push towards bringing awareness to issues like diversity, inclusion and consent.
What's next on the theatrical playground for Miranda Wynne?
At the moment, I'm focusing on cherishing these couple of weeks at CTG. I already know the post-show blues will sweep in after closing though, so I'll be ready to jump into a new project as soon as I can!
Thank you again, Miranda! I look forward to visiting you and your cohorts in ROTTERDAM again!
For ticket availability and show schedule through April 7, 2019; log onto www.centertheatregroup.org