BEST IN DRAG Show Returns to LA's Orpheum Theater 10/8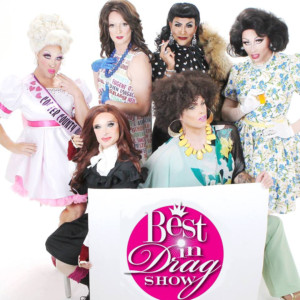 Best In Drag Show, benefiting Aid for AIDS, a program of Alliance for Housing and Healing, returns October 8, 2017 to the Orpheum Theatre in downtown Los Angeles. 100% of the proceeds from the outrageous and legendary beauty pageant spoof help prevent homelessness and hunger for men, women, children and families living with HIV/AIDS throughout Los Angeles County. Tickets are now sale at www.bestindragshow.org.
This year's festivities will include celebrity judges and six gorgeous gals competing for the crown. The 2017 contestants are Miss Florida Lexi Pro (Antonio Martinez), Miss Louisiana Joan Crawfish (Ricardo Ferrise), Miss New York Anita Tony (Joshua Skidmore), Miss Pennsylvania Soanna Quilt (Joey Gyondla), Miss Texas Dawn Renae Glamzi (Peter Korth) and Miss Washington Rachel Profiling (Chuck Jones). Curtain is at 7pm with a pre-show party beginning at 5:30pm.
Originally founded in 1989 by Alexis Pittman with a small group of friends in his West Hollywood living room, the Best in Drag Show, then callEd Battle for the Tiara, came to fruition. The first event raised $400 collected from 20 people, and the show was subsequently moved to larger venues due to its increasing popularity. The current version of the show has run since 2003 and has raised over $4 million to support the work of Alliance for Housing and Healing's flagship program, Aid for AIDS.
Alliance for Housing and Healing sees housing as a structural intervention against the spread of HIV/AIDS and as a platform for healthcare, and are passionate about providing a broad continuum of high-quality care to those living with HIV/AIDS that reinforces residential stability. Whether a group residence with 24/7 care for those who are too ill to live on their own, safe subsidized apartments for individuals and families with a second diagnosis, or emergency financial assistance to pay rent and utility bills for those who are facing eviction and homelessness, Alliance for Housing and Healing is dedicated to improving outcomes for low-income persons living with HIV/AIDS in Los Angeles County.
Best In Drag is produced by an army of extraordinarily talented volunteers and staff from Alliance for Housing and Healing, Show Director and Producer Jeffrey Drew, Master of Ceremonies Patrick Rush, and generous support from sponsors including Presenting Sponsor Mark R. Honzel, M.D. and Klean Treatment Centers, as well as Craig Fisse and Michael Patrick King, The Orpheum Theatre, Gilead Sciences, Barbara Jacobs, Kraut Law Group, Skechers and LA Care.
The Patrick Rush Service Award, established in 2010 in honor of Patrick who has tirelessly demonstrated his heartfelt dedication to the mission of Alliance for Housing and Healing, will be presented at the show. The award recognizes the love and dedication that Patrick has poured into the Best in Drag Show by removing the financial barrier for qualified students who demonstrate the drive and determination to reach their education goals, despite the challenges that are presented by a positive HIV status and ongoing addiction recovery.
For tickets and more information, please visit www.bestindragshow.org.