Beatles Tribute Concert to Celebrate the Music of George Harrison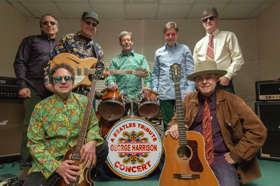 Bay Street Theater & Sag Harbor Center for the Arts is pleased to announce Two Beatles Tribute Nights Celebrating George Harrison's 75th Birthday, will take place on two nights on Friday, February 9 and Saturday, February 10 at 8 pm. Tickets are $25 in advance and $35 day of event. Tickets on sale now at baystreet.org or by calling the Box Office at 631-725-9500.
This will be
Bay Street Theater
's 5th Annual Beatles weekend. This special celebration will highlight the music of "The Quiet Beatle"
George Harrison
, on what would have been his 75th Birthday month. Expect to hear some of George's most memorable Beatles-era tunes, as well as highlights from his groundbreaking 1971 solo album, ALL THINGS MUST PASS, and other tunes from his long post-Beatles career. Songs include: Here Comes The Sun, Taxman, My Sweet Lord, and What Is Life. The same band that has performed these sold out shows will be back: Dave Giacone, Fred Gilde, Mick Hargreaves, Dan Koontz, Jeff Levitt and Howard Silverman. Produced by
Joe Lauro
, with musical director Michael Schiano. Some special guests will be announced soon. The Box Office is currently open Tuesday - Saturday, 11 am - 5 pm. To purchase tickets call 631-725-9500 or log on to
baystreet.org
.
Bay Street Theater
is a year-round, not-for-profit professional theater and community cultural center which endeavors to innovate, educate, and entertain a diverse community through the practice of the performing arts. We serve as a social and cultural gathering place, an educational resource, and a home for a community of artists.
photo by Michael Heller