Bay Street Theater Honors American Icon Jules Feiffer with Surprise 90th Birthday Celebration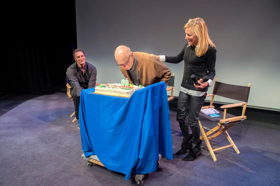 On Friday, February 8, Bay Street Theater & Sag Harbor Center for the Arts held a surprise 90th birthday celebration for world-renowned writer, cartoonist, and friend of the theater Jules Feiffer, following a screening of Feiffer's critically-acclaimed film Carnal Knowledge. The film was screened as part of the new Friday Night Flicks @ Bay Street film series, and was followed by a talkback with Feiffer, Bay Street Theater Executive Director Tracy Mitchell, and the writer & host of To Live & Dialogue in LA podcast, Aaron Tracy. During the talkback, Feiffer was presented with a cake on Bay Street's stage as the audience joined together to sing Happy Birthday to him in celebration.

"We are so fortunate to have this talented and gifted man right here in our own neighborhood as well as part of the Bay Street family," Says Bay Street TheaterExecutive Director Tracy Mitchell, "We look forward to working and celebrating with Jules for many years to come."

The talkback was recorded by Aaron Tracy for inclusion in an upcoming episode of his podcast, To Live & Dialogue in LA, part of the Yale Podcast Network.

Jules Feiffer has won a number of prizes for his cartoons, plays, and screenplays, including the Pulitzer Prize for editorial cartooning. He illustrated the children's classicThe Phantom Tollbooth. His books for children include The Man in the Ceiling (which premiered as a new musical at Bay Street Theater in 2017), A Barrel of Laughs, A Vale of Tears, I Lost My Bear, Bark, George, and Rupert Can Dance. His plays and screenplays include Little Murders, Carnal Knowledge, Grownups, and Popeye. He lives in Shelter Island, New York.

Bay Street Theater & Sag Harbor Center for the Arts is a year-round, not-for-profit professional theater and community cultural center which endeavors to innovate, educate, and entertain a diverse community through the practice of the performing arts. We serve as a social and cultural gathering place, an educational resource, and a home for a community of artists.