Review: ON THE TOWN at The Noel S. Ruiz Theatre
What would you do if you met someone who had never seen a musical before? They have no concept of what goes into it - the dance breaks, the big ensemble numbers, the balance of humor and pathos. The Noel S. Ruiz Theatre's production "On the Town" would be the perfect production to display what it means to be a musical. Although it teeters on the cliche at times, the production value and the performances make up for the sometimes flawed piece.
Making its debut on the Broadway stage in 1944, the music by Leonard Bernstein of "West Side Story" fame with book and lyrics written by Betty Comden and Adolf Green. The idea was based off of famed choreographer Jermone Robbins' ballet "Fancy Free," which was also set to Bernstein's music. The plot is relatively simple - Three Sailors arrive in New York on a 24-hour leave. One, Chip (Matthew Paredi), wants to see all the sights his father told him about. Another, Gabey (Bobby Peterson), wants to meet a special gal - specifically the beautiful "Miss Turnstiles" he sees advertised on the subway. And Ozzie (Kevin Burns) just wants to find the prettiest date out there.
The trio is well cast and have terrific chemistry. Each actor carves out their character's goals, passions and quirks while also executing Director/Choreographer Ashley Nicastro and co-choreographer Ryan Cavanaugh's choreography well. Their vocals are also on point.
Making up their love interests are Bailey Whitney as "Miss Turnstiles" and wannabe singer/ballerina Ivy Smith, Emily Edwards as the exceedingly love-starved Claire De Loone, and Marielle Greguski as abrasive taxi driver Hildy Esterhazy. These ladies are all triple-threats and evolve into the most compelling characters. In particular, Ms. Gregunski - a prolific presence on the Noel S. Ruiz stage - steals many a scene with her comedic timing and killer belt.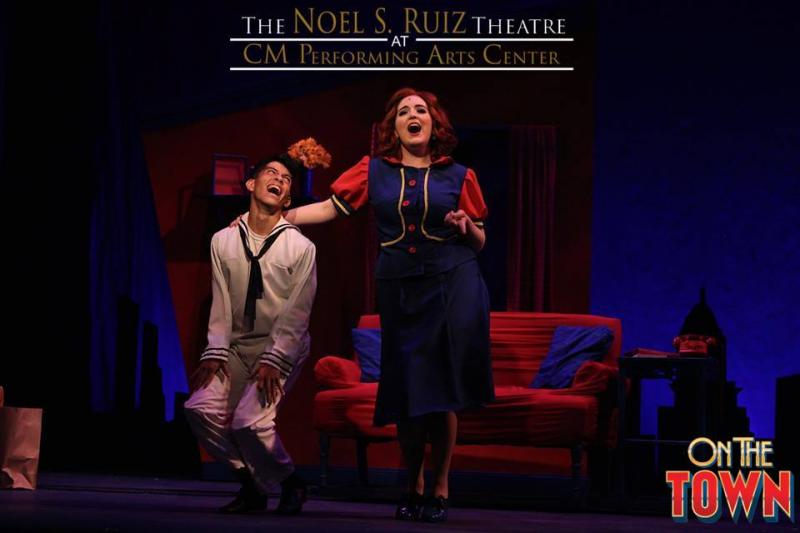 The production also features a talented supporting cast with standout moments by Rob Schindlar, Laura Morselli and Kristen Digilio.
The ensemble is also strong and shines brightest in episodic bits throughout the show playing a variety of New Yorkers. Debbie Hect and Dana Abruzzo generate some laughs as a pair of gossiping women while Kyle Petty and Anthony Paranrello shine as a plethora of characters.
This particular production is Ms. Nicastro's main stage directorial debut and it is evident she has put her heart into it. It is a great choice for an individual who is also skilled as a choreographer.
One aspect of the musical this production cannot mask is how dated the plot proves to be. Through a modern lens, the blatant objectification of women is uncomfortable at times. Most would attribute the issues to a sign of the times - in this case the 1940's - but despite its status as a "classic," this musical could benefit from an updated book.
However, this should not deter audiences from seeing such a strong production, which will certainly transport audiences back to the days of 1940's New York City through the beautiful orchestration, impressive sets and all around top-notch technical work.
-------------------------------------------------------------------------------------------
"On the Town" is presented by The Noel S. Ruiz Theatre at CM Performing Arts Center of Oakdale, Long Island, through June 23rd. For more information and to purchase tickets, please call (631) or visit.
Music by Leonard Bernstein, book and lyrics by Betty Comden and Adolph Green. Based on an idea by Jerome Robbins.
Director: Ashley Nicastro
Musical Director: Matthew W. Surico
Choreographers: Ashley Nicastro/Ryan Cavanagh
Stage Manager: Amanda Wenchel
Set Designer: Patrick Grossman
Lighting Designer: Alison Weinberger
Sound Designer: Nicollette Carosi
Costume Designer: Ronald Green III
Starring: Bobby Peterson, Kevin Burns, Matthew Paredi, Bailey Whitney, Emily Edwards, Robin Schindlar, Marielle Greguski, Kristen Digilio, Laura Morselli, Kyle Petty, Anthony M. Panarello, Debbie Hecht, Dana Abruzzo, Miguel Almanzar, David DiMarzo, Vincent Donnadio, Kara Edwards, Nicholas Fandaros, Luke Ferrari, Juliana Jagielo, Katie Johnson, Christian Kalinowski, Christopher Loeschner, Maggie Overbaugh, Anthony Pizzuti, Katy Snair