BWW Review: CM Performing Art Center presents MAMMA MIA! at the Noel S. Ruiz Theatre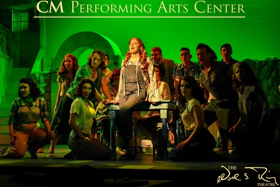 You will not be disappointed when you see a production of the worldwide hit Mamma Mia!. As the current offering from the Noel S. Ruiz Theater at CM Performing Arts Center, this show boasts a remarkable cast. Running through March 23rd at the Oakdale venue, Patrick Grossman directs the superb production featuring our favorite hits from pop group ABBA.
The tale centers on Sophie and her mother, Donna, as they prepare for Sophie's wedding at the Greek hotel that Donna owns. Twenty-year-old Sophie has never met her father. However, she realizes it could be one of three men when she reads her mother's old diary. Unbeknownst to Donna, Sophie then invites the men to her wedding.
Emily Sarra is a natural in the role of Sophie with an excellent voice and youthful aura. Cheryl Fontana is excellent as Donna notably with her fun take on the iconic song Mamma Mia and a heart-tugging Winner Takes It All with Michael Mandato who portrays Sam. It is either Sam, Bill, portrayed by Carl Tese, or Harry, portrayed by Mark T. Cahill's whom Sophie believes could be her father. They leave the audience in stitches as it seems they've known each other for years rather than just meeting. Denise Antonelle and Terry Brennan are also hilarious as Donna's friends Tanya and Rosie, respectively. The whole company is really delightful.
On the creative team, Mr. Grossman's set is well done. The front of the earthy looking beachside hotel fills the stage and rolling pieces are used for other locales making for seamless scene changes. This is heightened beautifully by Ronald Green III's stunning costumes and Ashley Nicastro's fun choreography.
Now that Mamma Mia! is no longer on Broadway, you will see many theatres presenting this exciting show. It will undoubtedly be an entertaining evening and if you have a fabulous cast like this you should really see this production.
---
Music by Benny Andersson & Bjorn Ulvaeus, Book by Catherine Johnson, Direction and Set Design by Patrick Grossman, musical Direction by Mathew W. Surico, Chorography by Ashley Nicastro, Sound Design by Nicollette Carosi, Stage Management by Karen Tese, Costume Design by Ronald Green III
Starring Cheryl Fontana, Emily Sarra, Denise Antonelle, Terry Brennan, Michael Mandato, Carl Tese, Mark T. Cahill, Hans Paul Hendrickson, Samantha Rosario, Adriana M. Scheer, John Mazzarella, Christian Kalinowski, Elias Avalos, Joseph Bebry, Vincent Donnadio, Juliana Jagielo, Kristi Kahen, Anthony M. Panarello, Katie Perpall, Steven Press, Emily Tafur, Jordan Yates, Brianne Boyd, Mikey Marmann, and Gabrielle Farah
For more information and to purchase tickets, please call 631-218-2810 or visit www.cmpac.com
Photo by Larisa Schadt