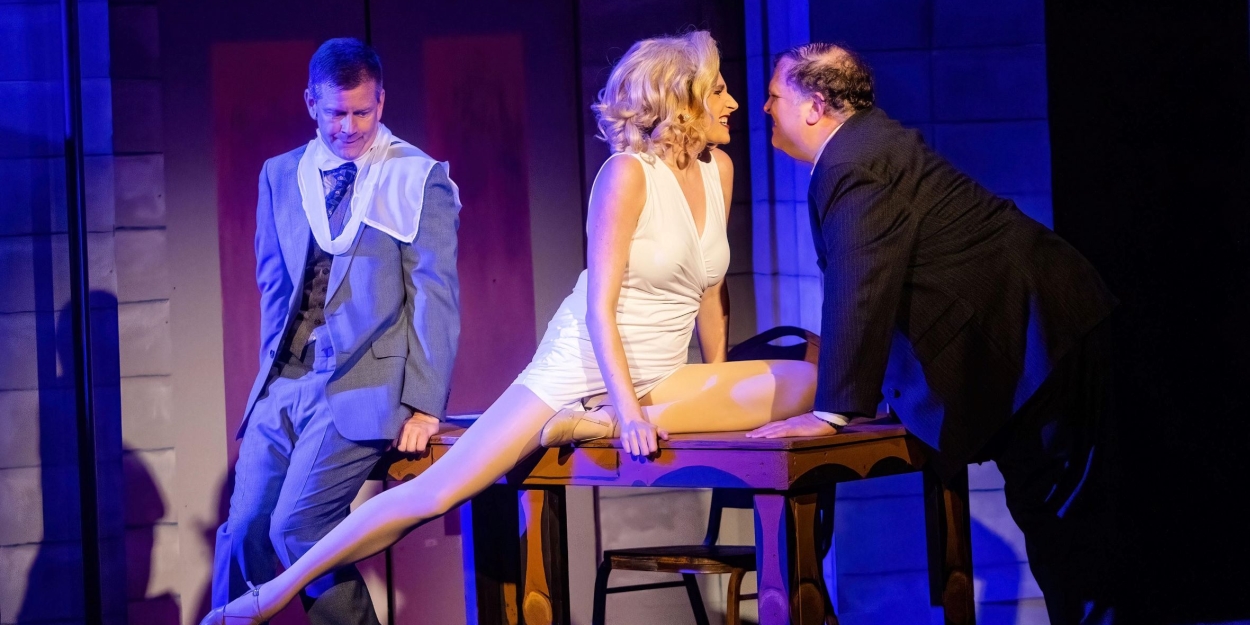 Review: THE PRODUCERS at Argenta Community Theatre
This Mel Brooks classic plays through March 4th.
'Where did they go right?' THE PRODUCERS at The Argenta Community Theatre, 405 Main St, in North Little Rock, 'keep it sunny, keep it funny, and keep it gay,' from now through Sunday, March 4. 'Good luck' at getting tickets to the best musical of the worst, most offensive musical ever. Tickets are few, but there may be some available, so check out their website at argentacommunitytheater.org.
Written by the genius comic Mel Brooks, Max Bialystock (P. Jay Clark) has gone from being the King of Broadway to producing a string of flops, making it necessary to woo all the lonely grannies for funding, including Kiss Me Feel Me (Patti Airoldi), Hold Me Touch Me (Roben Sullivant) and Lick Me Bite Me (Susan Thomey). When Leo Bloom (Michael Klucher) comes in to do Bialystock's books, Leo proposes that Max could make more money producing a flop instead of a hit. So, after some prayer and internal struggles, they decide to go through with the idea. They find the worst play ever, Springtime for Hitler, written by Fuhrer lover Franz Liebkind (David Weatherly), find the worst director ever, Roger De Pris (Gabe Washam) and his "common-law assistant" Carmen Ghia (Brandon Nichols), and hire the worst cast ever to create the worst show ever that would close by page four.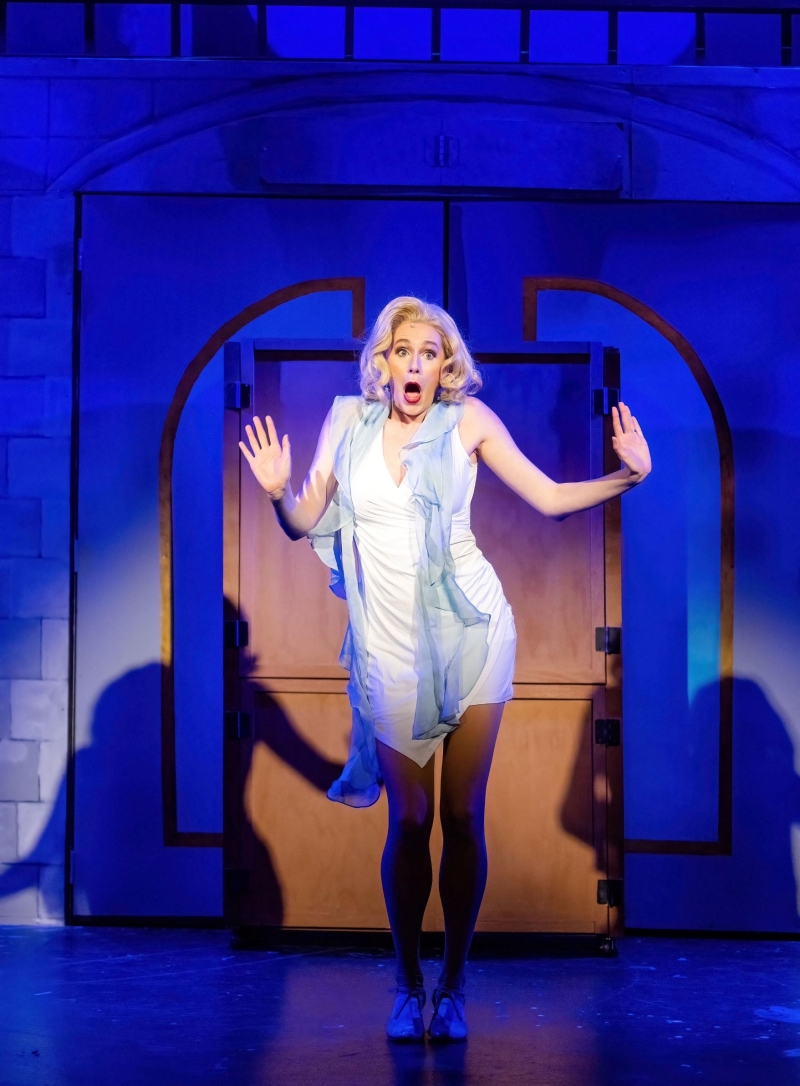 Then in comes beautiful Swedish bombshell Ulla Swanson (Molly Rosenthal Giles) who auditions, causing the guys to give her a standing ovation while sitting down. Romance blossoms, a surprise hit is created, and jail time is eminent. This absurdly hysterical production will have you saying I Want to Be a Producer as well.
This cast had me laughing so hard throughout the show, I was in tears. Director Andy Hall chose the perfect Max and Leo. Clark and Klucher were a riotous pair. Clark oozed with charm and sleaziness, while Klucher embraced his anxiety-driven, blanket-loving whininess. I couldn't stop smiling as I watched them react off of each other. They had bold physical comedy, great timing on their banter, and their facial expressions kept the whole audience rolling through the entire show....as did the rest of the cast.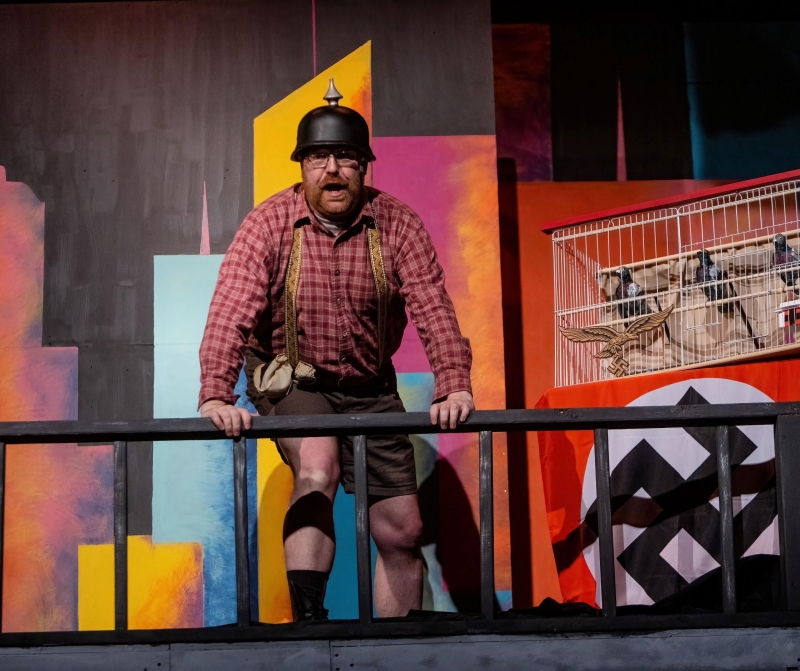 This show's farcical characters kept the insane storyline going that piled on the laughter scene after scene, and they had the best songs! I couldn't stop giggling at Weatherly's Franz. The details with the accent and paranoia were exemplary, and the Der Guten Tag Hop-Clop looked like a lot of fun. Washam and Nichols pairing was also a genius matchup. I thought I was going to lose it when Nichols' Carmen Ghia said "If your intention was to shoot an arrow through my heart...Bullseye!" and stormed off. And, I can't stop singing Keep It Gay, that spotlights the rest of the crew. Then, another fun number is with Giles as Ulla singing If You Got It, Flaunt It. She is amazing. She hypnotized Max and Leo, along with the rest of the audience.
Directed by Choreographer Moriah Patterson, the group numbers were so much fun to watch. I especially loved the song Springtime for Hitler, where Lead Stormtrooper (Seth Russell) croons the melody, and then a chorus of dancers draped in various German attire (i.e. sausages) ascends from the top layer like Vegas showgirls and eventually does a swastika circle as a group. I am so glad I was in the balcony to see the whole picture. It was clever and hilarious.
Once again, I love a live band. I don't know where they were hiding, but they sounded fabulous! The Band includes: Jeannie Cross-Music Director/Conductor/Key 1; Christian Waldron-Key 2; Gabriel Womack-Reed 1; Beth Hendrix-Reed 2; Stephen Cross-Trumpet; Evan Smith-Trombone; Daniel Schoutlz-Bass; and Jake Wyatt-Drums/percussion.
Thank you to Matthew Sewell Photography for these wonderful pictures. They are beautiful. If you are looking for the perfect headshot or someone to work magic on your family portraits, visit https://www.msewellphotography.com.