Tugg, Twist It Up To Screen THE OLD STRIPPER In Las Vegas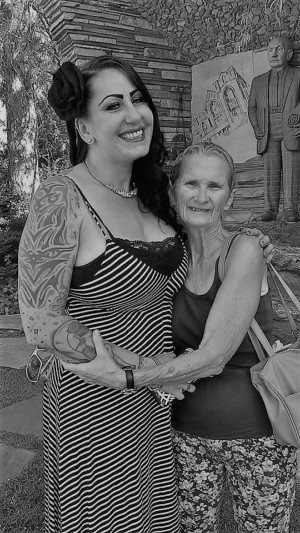 The world is opening their eyes to THE OLD STRIPPER. And she's coming to a local movie theater near you next month in Las Vegas.
Dixie Films has partnered with TUGG Theatrical and Twist It Up Entertainment to screen a special one-night theatrical event of the award-winning feature documentary film THE OLD STRIPPER at the Palms Brendan Theatre in Las Vegas, Nevada. The film, made by the real-life Mother/Son filmmaking team Jack Truman and Opal Dockery, is an epic documentary film about a burlesque legend who travels across the country, coast to coast, visiting her old dancing cities of yesterday.
Tugg, Inc. (www.tugg.com ) a web-platform that enables individuals to choose the films that play in their local theaters and create their own theatrical events, and Dixie Films, are excited to announce that THE OLD STRIPPER is available to screen nationwide through Tugg. The film is available through Tugg for special theatrical screenings across the country. In August, the film first screened in Las Vegas last month at the Silver State Film Festival, winning Best Original Documentary honors.
The award-winning film has received top film honors at film festivals this summer in Des Moines, Los Angeles and Las Vegas. Last month in Vegas, the film won Best Original Documentary at the Silver State Film Festival. Since it's World Premiere in June at the Interrobang Film Festival, THE OLD STRIPPER has screened over 10 film festivals worldwide, and will continue playing the film festival circuit this fall, in conjunction with the TUGG national release.
Dockery was a burlesque dancer for over 20 years in the 1970's and '80's. Truman, her son, and director of the film, grew up on the road with her during her burlesque circuit.
"This is very special to me", Truman stated in press materials. "The burlesque industry is a lost era. I grew up in that environment, in the adult entertainment business. As a child, I was raised around nudity and pornography. And as a filmmaker, I want to open people's eyes to a world they know nothing about. We are honored to partner with TUGG and Twist It Up to provide the local area this opportunity to see this incredible documentary film THE OLD STRIPPER at the Palms theater in Las Vegas. We hope everyone takes this opportunity to take advantage of this unique program that provides the public the opportunity to see this important film at their local movie theater ".
"This film is a must see for anyone who reveres women in history and women who have paved the way for female performers to be headliners in the forefront of the entertainment industry", states Twist It Up founder and Las Vegas burlesque and circus performer Miz Charlamay.
Over last summer, Truman and Dockery traveled coast to coast, to all 48 states and the District of Columbia, on an epic journey shooting footage in every state nationwide, interviewing dancers young and old, visiting Opal's old dancing cities from her burlesque circuit, seeing landmarks around the country, and interviewing people in the burlesque industry.
"This is a story only we can tell", says Truman.
Earlier this summer, Dockery was inducted in the Burlesque Hall of Fame in Las Vegas, Nevada.
For more information on the film, visit the Facebook page: https://www.facebook.com/oldtimeburlesquemovie/
Tugg, Inc. ("TUGG") is a web platform that enables individuals to choose the films that play in their local theaters. Through Tugg, individuals are empowered to select a film, screening time, and nearby theater, and then spread the word to their immediate and online community. Once a necessary amount of people commit to attending, the event will be confirmed; and Tugg will reserve the theater, manage ticketing and ensure delivery of the film, allowing the audience to sit back and enjoy the show. Tugg is currently working with exhibitors Alamo Drafthouse Cinema, AMC Theatres, Carmike Cinemas, Cinemark Theatres, Regal Cinemas, and the Studio Movie Grill, as well as additional regional and independently owned theaters across the country. These exhibitors provide theatrical venues for individually curated events showcasing Tugg's growing library of hundreds of studio and independent films. For more information on how Tugg works, visit www.tugg.com/howtuggworks.
Related Articles View More Las Vegas

Stories

Shows
More Hot Stories For You