Feature: Cartoons and Music Together Debut When Las Vegas Philharmonic Performs Bugs Bunny at the Symphony
The concert at The Smith Center is the first event to celebrate Warner Bros. 100th Anniversary in 2023.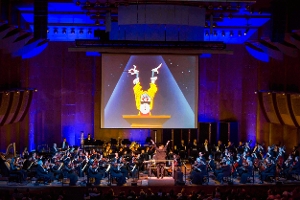 Photo by Chris Lee, Courtesy of The New York Philharmonic
Bugs Bunny at the Symphony will join forces with the Las Vegas Philharmonic to bring Looney Tunes nostalgia with its Las Vegas debut at Reynolds Hall at The Smith Center on Jan. 7.
Emmy Award winner producer George Daugherty will be conducting. Created by George and Emmy Award winner David Ka Lik Wong, Bugs Bunny at the Symphony, performed by major symphony orchestras, has been touring the world since 1990.
Looney Tunes, the animated series produced by Warner Bros., started in 1930 with its partner series, Merrie Melodies, through 1969. The two series introduced Bugs Bunny, Daffy Duck, Elmer Fudd, Porky Pig, Speedy Gonzales, Sylvester the Cat, the Tasmanian Devil (Taz), Tweety, Wile E. Coyote, the Road Runner, Foghorn Leghorn, Granny, Lola Bunny, Marvin the Martian, Pepé Le Pew, and Yosemite Sam.
There were thousands of original cartoons produced with 16 iconic Looney Tunes focused on music, including the symphony and opera. These 16 cartoons will be projected on the big screen, including The Rabbit of Seville, What's Opera, Doc?, and Corny Concerto, while the Las Vegas Philharmonic will perform Carl Stalling's original scores. This event will be the first Philharmonic concert to celebrate Warner Bros. 100th Anniversary. Other similar concerts will be performed in other cities throughout the year.
Along with the concert, guests can enjoy the Looney Tunes Carnival experience before and after the show, with an animation art exhibition, roaming Warner Bros. characters, and photo opportunities. There will also be visits with animation artists from Chuck Jones Center for Creativity.
As for inspiration to develop the show, it began 33 years ago when George, in his 20s, was pursuing a career conducting in major opera houses and ballet companies around the world. "My plan was for a very serious conducting career," George laughs. It was around this time that he would rediscover the Looney Tunes cartoons that he had enjoyed as a child. "I need to explain at this time; there was no YouTube or Google. I was working on an animation project scoring the film, and the animators had bootleg copies of these cartoons."
After a hard day at work, the animators started playing the cartoons while eating dinner, and George discovered the music incorporated into the storyline. "Hearing the music as a grown classical musician and seeing how its genius became part of these incredible animations including [Richard] Wagner, [Gioachino] Rossini and [Pyotr Ilyich] Tchaikovsky. I had this crazy idea that I wanted to perform this music with an orchestra. I also realized that this music could be performed without showing the cartoon," says George. "We decided to do a concert where we would project the cartoon while the orchestra played live music."
In the late 1980s, this was a revolutionary idea, and many symphony companies were horrified at the concept of showing cartoons during the performance. The test concert, played by the San Diego Symphony, was sold out in one day. Bugs Bunny On Broadway made its debut in 1990 at Broadway's Gershwin Theatre with a sold-out extended run. Along with its sequel, "Bugs Bunny at the Symphony" has since played to critical acclaim and sold-out houses. George has conducted over 250 American and international orchestras for an estimated 2½ million people.
"I can reach more people with my desire to bring them to classical music with this concert than I could ever accomplish in a more traditional career." He has also earned a Primetime Emmy Award, five other Emmy nominations, and numerous other awards for his work in television and film.
This concert is underwritten by George Daugherty, David Ka Lik Wong, and IF/X Productions in support of The Las Vegas Philharmonic.
Warner Bros. Presents Bugs Bunny at the Symphony be performed by the Las Vegas Philharmonic in Reynolds Hall at The Smith Center on Jan. 7. There will be two performances, 2 p.m. and 7: 30 p.m. For more info, visit thesmithcenter.com and lvphil.org.