Review: MY FAIR LADY at Kauffman Center
Handsomely mounted with a professional cast
Imagine a world where how well and conventionally you spoke determined your opportunities in life. In turn of the 20th Century London, regional dialects were distinct and categorizing. It is the core notion behind Lerner and Lowe's 1956 "My Fair Lady." This musical theater classic is the tale of an arrogant, egocentric, patrician, professor and phonetician named Henry Higgins and his fraught relationship with an attractive (behind the soot), unschooled, young flower-seller named Eliza Doolittle.
"My Fair Lady" was a sensation when it opened on Broadway in 1956 at the Mark Hellinger Theater to rave reviews. Brooks Atkinson at the New York Times knighted "My Fair Lady" the "best musical of the century." Sixty-Seven years have passed since that pronouncement, and the latest Lincoln Center production of "Fair Lady" has soft landed at Kansas City's "Kauffman Center for the Performing Arts" for a week-long residency through Sunday, February 12, 2023
At the curtain, we find Henry Higgins (Jonathon Grunert) skulking around the market at Covent Garden while surreptitiously making phonetic notes on the speech of a young Cockney flower-seller named Eliza Doolittle (Madeline Powell).
To show how much things have changed since 1956, Higgins unaccountably stumbles over another random linguist named Colonel Hugh Pickering (John Adkison) and invites him into his home. This unexpected turn of events and the sound of Eliza's Cockney accent inspires Higgins to lament loudly to Pickering "Why Can't The English Teach Their Children How To Speak?"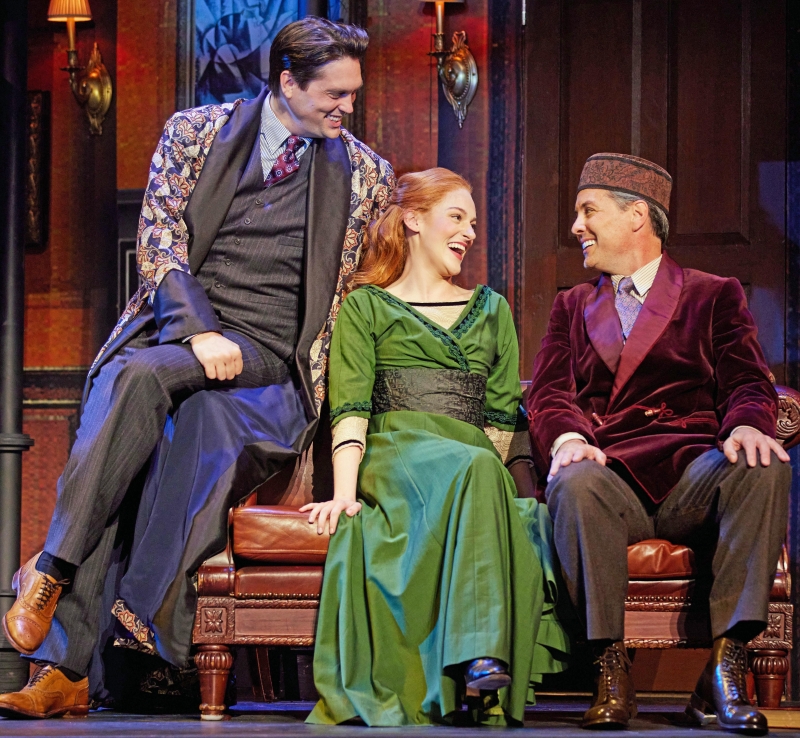 The Professor boasts that given sufficient time he can transform even a dirty, bedraggled flower girl into a duchess. Eliza overhears him and presents herself at Higgins' upper-class doorway on the following morning with the idea that if she can speak without her low-class dialect, she may better her lot in life. Eliza offers to pay for lessons.
Colonel Pickering challenges Higgins with a wager. If Higgins can make good on his boast in time for the Embassy Ball in six months, Pickering will pay the cost of Eliza's education, expenses, and wardrobe. Eliza practices with difficulty and eventually conquers upper-class speech. There are bumps along the way, (like the disaster at Ascot and the comic relief offered by her rascally, usually inebriated, dustman father, Alfred P Doolittle (Michael Hegarty). Along the way, Eliza unconsciously ingratiates herself into the Higgins household and finds herself in love with her incredibly structured, imperious but incurably mischievous tutor.
"My Fair Lady" is based distantly on an ancient Greek myth and preceded by several non-musical versions (most notably the 1913 play by Irish playwright George Bernard Shaw). The musical version opened in 1956 with music and lyrics by Alan J. Lerner and Frederick Lowe.
This version, the Lincoln Center Production, is handsomely mounted in classic Broadway style common to "Oklahoma, Carousel, and Brigadoon" a few years previous. The show uses scrims, drops, and rolling scenery. They incorporate scene changes into the action, although we can still see the original runner scenes out of the sixteen presented. Scenery and costumes are professionally rendered.
There are wonderful performances by an excellent pit orchestra and a group of excellent ensemble singers and secondary leads. Choreography (especially in the big production numbers) is right on step. In 1956, many dances were staged as ballets. "My Fair Lady" keeps the tradition.
"My Fair Lady's" score is the most outstanding part of the piece. Many of the songs passed into the standards archive. They include "On The Street Where You Live," "With A Little Bit Of Luck," "Wouldn't It Be Loverly," "The Rain In Spain," "I've Grown Accustomed To Her Face," and more.
Both Grunert as Higgins and Powell as Eliza are early in their stage careers. These are their first touring leads. Both acquit themselves nicely. Powell is a strong soprano. Grunert is a better singer than the original Henry Higgins, Rex Harrison. He was not a singer. Lerner and Lowe made compromises to the music because of his limited range. Harrison invented the talking song. Grunert, I suspect, is a much stronger singer. Both will acquire the secret sauce of mischievousness, amusement, and adoring that will make this production outstanding. These are young performers to watch.
Lovers of classic Broadway will enjoy this production of "My Fair Lady" running at the Kauffman Center through Sunday.
Production Photos by Jeremy Daniel