Music Theater Heritage Opens Season With R&H: UNPLUGGED
R&H: Unplugged plays fourteen performances in MTH's Main Stage Theater on the 3rd floor of Crown Center, February 16 - March 5.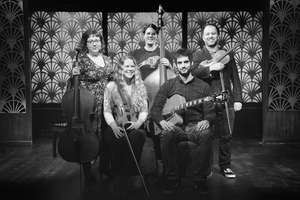 Music Theater Heritage has announced the cast and creatives for its 2023 Season opener, R&H: Unplugged. This MTH original production features the timeless music of Rodgers & Hart and Rodgers & Hammerstein, reimagined with only stringed acoustic instruments.
The production is conceived and directed by Artistic Director Tim Scott, with music direction by Ty Tuttle, orchestrations by Alyssa Bell, scenic design by Jacob Boshears and Tim Scott, lighting design by Zoe Spangler, costume design by Arwen White, sound design by Hannah Zimmerman, choreography by Caroline Dahm and production stage management by Lacey Willis.
The ensemble cast includes Lauren Braton, Jon Daugharthy, Gabriela Delano, Luke "Skippy" Harbur, Douglass Walker, Ashlan Zay, and Tristian Griffin.
The string quintet features Alyssa Bell, viola; Adam Galblum, violin; Sascha Gorschang, cello; Kassie Ferrero, bass, and Forrest Fowler, guitar.
"Oftentimes when you see a program of this nature the tunes are presented in a strict and formal manner," said Scott. "We hope to bring a more welcoming and casual aesthetic to the music in an attempt to make it more accessible. I think the people who love these tunes will love this show, and the people who may find this music "old fashioned" will see a new perspective and fresh breath being poured into these timeless masterpieces."
Richard Rodgers and Lorenz Hart are best known for classic tunes such as, "Bewitched", "The Lady is a Tramp", and "My Funny Valentine". Their partnership lasted 24 years and their catalog includes more than 500 songs and fifteen scores.
After Hart's death, Rodgers teamed up with Oscar Hammerstein II and continued perennial hit-making with enduring musicals such as, "Oklahoma", "Carousel", and "The Sound of Music", to name a few. Among the many accolades their shows (and films) garnered were thirty-four Tony Awards, fifteen Academy Awards, and two Pulitzer Prizes.

R&H: Unplugged plays fourteen performances in MTH's Main Stage Theater on the 3rd floor of Crown Center, February 16 - March 5. Tickets start at only $35 and are available by visiting www.MTHKC.com or by calling the box office at 816.221.6987