BWW Review: THE PRODUCERS at Musical Theater Heritage
Great theater requires a willing suspension of disbelief. "The Producers" by Mel Brooks and Thomas Meehan requires a willing embrace of 1940's Catskill schlock and shtick. That said, MTH's "The Producers" is so much inspired silliness, so well performed, and so meticulously put together, it is tough to stop giggling and smirking and groaning at the awful, hysterical, politically in-correct, funny, one-liners. The Saturday night, Crown Center audience for "The Producers" thoroughly embarrassed itself and was delighted to do so.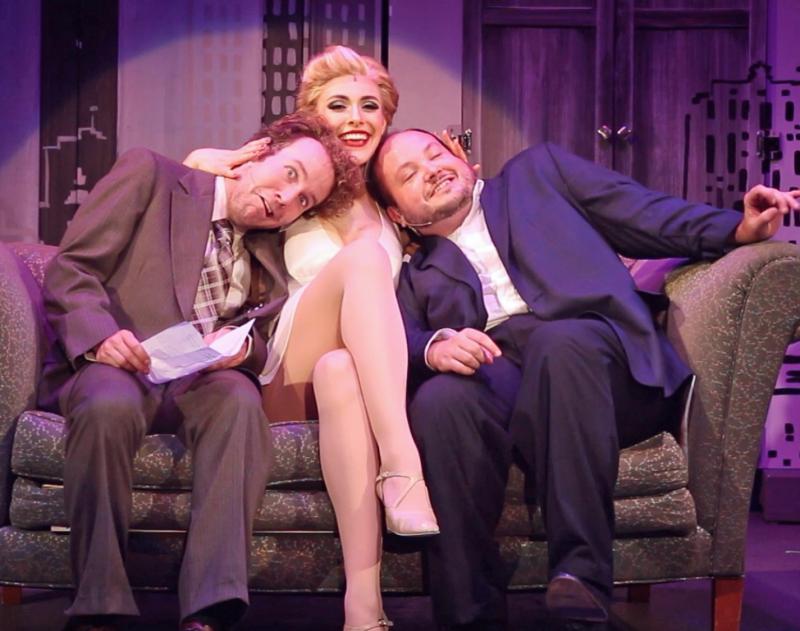 "The Producers" is a huge show with a cast of thousands. MTH's version is a boiled down to a madcap ensemble of fourteen, manic, inspired actors running around like a bunch of crazy people for two and a half hours to great amusement. We know intellectually that we keep seeing the same fourteen people in dozens of varying ensemble roles, but we don't care. It works just fine this way.
"The Producers" is Mel's twisted ridicule of the Broadway production process, Hollywood, early TV, and World War II. Imagine these targets as seen through the lens of silly-comedy glasses made out of the bottoms of a couple of bottles that originally contained Kosher Borsht.
I could go into painful detail about all the "inside jokes" in this show but suffice it to say this is funny stuff. You must turn off your brain center that causes you not to laugh at otherwise offensive one-liners. In the currently charged political atmosphere, the off position of the switch is healthy.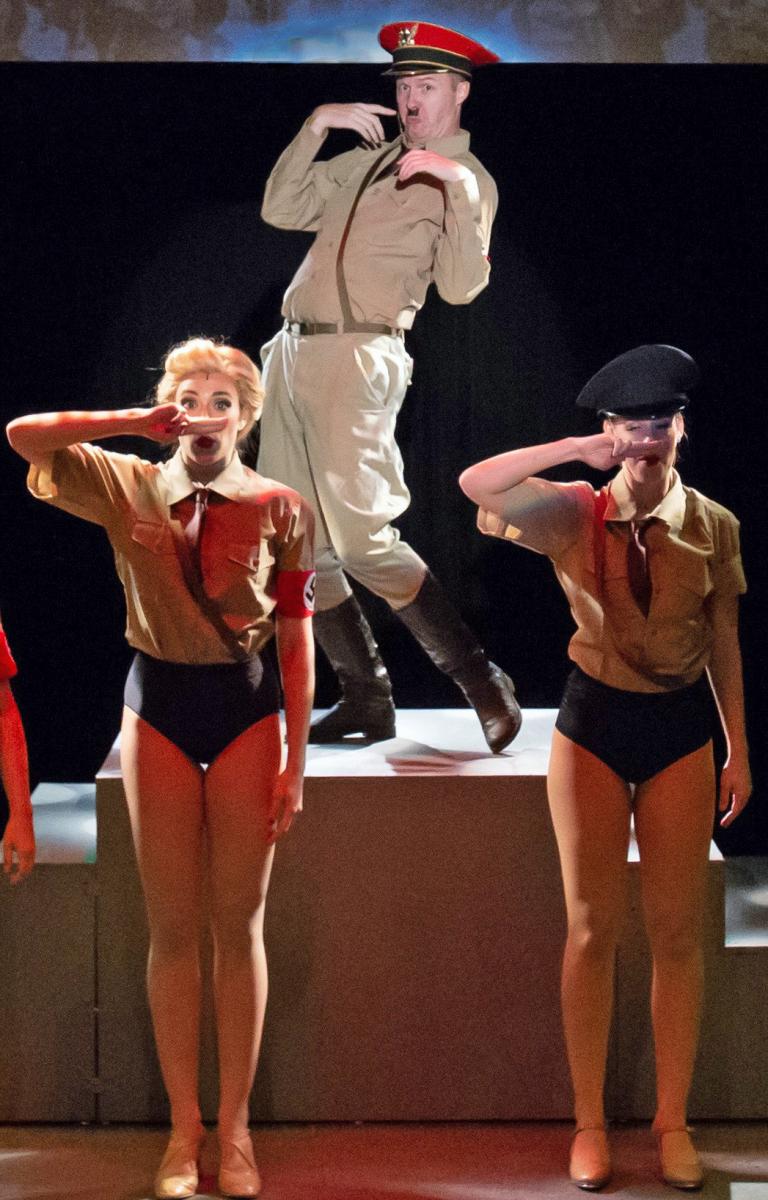 "Producers" is the wacky - alternate reality story of failed, stereotypical, always in the gray zone, Broadway Producer Max Bialystok (Ryan Hruza) and his timid, browbeaten, blankey-clutching, momma's boy, public accountant Leo Bloom (T. Eric Morris). Overweight, over-age, over-wrought, over the top Max sports a red smoking jacket and an awful comb-over (ala David Merrick). He finances his Great White Way productions by stumpfing every geriatric, lonely, rich, little old lady in the five boroughs of New York.
Leo finds a small shortage in the books of Max's latest flop, "Funny Boy," a musical version of "Hamlet" during a routine audit. Max begs him to "cook the books." Leo reluctantly agrees. Very few movies and Broadway plays in real life ever really make a book profit anyway. Leo muses that it might be possible to make a bigger profit with a smash flop than with a small hit.
For Max, mental fireworks explode inside his skull. His eyes light up. Why not? Find the worst show ever written and buy the rights. Contract the worst possible, gayest, director and staff ever. Audition the saddest cast in history. Build the worst possible sets. Costume them as Nazis. In addition, sell thousands of one hundred percents of the show by stumpfing (again with the stumpfing) all those little, lonely, old women one more time. The show will close opening night and Max and Leo will abscond with the cash on the "Road to Rio." The show they discover is called "Springtime For Hitler;" subtitled "A Gay Romp with Adolf and Eva at Berchtesgaden."
Cant' miss, right? It can miss if the show is sooooo bad, the audience thinks it is a put-on and loves the joke. I guess Karma is a bitch!
Ryan Hruza and T. Eric Morris are super as Max and Leo. I have seen Producers as done by Zero Mostel and Gene Wilder, by Nathan Lane and Matthew Broderick, and by Richard Kind and Jesse Ferguson. This production does not disappoint.
Mike Ott as gay director Roger De Bris and May Francisco Javier Villegas as his common-law assistant Carmen Ghia are exceptional. (This gets a little bit into the weeds, but a "Bris" is the Jewish ceremony marking a baby boy's circumcision and a "Carmen Ghia" is kind of a faked up German sports car based on a VW bug. I mention these only to crack open the mind that thought all this stuff up.)
Brooke Lacy as Ulla, the blonde-haired, Swedish, long legged; secretary/receptionist/chorus-girl is near letter perfect. She is an intentional cartoon of herself and she draws herself brilliantly. This is understandable since she comes to MTH after a turn as the similar and just as funny Inga in Mel Brook's "Young Frankenstein." Tim Noland as Franz, the unreconstructed Nazi playwright, is memorable as are his flock of pet carrier pigeons (one of whom has the ability to perform the Nazi salute.)
Director and Choreographer DJ Salisbury has done a fine job of boiling down a big proscenium show onto a small thrust stage (no sexual allusion intended) and maintaining and perhaps even improving the big show experience. Set designer Tijana Bjelajac creates a nuanced yet appropriately tacky setting in a very small space and it works. In particular, I enjoyed the gag show posters on the wall of Max's office like "South Passaic" (instead of South Pacific), "Breaking Wind" (instead of Gone With the Wind), and "King Leer" (instead of King Lear), but that is just me.
Many of the songs are thinly veiled parodies of famous Broadway moments. These little jokes are sprinkled throughout the show (see the Act I reference to "Old Man River" in the introduction to "I Want To Be A Producer" and see if you can catch the myriad other stuff). This could be (and I'm sure is) a parlor game, but the most outstanding example is Max's "Betrayed" from near the end of Act II. This is long, involved, demanding, and difficult. I remember wondering if Ryan Hruza was going to make it all the way through without suffering a cardiac arrest in this full-on homage to "Mama June's climax song" from "Gypsy," but he got there and was rewarded with thunderous applause.
If you get a chance, put your silly hat on, pack up your troubles in your old kit bag, stifle your sense of political correctness, and enjoy MTH's production of "The Producers." It ain't just a concert version of an old favorite any more. Mel Brooks is now 92 years young and you have to root for him to be smirking at a production of "The Producers" at his 100th birthday party.
"The Producers" continues at MTH Theater inside Crown Center through August 26. Tickets are available at the box office, online, or be telephone at 816-221-6987.
Photos courtesy of Musical Theater Heritage at Crown Center and J. Robert Schraeder