Review: RIGOLETTO at Lyric Opera Of Kansas City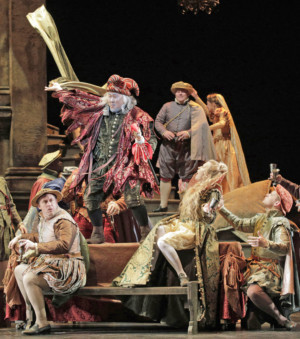 Lyric Opera of Kansas City opened its excellent production of Verdi's "Rigoletto" this weekend to appreciative audiences. The voices are excellent, the orchestra is sublime, and the sets are both massive and ornate.
"Rigoletto" is based upon an earlier play by the famous French author Victor Hugo called "Le roi s'amuse" (The King Amuses Himself). Hugo has a history of writing plays and novels that take on the establishment. Another obvious, similarly-themed, tale is Hugo's classic "Les Miserables."
"Rigoletto" tells the story of a court jester named Rigoletto (Leo An). Rigoletto works for the womanizing Duke of Mantua (Scott Quinn). His main job is to humorously deflect all the husbands, fathers, and boyfriends while the Duke takes sexual advantage of their loved ones.
Meanwhile, Rigoletto attempts to protect his own gorgeous daughter Gilda (Nicole Haslett) by keeping her pretty much locked in a tower under the supervision of nurse Giovanna (Alice Chung). Rigoletto does allow Gilda to attend church. And it is there that she meets the Duke who evidently is a frequent customer at the confessional.
The play begins (more or less) at a bacchanal. Rigoletto does his job, but doesn't like it very much. The scorned husbands, courtiers, and fathers determine to get back at Rigoletto. They abscond with Gilda (who they believe is his mistress) in the night and mock him about it the next day. The Duke discovers the mistake, but instead of restoring daughter to father, he decides to take advantage of the situation and deflower Rigoletto's virgin blossom.
Gilda shamefully confesses to her father, but defends her lover. Rigoletto swears vengeance. He instructs Gilda to disguise herself as a boy and leave town. After assuring the vengeance, he will follow her.
Rigoletto hires an assassin named Sparafucile (Peixin Chen) for twenty pieces of gold. The plot requires the assassin's sister Maddalena (Zanda Svede) to honey-trap the Duke and set him up to be stabbed to death in the sack -- before sewing the body into a sack for deposit in the local river.
But there is a fly in the ointment. Maddalena decides that she would enjoy later congress with this rapscallion and perhaps they should kill the next available body instead and substitute. (What has this guy got?)
In the midst of all this, the Duke sings the opera's most famous melody, La Dona Mobile. Unfortunately, the English translation of the lyrics goes something like the following. "Women are unstable.... Like a feather in the wind... they change their minds and ideas... and although lovely... they are manipulative... you can never trust them... but they are good for one thing."
Outside, Rigoletto has brought Gilda so as to overhear and prove what a bad guy the Duke really is. It isn't enough. Gilda hears the Duke go back to Maddalena's room and the two of enjoy themselves again as he sings a reprise. Gilda still longs to give herself to him ... again. She will even offer her life so that the Duke can continue his wicked, wicked ways. (Who is this guy? Errol Flynn?)
Gilda is stabbed, dies, rallies, dies again. And Rigoletto is crushed. The play ends.
"Rigoletto's" production values are beyond excellent. Leo An's Baritone Rigoletto booms exquisitely and exactly from the stage whether the singer is facing downstage or upstage. Nicole Haslett's strong, lilting, soprano is a delight. Scott Quinn's strong tenor well represents the opera's signature melody.
Great singing voices are to be expected at Grand Opera. But the superior acting herein displayed sets this "Rigoletto" apart. The grandeur of the sets imagines what an opening night audience must have felt at a Grand Opera. Director David Gately's incredible stage pictures make maximum utility of the supporting actors and singers. This is not easy music. It is performed impeccably. The pit orchestra conducted by David Charles Abell does a wonderful job.
"Rigoletto" continues at the Kauffman Center March 7,9, and 11. Tickets are available at www.kcopera.org or by telephone at 816-471-7344. If you are a fan of Grand Opera or just Grand Musical Theater, you shouldn't miss it.
Photos courtesy of Lyric Opera and Cory Weaver