BWW Review: RADIO GOLF at KC Melting Pot Theatre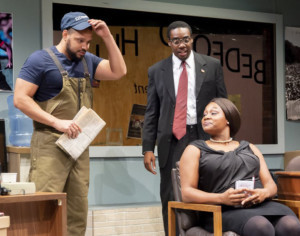 "Radio Golf" is the tenth and final work of African-American Playwright August Wilson's "Century Cycle" of plays. This simple, yet representative production by KC Melting Pot Theatre is performed at the Just Off Broadway Theatre and directed by Harvey Williams. Williams' direction brings raw, unexpected emotions that more complex, technically superior productions may not evoke.
Wilson died of Pancreatic Cancer in 2005 at age 60. "Radio Golf" was working its way toward Broadway. It had just premiered at the Yale Repertory Theater when Wilson passed.
I have previously seen a number of August Wilson's plays in larger venues. I have spent time learning about Wilson from actors and directors who actually knew him like Cort Theatre Artistic Director Ron Parson. Parson directed KC Rep's "Fences" last year. Parson's direction of "Radio Golf" in Chicago is almost simultaneous with this new KC Melting Pot production.
Each of the August Wilson plays takes place during a decade of the 20th Century. "Radio Golf" is set in 1997. All but one of the plays are set in the "Hills District" of Pittsburgh and document of the struggles of African Americans during a particular decade.
The action of the play takes place in a real estate development office. The subject is advancement by black community members and whether this kind of advancement is a good thing. The characters are Harmond Wilks (Robert Coppage), his wife Mame (Aishah Ogbeh), and Harmond's partner and friend Roosevelt Hicks (Jerron O'Neal). Two additional characters are crucial. They are Elder Joseph Barlow (Theodore (Priest) Hughes, and Sterling Johnson (Lewis Morrow).
Harmond and Roosevelt open the play intent on redeveloping part of the "Hill District." They have made arrangements to tear down a block of run down houses and replace them with 180 rental units, an upscale grocer, a Starbucks, a book store and a health center. Harmond and Roosevelt have purchased derelict properties and will access financing through minority-favored government programs.
Roosevelt has worked his way from the bottom of the pile. In addition to being a developer, he is a local Vice President of Pittsburgh based Mellon Bank. Roosevelt is ambitious, pragmatic, and knowledgeable. He has a silent, white, angel-investor named Bernie Smith. Roosevelt is convinced that his path to the good life is connected to his ability to play golf, previously a privileged white man's game.
Harmond comes from a family with substantial real estate holdings. He is a surviving twin with a business degree from Cornell University. His twin brother died in Viet Nam. Harmond entertains the ambition of becoming the first black mayor of Pittsburgh. Wife Mame, a communications professional, guides the campaign and has been promised a position on the Pennsylvania Governor's staff. Harmond dreams of helping his community and of leading a Renaissance for all the people of Pittsburgh.
Several flies buzz this seemingly positive ointment. Bernie Smith has offered Roosevelt a partnership and new job in a radio station purchased (under market value) using a minority-favored program. Bernie needs a black face on his radio project.
Sterling Johnson, a shady neighborhood-building contractor, was once a schoolyard bully from Harmond's past. He also seeks to profit from the redevelopment effort.
The other fly is Old Joseph Barrow. Barrow claims one of the Hills Development properties is really his. Old Joe is not going anywhere.
Harmond discovers a technical flaw in the sale process. Old Joe was not notified of the pending sale. And Harmond's father, a tough business type, had unexplictibly paid the real estate taxes on Old Joe's property quietly until his death. It turns out that Harmond's Great-Grandfather is the same person as Old Joe's Grandfather.
Harmond is a basically good person and tries to do right by everyone, but the system puts up walls everywhere. Old Joseph refuses to cooperate. Roosevelt won't give up what he sees as his path to prosperity. Harmond's bid for political office is sabotaged. Mame's offer of high employment evaporates. A judge refuses Harmond's attempt to save Old Joe's home. Roosevelt exercises a buyout clause in their partnership agreement and Harmond is left holding the sad bag.
The play ends in bitterness and disappointment. August Wilson was near the end of his life and he knew it. Part of what I suspect were his life's journeys and disappointments shine through. Ron Parson told me Wilson "was very thoughtful. He was quiet. Conversations you had with August were kind of intense."
The enthusiasm shown by the small predominately African-American audience at Just Off Broadway is revelatory for a suburban, old, white-guy like me. The audience is not surprised by the outcome. They are engaged. The outcome is almost an evangelical confirmation of life experiences. I found the experience different from being one member of a large mixed race audience watching a work by the same playwright.
"Radio Golf" is worth seeing for all these reasons. Robert Coppage, Jerron O'Neil, Theodore Hughes, Aishah Ogben, and Lewis Morrow say something worth hearing.
"Radio Golf" continues through October 6 at the Just Off Broadway Theatre.
Related Articles View More Kansas City

Stories

Shows
Al Portner is a retired career journalist and media executive. He has written for publication over more than 40 years. He has published daily newspapers (read more...)