BWW Review: INTO THE WOODS at Theatre In The Park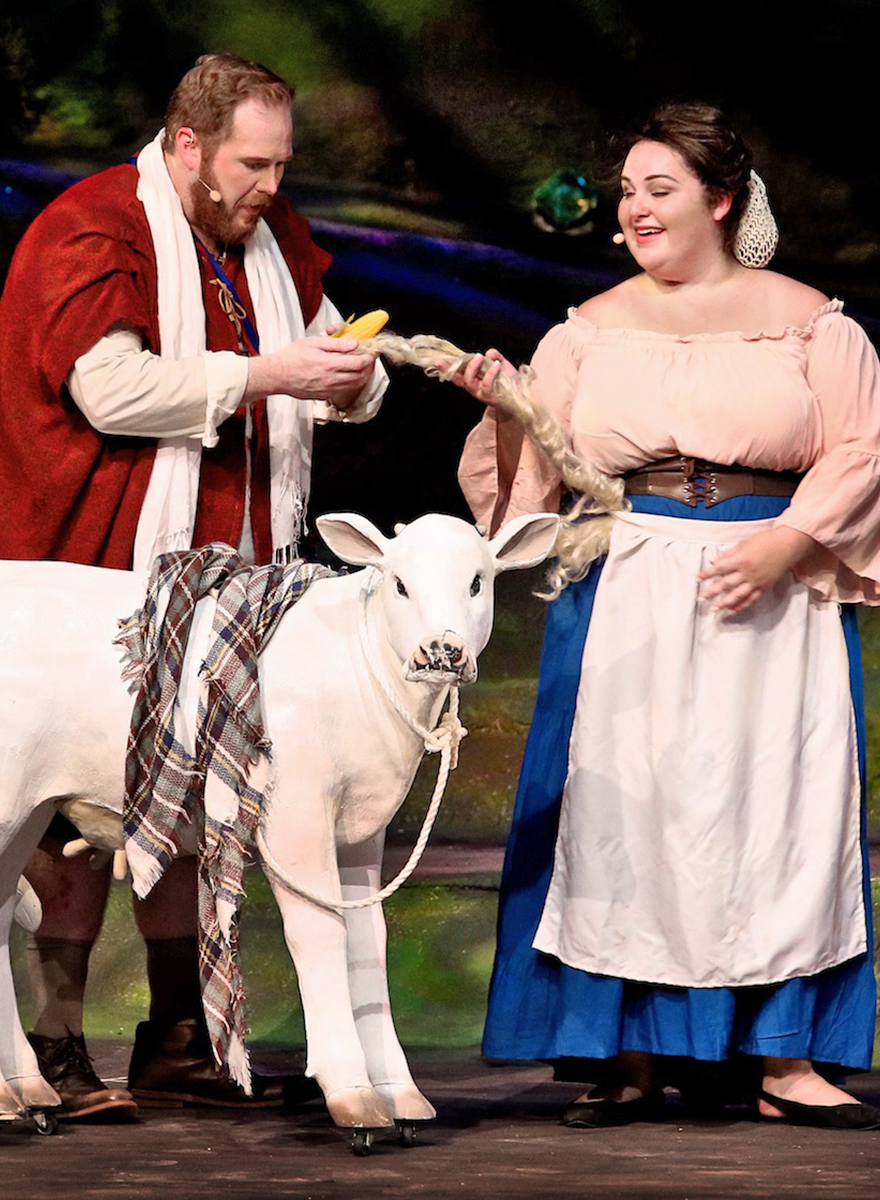 Johnson County's Community Theatre in the Park performs a top quality and charming version of Steven Sondheim's 1987 musical mashup of every fairy tale you have ever had told to you as a child. We've got Jack and the Beanstalk, Cinderella and her dysfunctional clan, Rapunzel in her tower, Little Red Riding Hood, her wolfy friend, a couple of princes, an odd looking guy never named but definitely related to Rumpelstiltskin, and even a mention of Snow White snoozing in her crystal casket surrounded by suspicious looking short guys. And all these people are just the supporting cast.
A lion's share of the credit for this production's success should accrue to the delightful vision of Director Chris McCoy, hired for this production from William Jewell College. The expertise level of this entire cast is remarkably level and even for a group of folks who do this for the love of doing it. Every one of them can sing well enough to bring off the difficult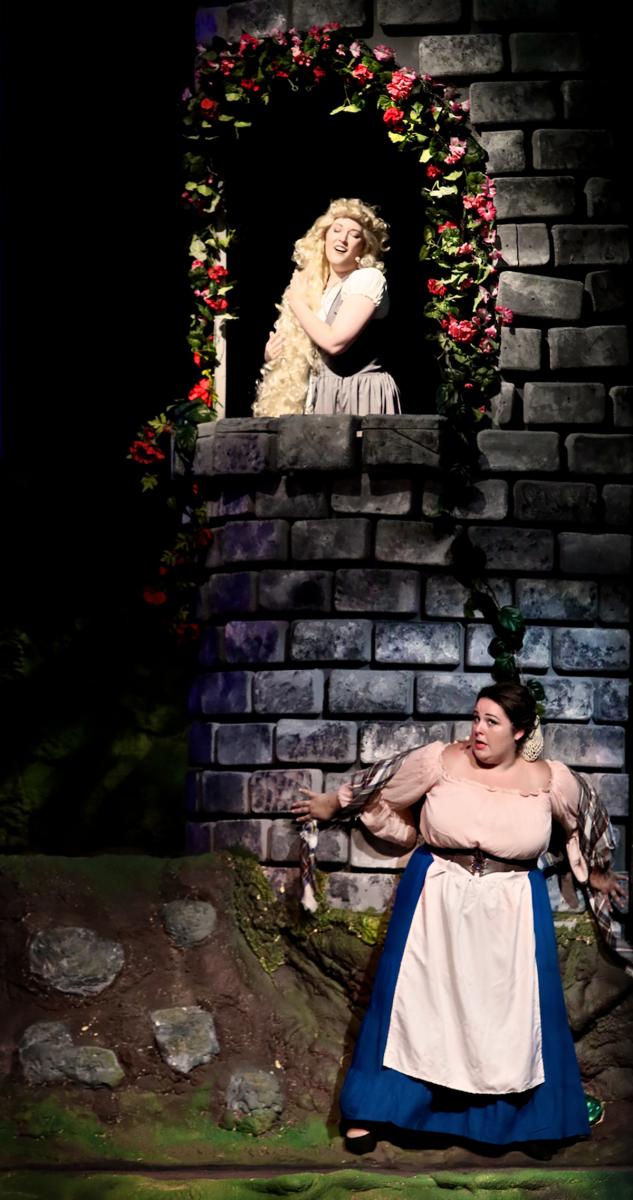 Sondheim narrative style.
The Theatre in the Park amphitheater features a huge stage complete with a pit ramp that surrounds the orchestra. Unlike many shows presented on a stage this big, this director and this scenic designer (Ben Kramer) have built the show to take advantage of its size on multiple levels and ramps with practical towers and hollow trees. The action is staged in three dimensions. The stage pictures, lighting (Elizabeth Kennell), and sound (Chase Roush) never get old. Special effects are well done with a wink and nod at pieces-parts from various animated and live action antecedents. Costumes (Tam Osgood) are excellent and appropriate to their use.
Now having (so to speak) set the stage, James Lapine's storyline is mainly told by a narrator and revolves around a baker (Tony Francisco) and his wife (Alyson Golladay), who is the suffering next-door neighbors of a nasty old witch (Wendy Musick). The baker and his wife are barren and poor. It turns out that the neighbor witch is taking revenge on them for the theft of vegies from her vegetable garden by the baker's long dead father. Guess she holds a grudge a la Margaret Hamilton.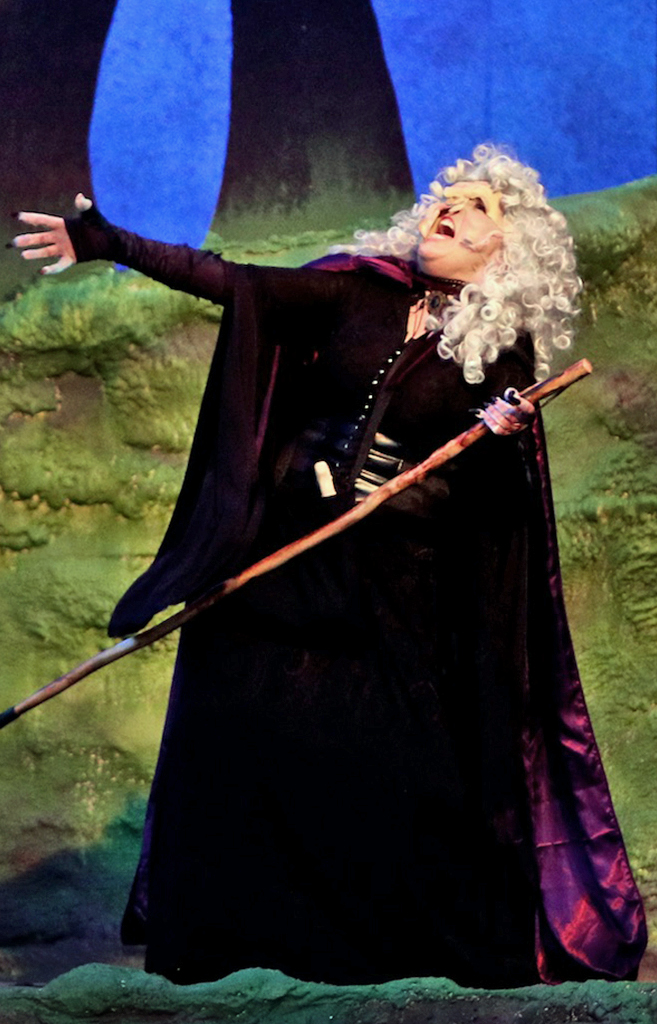 The witch agrees to lift her curse if the baker and his wife can accumulate four discrete ingredients to a special potion within three days. They must gather a milky white cow, a blood red cloak, a golden slipper, and a shock of corn silk-like yellow hair. The baker and his spouse have no cash to spare so they are forced to scavenge in the woods for everything they need. They do find, however, six old beans in the baker's dead father's coat.
Happily for us, the baker, his wife, and the team of Sondheim and Lapine, the show is set in a fortunate neighborhood. Little Red Riding Hood (Catie Wolf) is a bakery shop customer. Cinderella (Courtney Koval) and her clan live down the block. Jack (Arthur Clifford) and his Mother (Ruth Baum Bigus) of Beanstalk fame farm close by. If there a pattern emerging here?
Jack's pet cow "Milky White" has gone dry and Mom demands that the cow be sold so they can eat. Jack turns out not to be the trader that Mom had hoped. He trades the cow to the baker for five magic beans. Mom is outraged and angrily throws the beans out the kitchen window. Any idea what happens next?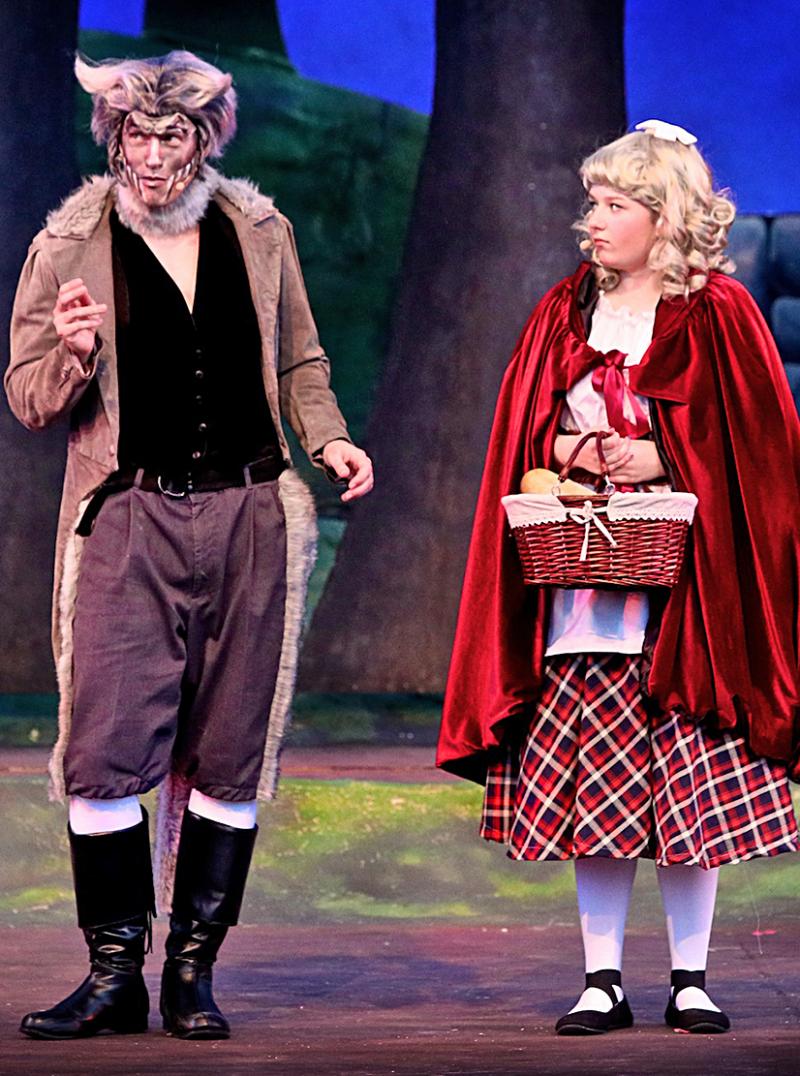 Red Riding Hood is accosted and eventually eaten by a big, baad wolf (Tom Nelson) before being saved by the baker who is rewarded with the Red Hooded cloak. Cinderella has made it to the ball in her ball gown and golden pumps. Meanwhile, the witch is visiting her adopted daughter Rapunzel (Rachel Adcock) of the long corn silk hair. The witch is observed on her visit both by Rapunzel's eventual Prince (Carson Tate) and by the baker's wife who is in the market for some of that corn silk like hair.
Surprisingly enough, Rapunzel's prince runs into his brother, Cinderella's prince (Tom Nelson), who has somehow misplaced Cinderella. The two princes stop long enough to perform a duet before heading off.
Like most Sondheim musicals, the music is narrative and memorable, if not hummable. Musical Director Langston Hemenway does a very good job of teaching the music and assembling an extremely credible orchestra. An experienced ear can hear echoes of Sondheim's other works.
It is important that Director McCoy communicates his own vision of the quirky premise. He has accomplished this in spades. Because of the size of the stage and the content of the material, the actors have been taught a presentational style of movement that takes all the disparate pieces and molds them into a whole. McCoy keeps the production interesting with ever changing stage pictures.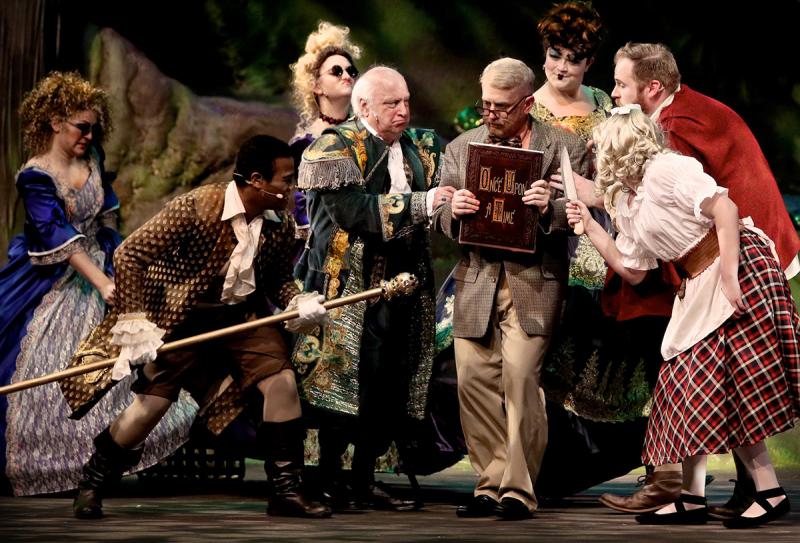 At the beginning, we are a little confused, but the actors soon convince the audience they are going to have a good time. Audience responses grow as Act I proceeds. Multitudinous plot threads get a little over-entwined in Act II, but we are encouraged to stick with it until the big ending.
This super production of "Into The Woods" continues through July 14. Tickets are available on the www.theatreinthepark.org website. A pleasant evening for all in the park at the edge of the woods.
Photos courtesy of Theatre In The Park and Bob Compton Photography