BWW Review: BILOXI BLUES at New Theatre Restaurant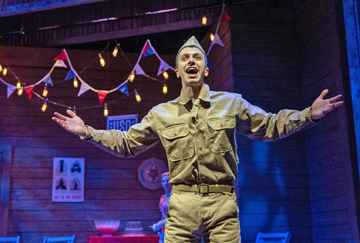 New Theatre and Restaurant's production of Neil Simon's "Biloxi Blues" transports its 2019 audience back to Army boot camp during the closing days of World War II. Simon has been mostly recognized for plays that depend on situations producing comedy and quick laughs. "Biloxi Blues" is funny, but a bit more serious. It recalls the life experiences of a particular group of first generation Americans who grew up during the depression era / World War II / early 50's time period.
Neil "Doc" Simon sadly passed away last fall at age ninety-one. He was among the last of my Dad's generation. Dad was a single year older than Simon and actually drew bomber duty. Simon patriotically served, but just one year later, the U.S. War machine was already throttling back.
"Doc" Simon was among the most successful of the Jewish American Playwrights who grew up during the "Great Depression" of the 1930s. Much of his stage and film work reflects his experiences and those of people he knew. During Simon's most formative years, almost one in four New Yorkers shared Simon's first generation American - desperately poor - Jewish immigrant heritage. So the original audiences for his work mostly knew exactly where he was coming from.
Simon's fabled one-liner humor was absorbed from those around him. Neil and Danny Simon made a living writing one-liners for radio, situation comedies, and sketches for early TV variety shows. In a later play, "Laughter on the 23rd Floor," Simon chronicles the experience grained while working for a tyrannical avatar of the legendary Sid Caesar. The other people in the room were Carl Reiner, Mel Brooks, Larry Gelbart, Mel Tonkin, Selma Diamond, and Woody Allen.
Neil Simon's nickname "Doc" originated from Simon's rare talent of being able to see the flaws in shows failing in previews. Simon rewrote many and helped the shows succeed. Simon became known in the play producing community as an effective "Play Doctor."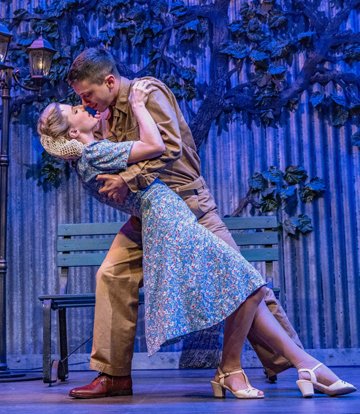 Doc Simon wrote a number of plays that were thinly autobiographical. "Brighton Beach Memoirs," "Biloxi Blues," and the following "Broadway Bound" all feature himself under the name Eugene Jerome. Other autobiographical shows include "Lost In Younkers," "Chapter Two," and the aforementioned "Laughter On The 23rd Floor." In most of these plays, the "Simon" character is clearly the protagonist.
"Biloxi Blues," the second of a three to six section cycle of plays. "Brighton Beach Memoirs" explores the playwright's teen years as Neil and older brother Danny cope with the unhappy marriage of their parents during the 1930s. "Biloxi Blues" recounts the military experience. "Broadway Bound" is Neil as "Eugene" again making it as a playwright.
In "Biloxi Blues," Simon as Eugene (actor Jeremy Greenbaum) is the narrative character. Eugene is drafted after high school in the waning days of World War II and sent to "boot" camp. "Biloxi Blues" main action pits Eugene's friend, Arnold Epstein (Nick Selting) against their Drill Sergeant Merwin Toomey (ordinarily played by Peter Scolari). Scolari was not present for the performance I saw. The Sergeant was played by understudy Darren Kennedy.
Eugene understands his role in the military is best to just get along and get through basic training. Arnold has a more combative attitude.
Arnold is a kind of self important, nerdy, pseudo-intellectual, skinny Jewish kid from Brighton Beach. We want to like Arnold, but he makes that difficult.
The Drill Sergeant is... well... a southern born and bred career soldier. He is a by the book, a break 'em down build 'em up in the Army image kind of guy. He is a wounded veteran of many WWII battles here detailed to his last active duty assignment in a basic training brigade to ready the next group of citizen soldiers.
Sergeant Toomey has no experience with or idea how to mold Arnold into his platoon, but never gives up until ultimately surprised.
Eugene serves as removed observer except for a section in Act II where he steps up, loses his virginity to the town hooker, and finally meets a nice Catholic girl for a puppy love relationship.
Supporting roles are covered by Jack Fellows as the Polish jock Wykowski, Zach Faust as Selridge, David LeVota as Hennesey, Andrew Wright as Carney, Cheryl Weaver as Rowena, and Emy Blake as Daisy.
Director Dennis Hennessy has chosen one of the more difficult of Simon's plays. There are one line laughs and deeper issues of racism, antisemitism, homosexuality, first love, loyalty, and duty all addressed. Simon's shows and dialogue tend to be specific to a certain rhythm, one-liner delivery, and depend on a level of self-knowledge common to people who had similar life experience as the playwright. These elements are kind of missing here. This may be just a function of the generational time that has passed and a general blending of American society.
As always, the show is technically flawless. The turntable sets by James Misenheimer keep the multi-set action moving at breakneck speed. Lighting designer Sean Glass provides pools of light all over the stage for narrator Eugene to step out of his character and explain what is happening. Susan Oliver's costumes are appropriate and adequate to the period.
Table service is excellent as is the buffet supper served.
"Biloxi Blues" continues at The New Theatre through April 21. Tickets are available at www.newtheatre.com or by telephone at 913-649-7469.
Photos courtesy of New Theater and Restaurant and Roy Inman.
Related Articles View More Kansas City

Stories

Shows
Al Portner is a retired career journalist and media executive. He has written for publication over more than 40 years. He has published daily newspapers (read more...)