BWW Review: A LIE OF THE MIND at Kansas City Actors Theatre
A Lie of the Mind by Sam Shepard
Kat's latest drama "A Lie of the Mind" by Sam Shepard and directed by Cinnamon Schultz gives vivid life to the traditional ideals of the American heartland. Shepard crafts a story of two families whose interwoven lives reveal personal mental demons that affect each of them. The story does not attempt to cast judgment yet shows the toll exerted from intergenerational denial and enabling. Rich with characters that range from loveable to despicable the audience is lead to understand each of them through the course of the show. Images crafted in this way allow those watching to consider the causes of behaviors and how easily patterns can be repeated without realizing it, while not preaching about why. This drama has it's touching moments and a definite sense of romanticism showing the devotion of family and the reaches of deeply passionate love, however flawed it may be.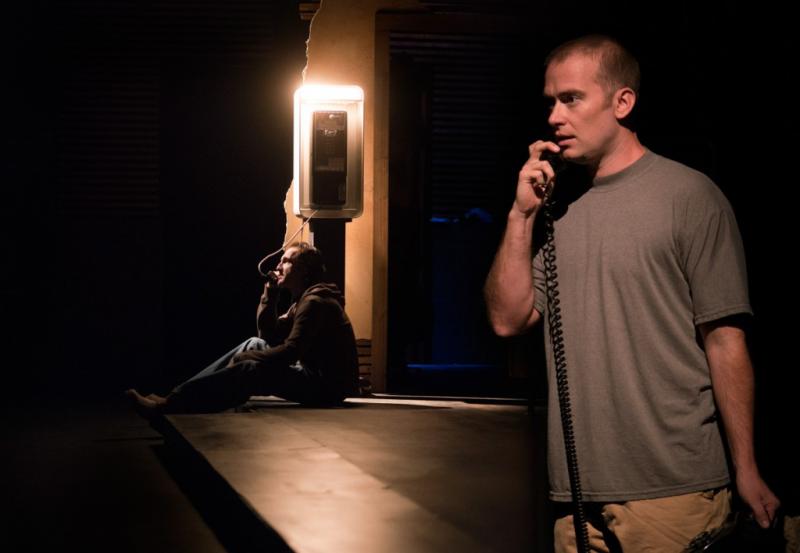 As the show opens we find two brothers frenetically speaking to each other on the phone, one in serious trouble. Brian Paulette (as Jake) gives yet another powerful KCAT performance of a man who, while consumed by obsessive love, shows tender weakness and out-of-control mania. His secrets have consumed him, much as they did his late father, and we, the audience, sense his hopelessness to change course. Jake Walker (as Frankie) the younger brother finds his strength in attempting to iron things out. He understands his brother is likely mentally ill, but aims to be the protective sibling who wants to patch things up, yet not realizing he is simply a pawn being manipulated by those around him. Beth (played by Christina Schafer) is nearly unrecognizable in her opening scene, as is later evident, Traumatic injuries have placed her in the hospital where her brother Mike (portrayed by Forrest Attaway) sits by her side. Much of the show revolves around Beth and her recovery from deep injuries to her psyche and body. Her family, ill equipped at times to empathize, bring her home with the hope that she will make a full recovery. As she struggles and regains some of her previous self the family begins to fray under the pressure of being caretakers. Brother Mike who initially was the "protector" gradually becomes agitated with her slow progress to the point of becoming yet another of her antagonists. He is much like his father Baylor (played by Gary Neal Johnson) who is a stereotypical chauvinistic male of an older generation. Surprising though is Johnson's handling of a character who may seem written as one dimensional, but is delivered so well he soon has the audience on the edge of their seats guessing where he will take this provocative character next. Beth's meek mother (Jan Rogge) is the kindly overly concerned and doting parent that usually appears in such a show. However, Rogge allows the character room to prove that the quiet suppressed voices in the family often have the most powerful things to say.
Flashing back to Jake's family, we find this mother Lorraine (Merle Moores) and sister Sally (Hillary Clemens) in near constant conflict as they course through issues both past and present. Moores vacillates between doting and demanding as a matriarchal figure who takes control whenever she can. Her desire to protect becomes more enabling and when called on it by daughter Sally she brushes it off as jealousy. Clemens' Sally has a youthful energy that makes it easy to see what her mother must have been like as a young woman. She wants to expose the flaws in the family to dispel myth and confront reality, but intergenerational patterns are strong, leaving the audience to wonder if history will repeat itself, or if Sally will break the chains that have bound them all for so long. Both women command the stage and the men in their lives, providing the necessary balance to the story to make it even more poignant.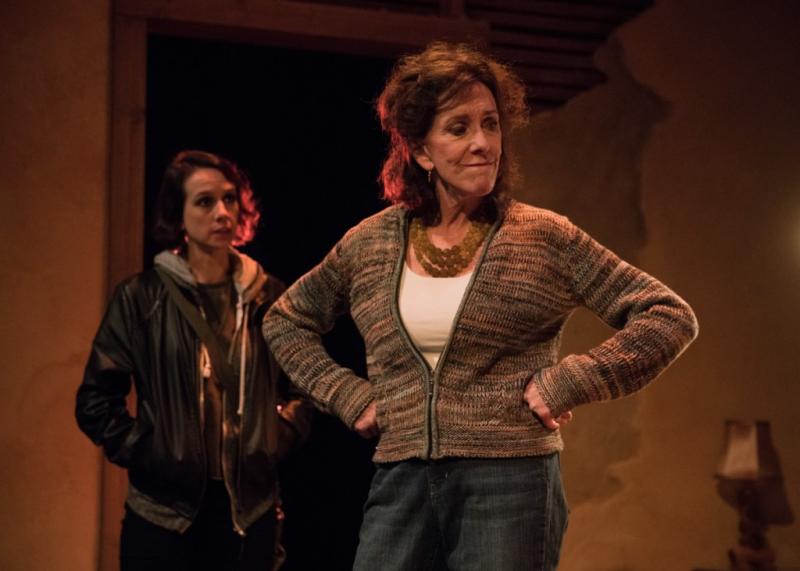 The opening night show went smoothly to the credit of well-coordinated technical and stage direction from Kyle Dyck, Alex Murphy, and Rita Sobbing. Character costumes by Gretchen Halle, and Properties by William J Christie, established a true modern west setting that kept the show mainstream to American culture. Scenic Designer, Bret Engle, has built a set that at first appears simple enough, but as the story unfolds it becomes part of the prose. At times, it leads one to question if some of the raw unfinished edges are holes that have been punched out in an earlier angry rage. Between the two side platforms spans a gulf that is evidence of a defined separation between the two families with little to bridge the moonlit chasm. Mood also receives special treatment through an evolving lighting treatment (Ashley Kok) as the characters' world is hit with one after another confrontation with an ending glow of embers leaving smoldering questions of what's to come. Sound Designer& Composer, Jonathan Robertson's effective use of music throughout (in addition to a great pre-show duo) complimented an ensemble that was primed to bare all.
KCAT shines, yet again, in this "not to be missed" production that runs September 13th thru October 1st at Union Station's City Stage. For tickets go online to http://www.kcactors.org/shows/a-lie-of-the-mind/ or call the box office at 816-235-6222
Photos by Mike Tsai