BWW Review: A BRONX TALE at Starlight Theatre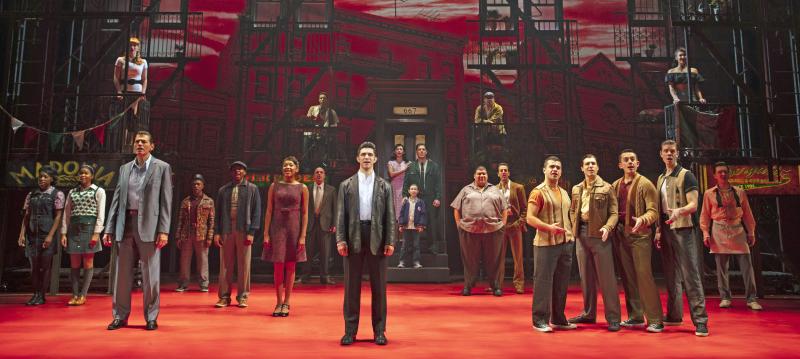 "A Bronx Tale," playing this week at Starlight Theatre, is one of those hidden gems of a show that enjoyed a fairly limited Broadway run. And because the Broadway run ended last fall after 700 performances (for now), a good portion of the New York cast has signed up for the touring company and are performing for Kansas City audiences. These folks obviously love this show. It shows in the performance.
The opening night audience found "Bronx Tale" a super entertainment experience. "A Bronx Tale" has a great old style score by Alan Menken and Glenn Slater. The libretto is a mainly autobiographical account of actor Chazz Palminteri's formative years in the 1960s from his 1989 one-man show with the same title and a 1993 motion picture starring Robert DiNiro as Palminteri. DiNiro co-directs this musical show with Broadway veteran Jerry Zaks.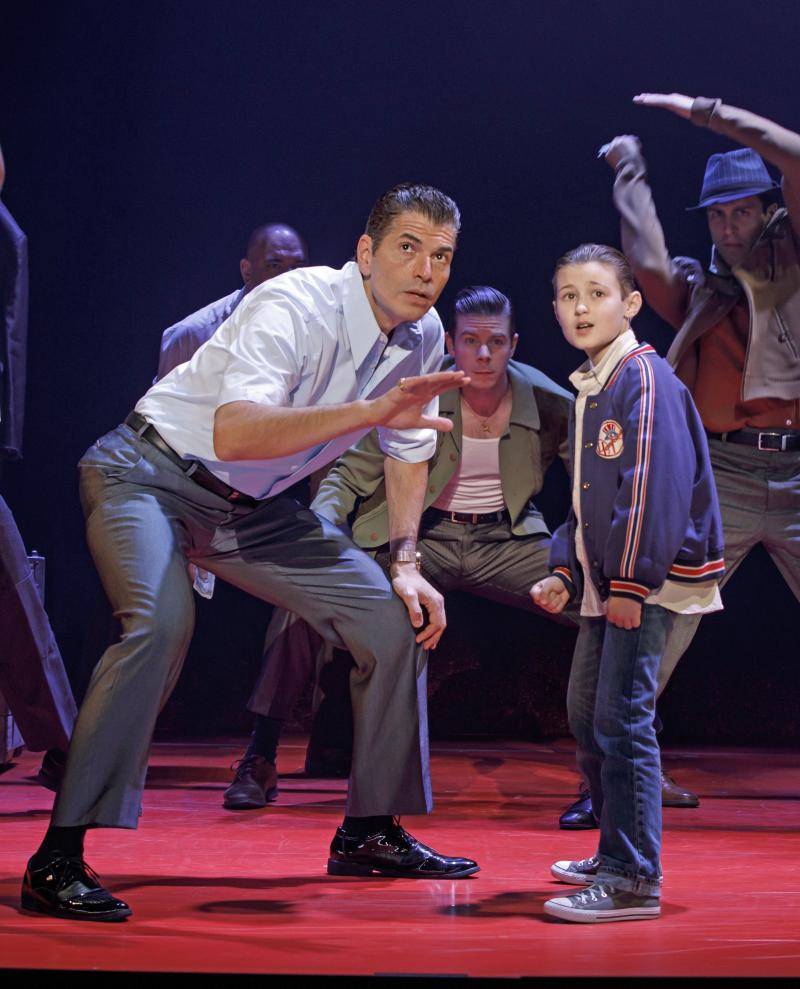 An incredible set design by Beowulf Boritt whisks the audience to Belmont Avenue in New York City's Bronx borough. A super lighting scheme was designed by Howell Binkley. This has to be one of the most demanding technical shows I can remember seeing. Pin spots come on and go off. Sets and scrims fly in and out like a ballet. Set pieces appear, and roll upstage and down. The ringmaster for this super slick production is the Production Stage Manager Kelsey Tippins. It is tough to divine what the production script must look like with an unimaginable number of light and set change cues even during musical numbers.
"A Bronx Tale" is difficult to describe and that may explain why it closed after only 700 performances. This is a much better show than that. Imagine an old school musical with an absolutely modern technical sense of itself and which takes advantage of stagecraft advances over the last couple of decades.
The show is narrated by a fellow (apparently in his twenties or thirties) from a Sicilian-American family named Cologero (Joey Barreiro). As a young boy, he witnesses a murder from his front stoop by the neighborhood Don. A nine year-old version of Cologero is played by Brigg Lieberman or Shane Fry on alternate evenings.
The boy is questioned by police. His parents Lorenzo (Richard H. Blake) and Rosina (Michelle Aravena) are terrified when their son agrees to pick the shooter out of a lineup. This is an old style Italian neighborhood.
The boy chooses not to identify the local Mafioso boss Sonny (Joe Barbara). Again the parents are terrified. Lorenzo will do anything to keep his son from getting involved in the mob.
Lorenzo, a former musician, works his butt off as a bus driver to act as a role model his boy can be proud of and live up to his talents.
Sonny takes the young Calogero under his wing. Sonny is not an irredeemable person. Lorenzo fears for his son and his friendship with a mob boss. Sonny looks out for the boy (in his way) and nicknames him "C." "C" learns the ways of the street, but is also pushed toward education and books and pretty basic management and personal interaction theory.
Sonny is there for "C' even when (as a teenager) he is attracted to an African-American girl. Interracial dating was something not done in the 1960s. This turns out to be one of the major plot points of the show. Sonny saves "C" from a potential gang war and certain death before he (Sonny) is shot in an unrelated cause.
The promotional material for "A Bronx Tale" suggests that an audience member should think of a cross between "Jersey Boys" and "West Side Story." "A Bronx Tale" doesn't get enough cred to limit it to those shows. There are pieces of a lot of good shows inside this one. Think "Guys and Dolls, or "The Godfather" or even "Little Shop of Horrors."
Unlike many new shows, "A Bronx Tale" is stuffed full of new songs that can be hummable outside the context of the evening. If tin-pan alley still lived, Alan Menken and Glenn Slater would be a top duo. Composer Alan Menken is the composer of "Little Shop of Horrors," Beauty and the Beast," "Christmas Carol," "Little Mermaid," "Sister Act," "Newsies," and many more. Slater is a frequent Menken lyric partner, but he has also teamed on occasion with others including the incredible Sir Andrew Lloyd Webber.
"Bronx Tale" is stuffed full with big ensemble numbers and great dance (choreographed by Sergio Trujillo) that are a pleasure to watch.
The actors do a super job. I would go see Joey Barreiro as "C" anytime. Brigg Lieberman as "Young C" punches far above his weight as a small nine year-old. Not only can the kid sing, he acts, and keeps up with adult dancers doing some tough routines.
Sonny (Joe Barbara), Lorenzo (Richard H. Blake), Rosina (Michelle Aravena), and Jane (Brianna-Marie Bell) are all holdovers from the Broadway cast and all deserve to be there.
"A Bronx Tale" is a very commercial musical play translated from other mediums. With great stage pictures, excellent music, super actors, and a really top notch crew, "Bronx Tale" cooks.
Don't expect much in the way of social value or deep meaning. Instead, park your social consciousness at the gate, and prepare to enjoy yourself. I promise you will be entertained.
"A Bronx Tale continues at Starlight Theatre through Sunday August 4. Tickets are available at the box office, online at www.kcstarlight.com, or by telephone at 816-363-7827.
Photos courtesy of Starlight Theater and Joan Marcus.
Related Articles View More Kansas City

Stories

Shows