Linda Purl, Ken Fallin And Sarah Boone To Headline Theatre Jacksonville Benefit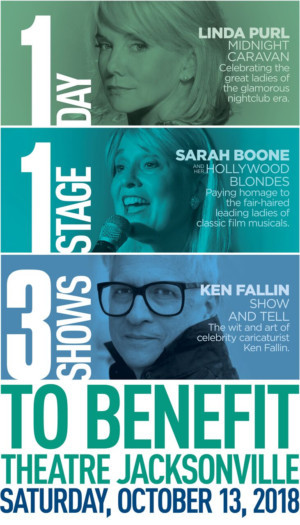 1 DAY... 1 STAGE...3 SHOWS!
To Benefit Theatre Jacksonville
Saturday, October 13
It's a special celebration to kick-off the 99th season of Theatre Jacksonville: Linda Purl in Midnight Caravan, Sarah Boone and her Hollywood Blondes, and celebrity caricaturist Ken Fallin in Show and Tell on October 13th in Jacksonville, FL. All three performers will hit the stage in individual shows from 2:00 pm into the evening to raise funds to support this historic theatre's many programs and services.
Linda Purl
Midnight Caravan
7:30PM
Midnight Caravan salutes the great women singing stars of the 1940s and '50s - from Ella Fitzgerald to Judy Garland to Rosemary Clooney - as they reigned over the swanky, sexy supper clubs of the era. From Sultry ballads to hot Latin jazz arrangements of Broadway tunes, the show features classic standards like My Romance, Shall We Dance and Caravan, and conjures a nighttime world where the surroundings are posh, the drinks keep flowing, and nobody goes to bed before three. Linda is currently recurring on the new Crackle drama The Oath; has recently been seen in recurring roles on Designated Survivor, True Blood, The Office and Homeland. She has starred in over 45 made-for-TV movies, and is especially known for her series roles Charlene Matlock on Matlock and Ashley Pfister, Fonzie's fiancee, on Happy Days. Musical Direction by Tedd Firth.
"Purl cuts loose with all the authority of a seasoned jazz vocalist...she is mesmerizing."
--London Times
Sarah Boone and Her Hollywood Blondes
4:30PM
After recent NYC (The Triad, The Duplex) and LA (Upstairs at Vitello's) engagements, Sarah Boone takes off her Theatre Jacksonville Executive Director hat to bring home her new show paying homage to the fair-haired leading ladies of classic film musicals. Sarah Boone and Her Hollywood Blondes is an evening of musical treasures first introduced by Jane Powell, Judy Holliday, Ginger Rogers, Shirley Jones, Debbie Reynolds, Betty Grable, Alice Faye, Betty Hutton, and Doris Day. These fascinating and glamorous stars sang and danced their way into America's mid-20th century heart and in the process, influenced generations of future entertainers. So, throwback with Sarah, who's a bit (okay, a lot) retro and a huge fan of those other blondes, as she shares their songs and stories in this loving tribute with soul, humor, joy, sophistication, and a heckuva lot of moxie. Musical Direction by Eugene Gwozdz. Directed by Jean Tait.
"Unearths forgotten nightclub gems" --Cabaret Scenes
Show and Tell: The Wit and Art of Celebrity Caricaturist Ken Fallin
2:00PM
Internationally renowned caricature artist and Jacksonville native Ken Fallin wittingly recounts his legendary career through colorful stories and personally selected images from his vast cache of celebrity drawings He poignantly and hilariously shares his experiences drawing and meeting such theatrical personalities as Carol Burnett, Liza Minnelli, Barbra Streisand, Patti LuPone, Sir Ian McKellen, and Sir Patrick Stewart. Throw in a video of Ken interviewing and at the same time sketching actor Michael Urie, and you have a fascinating glimpse into the process that has made him the go to pen and ink illustrator for eminent publications that include The Wall Street Journal, The New Yorker Magazine, The Hollywood Reporter and The Washington Post. He is also a regular contributor to BroadwayWorld.com. His presentation is followed by a brief Q&A.
"The ability to produce the 'uncanny' likenesses from the pictures we provided is truly amazing." --Stuart Koenig, Assistant Producer, CBS
Single tickets are available for each show. There is also an option to purchase discounted Passports for entry into all three events. Show and ticket information can be found at www.theatrejax.com.