Feature: A Decade of Indonesian Broadway Musicals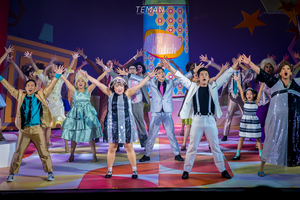 Looking back at the (often unexpected) strides and achievements made in 2010s, Indonesian Broadway-style musical theater is poised for a renaissance in this decade. Though not without challenges ahead, the state of the art is more promising than ever.
Disclaimer: This article is meant as a personal reflection on last decade's Broadway or Broadway-influenced musical theater productions (though the term is, admittedly, murky, as art influences one another all the time; nevertheless, this limited scope is needed to keep the article manageable). Moreover, as Jakarta-based writer, I'll be focusing on the Greater Jakarta Area. It should be noted that Indonesia has a rich theater culture throughout its thousands of islands that would be better served by a more in-depth look.
The Trailblazers
Indonesia has a long and storied history of theatrical performances, from the myriad traditional forms of people's theater such as ketoprak and lenong, to the glamorous, proto-musical komedie stambul brought by colonial occupiers.
Many Indonesian theaters have put on musical productions as part of their repertoire. Jakarta Players, which has been around since 1968 and originally founded by expatriates, consistently produced plays and even several musicals in the 2010s.
Teater Koma, one of the most well-known theater companies around, has entertained generations of families ever since its beginnings in 1977. Koma also notably has a peerless sense of continuity to its titles; shows can have multiple parts, played years apart, and even revived with a whole new generation of actors.
Another longtime purveyor of musicals is LSPR Teatro. The theater club of the Jakarta-based university is known for their annual musical production, starting back in 2001 with CINDERELLA. As the university grows in prominence, so does Teatro's musical offerings.
However, for the most part, musical theater shows remained a form of art mostly enjoyed and performed by the 'theater kids' and their immediate circles. Other forms of entertainment, notably TV and movies, were more easily accessible and had more budget for promotion.
In 2010, Joko Anwar, a then-newly famous director lauded for his award-winning movies Janji Joni and Pintu Terlarang, announced that his newest work will be played on stage instead of on the big screen. He would assume the role of scriptwriter, director, and lyricist at the same time.
ONROP! MUSIKAL was born out of Joko's concern towards the zealous over-censorship in media, done by (or because of) outspoken conservative groups. It was highly critical and a success with both critics and audiences alike; ONROP! also became the introduction to big-scale musical shows for many of them.
Due to Joko's already considerable repute and the names attached to the project (particularly A-lister Ario Bayu), the show could garner publication much greater than other theater productions of the time. Moreover, the show played for over a week, from 13 to 21 November 2010 at the 1,200-seater Teater Besar, allowing for more tickets to be sold, and, subsequently, more awareness. However, its controversial subject matter and adult demographic confined its target audience to teenagers and up.
On December the very same year, an even bigger and more family-friendly musical hit Teater Jakarta: MUSIKAL LASKAR PELANGI. Based on the novel LASKAR PELANGI by Andrea Hirata, the book tells the inspiring story of a group of students from the island of Belitung as they try to fulfill their dreams despite the underfunded school system. It remains one of the few literary mega-hits to hail from Indonesia, moving more than a million copies domestically. It has also been translated into more than 20 languages.
Inevitably, the book was adapted into a blockbuster movie in 2008, selling 4,7 million seats (becoming Indonesia's most-watched movie, a title it held until 2016) and earning 139 billion Rupiah by the end of its run. More significantly, the success of Laskar Pelangi also rejuvenated the real island of Belitung, increasing tourism gains by 1,800%.

In August 2010, the film's director Riri Riza and producer Mira Lesmana announced that they would reprise their respective roles for the upcoming musical. Understandably, anticipation and expectations were high. Mira stated that MUSIKAL LASKAR PELANGI's production costs are predicted to exceed the film's 8 billion Rupiah budget. She and Riri also assembled a team of local experts to adapt the novel for the stage, including celebrated composer Erwin Gutawa. The show also marked the theater debut of singer Lea Simanjuntak, who would go on to star in other musical productions including INTO THE WOODS and HAIRPSRAY.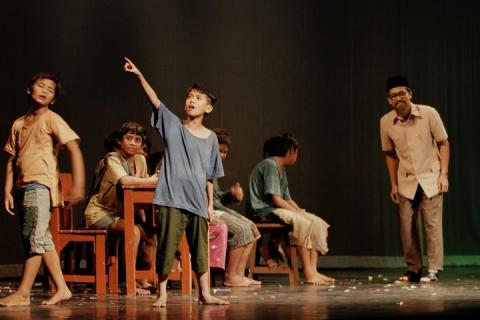 MUSIKAL LASKAR PELANGI opened on December 17th, 2010 to great acclaim, and would go on to sell 25,000 tickets during its 24-day run (holding the record for the longest run of a modern Indonesian musical). Its phenomenal success led to a Jakarta revival merely half a year after its original run, followed by reruns on Yogyakarta and Singapore, and another run at the theme park Dunia Fantasi. However, the investment plan used to fund the productions was said by industry rumors not to achieve the level of returns expected by the investors. Moving forward musicals would rarely be funded by investment.
The immense success of both ONROP! and MUSIKAL LASKAR PELANGI, assisted by the name recognizability of their creator or source material, and the continued work done by Teater Koma and Jakarta Players, helped put musical theater in public conscience. But there is also one other earlier, international, and unknowing hand behind the resurgence of musicals in Indonesia.
On May 19th, 2009, after Fox channel's broadcast of American Idol's penultimate Season 8 episode featuring Carrie Underwood and its two finalists (Kris Allen and Adam Lambert, with the earlier winning the season), a new TV series debuted its pilot episode. The series would run for 6 seasons, winning multiple Emmy awards, and inspire thousands to dive headfirst into performing arts.
It's none other than the musical comedy-drama Glee. The series, about the tumultuous teenage lives of show choir kids, quickly became a worldwide phenomenon and Indonesia isn't exempt. With the advent of cable TV, Indonesian 'Gleeks' can get their fill of the musical series through StarWorld Asia. A local channel, Global TV, also aired it a bit later on (and, of course, bootleg DVDs were aplenty).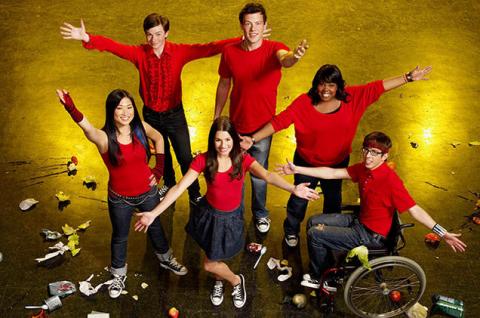 As a show that featured many, many musical songs, from ANYTHING GOES to WICKED, Glee has undoubtedly introduced unsuspecting viewers to the wonders of show tunes. Although I admit this is anecdotal in nature, many of theatre kids I know were also among the inductees to the metaphorical glee club.

Regardless, the point is that the increasing penetration of global media also helped budding Indonesian thespians discover musicals. Of particular note, the surging number of internet users in Indonesia (from 30 million in 2009 to 171 million in 2019) also exposed us further to Broadway clips through YouTube and other video-sharing sites.
With the next generation of Indonesia's youth well-acquainted to the dramatic and poetic works of Broadway greats, everything is set for the next scene to begin.
Growth and Legitimacy
By the mid-decade, musical productions have risen from being merely an option to spice up a theater community's body of work and into a surging trend. This rising number is reflected by the spike of Google searches for the term 'drama musikal' (the most commonly used Indonesian term for musical theater) around the year 2011.
Though currently inactive, one of the earliest musical communities of the decade proudly carried the name of Broadway itself. Jakarta Broadway Team (JBT) ran shows and theatrical concerts based around Broadway hits from 2009 to 2014.
Perhaps by a turn of fate, Jakarta Performing Arts Community (JPAC) started life in 2014, with many early members hailing from Jakarta Players. As of the early 2020, it holds the distinction of being the Indonesian Broadway musical community with the most followers on Instagram.
In 2016, Jakarta Musical Crew (Jaksical) held their first event, a screening of RENT Filmed Live on Broadway. Instead of producing shows (though they hold annual concerts), Jaksical chooses to instead focus on fostering a sense of community as well as cultivating a well-curated social media presence. Using this approach, Jaksical becomes one of the most prolific media/community partners for local musicals, their yellow crescent logo adoring many posters.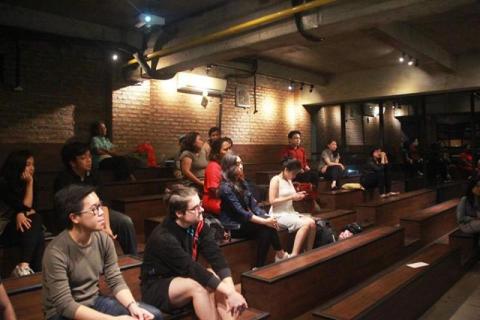 Though Jaksical remains one of the few media outlets dedicating themselves to musicals first and foremost, there are others: a YouTube channel made by Indonesian musical nerds and for Indonesian musical nerds called The Fullout Show debuted in December of 2019; and, at this very website, the Indonesia section went live in 2017.
On the student front, several schools begin to build a legacy of musical productions. Musicals are, after all, well-suited for a school production: they are typically fun, showy, collaborative in nature, and can be expanded to include dozens of kids. Backed both by the school and parents eager to support their children, the productions can secure their funding reliably.
One such schools is SMAK Penabur Gading Serpong. The Christian high school has a tradition of musical theater production made by the graduating 12-graders. It's an opportunity for the kids to get together one more time and work on a memorable group project.
Upon graduation, it is inevitable that most students will no longer be actively involved in theater (though they might retain a certain openness towards enjoying them). Yet, many others continue to seek opportunities to make theater a part of their life, either personally and even professionally.
There are several theater communities originally founded by like-minded graduates from the same school which expanded into larger communities open to all. The founders of Space Youth Community hailed from St. Laurensia high school, a school which had a tradition similar to SMAK Penabur Gading Serpong - soon-to-graduate seniors came together to put on plays, though each class had their own show instead of one show altogether.
The performing arts community JKTMoveIn (Jakarta Movement of Inspiration) was also started by graduates, this time from the private high school Lab School. They made big waves with MUSIKAL PETUALANGAN SHERINA in 2017; similarly to MUSIKAL LASKAR PELANGI, it was adapted from a preexisting, very successful IP. MUSIKAL PETUALANGAN SHERINA was a meteoric hit and the roaring success mandated a revival the very next year.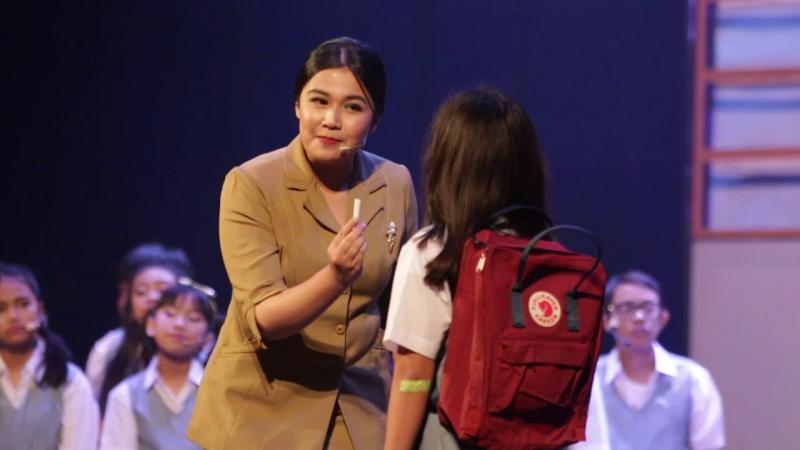 The rising popularity of musicals doesn't go unnoticed by event promoters. The touring West End company of THE SOUND OF MUSIC came to Ciputra Artpreneur in 2015, starting a string of international touring productions in the capital city of Jakarta, bringing SHREK THE MUSICAL, BEAUTY AND THE BEAST, and ANNIE in subsequent years. Previously, the nearest stop was in Singapore.
Another big change brought by the 2010s was the unstoppable proliferation of social media. Instagram was launched in October of 2010 and eventually became the platform of choice for the younger generation, hitting 1 billion monthly users by 2018.
While initially promoted as a way to nurture personal connections, social media's power to send messages to a wide range of people in an intimate way was irresistible to marketers. The theatre community also took to it, designing posters or more involved campaigns to reach audiences old and new, further increasing awareness of musicals.
Although the continued uptrend was promising, there is an elephant in the room. Many communities and school theater clubs produced well-beloved musicals without proper licensing, committing rights infringement. Though it requires a deeper analysis to get to the root of this unfortunate trend, a severe lack of education and information about the licensing process is a major cause.
But towards the end of the decade, a change of attitude is brewing. A Kickstarter campaign by Jakarta Performing Arts Community (JPAC) to license and produce WEST SIDE STORY successfully raised €3,680 in November 2016. At the time, the promotion for this campaign focused heavily on the legality and morality of properly acquiring a license.
The kicker that pushed Indonesian thespians towards lawful producing of existing shows came from abroad. Chris Peterson, writer and founder of OnStage Blog, wrote an exposé about the unlicensed Hamilton performance held by LSPR Teatro. The May 2018 article gained significant traction and put LSPR Teatro and the wider Indonesian theater community under scrutiny.
Though unpleasant, the wake-up call resulted in a wave of licensed productions, from ALLEGIANCE to COMPANY to HAIRSPRAY. Indonesian Broadway-licensed shows have become the rule instead of the exception, in addition to original, homegrown works that require no licensing.
Adding to the legitimacy of musical theater is the rise of musical production companies. JKTMoveIn has successfully built their organization into a professional one, currently offering services in Show Production, Talent Management, Event Production, Ticketing System, and Creative.
In December 2018, TEMAN (Teater Musikal Nusantara) made their debut performance, Sondheim's INTO THE WOODS, as a professional musical production company from the get-go. TEMAN is founded by a group of LASALLE College Singapore alumni (thus bearing formal education diploma in performing arts, still a rarity locally) with prior experience working with Indonesian ministry and the Indonesian Agency for Creative Industry/BEKRAF, allowing them to quickly scale up their productions, bringing HAIRSPRAY to 1,157-seater Ciputra Artpreneur Theater last year. Furthermore, TEMAN cast local celebrities who could bring the masses into theater, a long-familiar tactic employed by Broadway producers.
Beyond JKTMoveIn and TEMAN, there are also other paid productions, either one-offs or held by established theatre communities. Though long-term employment for theater actors and crews are still relatively elusive (typically involving educational institutions, film/TV productions, as well as theme parks and other live entertainment) and the rate of payment might not be a suitable substitute for a full time day job yet, monetary compensation might ease the logistical burden of theater workers.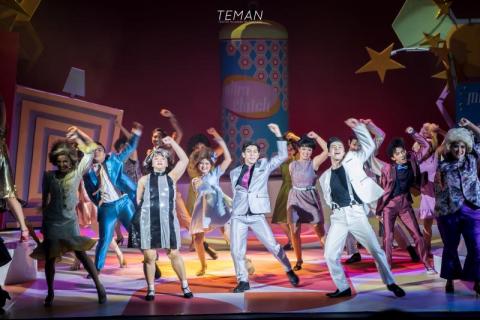 Another notable development is the ever-increasing number of institutes offering Broadway classes and workshops. Current generation of Indonesian musical actors mostly started from one branch of the performing arts (often, it's singing) and come to learn to become triple-threats as they're building their theatrical portfolio. And although dancing, singing, and acting classes have existed for a long time, nowadays there are courses specifically tailored to Broadway-style performances.
For example, South Jakarta-based Gigi Art of Dance, which started with offering dance courses and still remain mostly a dance institution, now also offers a Broadway Jazz class. In addition to learning how to dance, the students are also taught how to sing and act by working on musical numbers. At the end of the course, the class puts on a performance to showcase the results of their training.
A high profile Broadway training came to Jakarta in the early months of 2019. INDONESIA MENUJU BROADWAY ("Indonesia Goes to Broadway"), or IMB, is hosted by Djarum Bakti Budaya Foundation in collaboration with New York's StudentsLive and Passport to Broadway programs. After a week of workshops for the 70 most promising musical talents who passed the first round of auditions, the chosen 13 performers were sent to Broadway, New York. There, they had another week of training under the tutelage of Broadway performers.
Kid actors are not exempt from the Broadway experience, as productions and courses catered to the very young can also be found nowadays. Hi Jakarta Production provides first-hand opportunities for children and teenagers to be cast in officially licensed junior version of musicals, starting with ANNIE JR. and with PETER PAN JR. and HAIRSPRAY JR. slotted for 2020.
Relasi Nada Dunia, an educational institution offering vocal and performing arts classes, worked with Teater Katak to bring INTO THE WOODS JR. in August of 2019, bringing younger and older talents together. Bamboo Playhouse offers Broadway Intensive and the cheekily-named Broadway Me Softly courses, allowing both those new and experienced in the art to pick the appropriate level of challenge.
Even for those interested in learning the non-performing sides of theater, workshops are cropping up, such as the case with JKTMoveIn's Artistic and Show Management class. There's no better time to be an aspiring Broadway star or expert in Indonesia!
What the Future Holds
What's in store for us in the roaring 20s?
More Broadway Training Courses
Amy Weinstein of StudentsLive and Passport to Broadway has stated in an interview with Broadwayworld Indonesia that they, working alongside Djarum Bakti Budaya Foundation, are planning a longer course for those wanting to learn the trade of the Great White Way performers.
As Bamboo Playhouse also expanded their operations to Indonesia in late 2019, the demand for Broadway training is high. Individual local talents also begin to offer their expertise in smaller and more intimate classes with such brands like Triple Threaters and Danada competing with established training and education companies.
More Paid Productions
As a handful of communities has begun to reward talent and hard work further by paying their cast and production crew, there's a chance that other communities would follow in their footsteps. Note that this is different than establishing for-profit companies (which requires more thorough business planning and considerable capital) and hiring employees; instead, communities might seek to at least include the people's transportation and meal costs as production expenses and plan accordingly.
And, Of Course, More Shows!
From school clubs to professional companies, from original scripts adapted from local folklore to licensed productions of Broadway mega-hits, musicals are getting produced seemingly every other week.
Though the road towards a mature musical industry is still long, I personally believe we are getting there. Theater companies are experimenting with business plans to ensure the welfare of their team; theater communities are exploring the art form and push it further; and, of course, theater fans are supporting creators and each other into the new decade.
As Lin-Manuel Miranda wrote: look around, look around, how lucky we are to be alive right now!
(All photos belong to the show's production team.)