Local Director and Producer to Hold Auditions for Sci-Fi Trilogy Plays in Houston This Summer
The trilogy is made up of three individual plays, Advance Man, Blast Radius, and Sovereign, The Honeycomb Trilogy by Mac Rogers.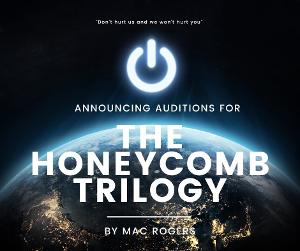 Local Director and Producer Andrew Roblyer (they/he) and their production company The Octarine Accord has announced auditions for a three-part trilogy of science fiction plays to be produced this summer in Houston - marking the first time they have been produced in this way outside of New York City.
Made up of three individual plays, Advance Man, Blast Radius, and Sovereign, The Honeycomb Trilogy by Mac Rogers tells the story of an alien invasion of earth over the course of 20 years, yet all three plays are set in the same living room. This epic story primarily follows two siblings, Ronnie Cooke and her younger brother Abbie Cooke, and chronicles a primal conflict - at once intimate and global - that will redefine the nature of the human race.
This summer, Roblyer and The Octarine Accord will produce all three plays "in rep" meaning that audiences will be able to see all three parts in two different ways: either by attending each part on a different night of the week, or by attending a "Binge Day" on Saturdays or Sundays, where all three parts will be presented in order in a single day (with breaks, of course). Roblyer hopes to help audiences experience the joy of binge watching their favorite genre TV shows like Stranger Things with the dynamic and intimate nature of live performance for an experience unlike anything in Houston - or elsewhere in the country.
"My hope," says Roblyer, "is to invite folks to come to the binge days with a pillow and blanket and in comfy clothes. We can't give you a couch, but we can let you emulate it as closely as possible in a theatrical space! We want this to feel familiar and exciting; at the end of each two hour play, we're going to leave you excited to come back for the next."
To help make this production possible, Roblyer received a Support for Artists and Creative Individuals Grant from the City of Houston through the Houston Arts Alliance. Assisting Roblyer, who will serve as Director for all three parts of the Trilogy, are Sloane Teagle, Michelle Sosa, and Brenda Palestina as Assistant Directors. Elizabeth Keel, a local playwright who wrote
The Honeycomb Trilogy requires a large cast of 26 actors, some of whom will play characters in two of the three plays, ranging in age from 15-50s. Roblyer and team are seeking a diverse cast that represents humanity, but especially Houston.
"The playwright leaves the race and ethnicity of most characters open, but we have made the choice to seek Black/African American actors for the central family in the story. Additionally, we hope to find actors of diverse backgrounds with regard to age, race, ethnicity, gender, body type, and disability," says Roblyer.
While Roblyer describes this as a "passion project," they have budgeted the show such that all participants on the production team or cast will receive a small stipend, and 100% of any profit that the show produces will be divided evenly among those same individuals, with Roblyer and their directing team receiving no more than anyone else.
"To make this happen, we're all going to be paid peanuts, so I don't think it's helpful for us to worry about who gets half a peanut and who gets a third," says Roblyer.
Actors are asked to submit their interest by February 1st, 2023 by filling out the interest form at www.andrewroblyer.com/the-honeycomb-trilogy. Questions can be directed to Roblyer directly at andrew@octarineaccord.com