BWW Review: WE'RE GONNA DIE makes it all better at Horse Head Theatre Company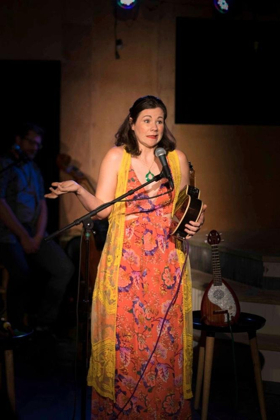 We're Gonna Die is a musical cabaret Horse Head Theatre Company is currently touring around local dive bars throughout Houston. Originally conceived by playwright Young Jean Lee, it was performed as spoken word broken up by punk rock songs about pain and death. Somehow performer Alli Villines has turned it into a ukulele folk festival! But I ask dear reader, what could be more punk rock than a collection of named ukuleles played without an ounce of irony whatsoever?
The one woman with a two piece back-up band show is a quick 60 minutes including five songs, and about as many stories concerned with the humanity of loneliness, pain, and death. It sounds far more edgy than it plays out, as Alli Villines pulls the whole thing off as if you just met some quirky chick in a bar that wants to talk and show off her electric instruments. She's sweet, earnest, and has a lilting singing voice that takes most of the sting about the inevitable death topic. The whole thing has a Moth StorySlam vibe as Alli drifts in and out of spoken stretches about heavy situations. It's meant to explore isolation and pain, and it does so in a soothing reassuring way. It makes existential dread far more palatable like when they made vitamins into chewable Flintstone characters. WE'RE GONNA DIE is that rare feel good musical about bad things happening.... you're not going to find anything else out there like it. By the end of the show she has recruited the entire audience to join in to celebrate their own demise.
Jacey Little has directed the piece with Alli doing her own musical arrangements. There is hardly any choreography and zero scenery. They've shot for simple and succeeded in spades. This is a show Alli could perform anywhere without much prep other than a light and a microphone. Gitiim Chakamoi and Alan Simmons back her up as the band, and they both do a great job accompanying the songstress without drawing too much attention to themselves. The entire piece feels universal and simple without fuss or pomp.
What's interesting is Horse Head has decided to not put WE'RE GONNA DIE in one simple venue. They're hitting The Secret Group, PJ's Sports Bar, Fitzgerald's, Spruce Goose Flyers Club, and the Grand Prize Bar with this one. It makes it a little easier to find a venue closeby to where you want to see it, but it also seems a little confusing to track where the show is going next. Definitely look at the site to figure out the logistics. It's worth the effort to catch.
Tickets can be purchased through the Horse Head Theatre Company site at http://www.horseheadtheatre.org/ . It is currently only scheduled publicly for one more ticketed date on September 1st at a bar called THE SECRET GROUP on Polk Street. Plans are being formulated to possibly extend the tour to other sites and cities. There is mention of two free City of Houston performances on August 30th and the 31st funded by Houston Arts Alliance. Check Horse Head's website for more details.
Photographer: David Tong
Related Articles View More Houston

Stories

Shows