Click Here for More Articles on LOVE NEVER DIES
BWW Interview: Sean Thompson Talks LOVE NEVER DIES
Andrew Lloyd Webber's sequel to his smash hit THE PHANTOM OF THE OPERA, entitled LOVE NEVER DIES is currently touring across the United States. The staging of the production is inspired by the reworked 2011 Australian premiere of the musical. To give Houston audiences an inside look into the show sure to leave them spellbound, we sat down with Sean Thompson who plays hero turned flawed husband and father, Raoul, Vicomte de Chagny.
---
How did you come to be involved with the National Tour of LOVE NEVER DIES?
I had the great fortune of being in the original cast of the SUNSET BOULEVARD revival last season on Broadway with the incredible music team of Kristen Blodgette and Dale Rieling. Kristen and Dale were set to work on Love Never Dies and had me in many times to audition for them and the rest of the LOVE NEVER DIES creative team. After my final callback with Sir Andrew Lloyd Webber himself, I was offered the role of Raoul that evening, and the rest, as they say, is history.
Raoul, Vicomte de Chagny is the good guy romantic lead in THE PHANTOM OF THE OPERA, but he becomes a darker character in LOVE NEVER DIES. How did you prepare for this new characterization of the beloved character?
I started by appreciating the fact that Love Never Dies digs much deeper into the characters than does THE PHANTOM OF THE OPERA and exposes them as real, flawed, and frail human beings. I was able to find sympathy for this new draft of Raoul, knowing that there is reason for every human flaw. We all have our darker sides. Of course, what prepped me most was my intimate knowledge of PHANTOM as a phanatic! I have been ever since hearing it in the sixth grade for the first time.
What is the most challenging aspect of bringing Raoul to life in this show?
It's been made clear to me that our amazing creators on Love Never Dies wish to have a Raoul who is dangerous, who is always on the verge of snapping. It's been quite the challenge to maintain that within my performance while also searching for the things deep inside this guy with which audiences can sympathize.
What is the most rewarding aspect?
Singing Lord Webber's soaring, beautiful melodies is, of course, a huge highlight to doing Love Never Dies. "Why Does She Love Me?" is a particularly favorite moment of mine. It's a rare treat to be gifted such an introspective, beautiful, honest song, especially while in search of that audience sympathy!
Would you say that you and Raoul are similar in any ways? Why or why not?
Of course! I've been disillusioned. I've felt inferior to someone else, especially in the eyes of someone I love. Who hasn't?! I also am known to enjoy a glass or two of whiskey from time to time. But, probably not as much as Raoul. I couldn't keep up with him!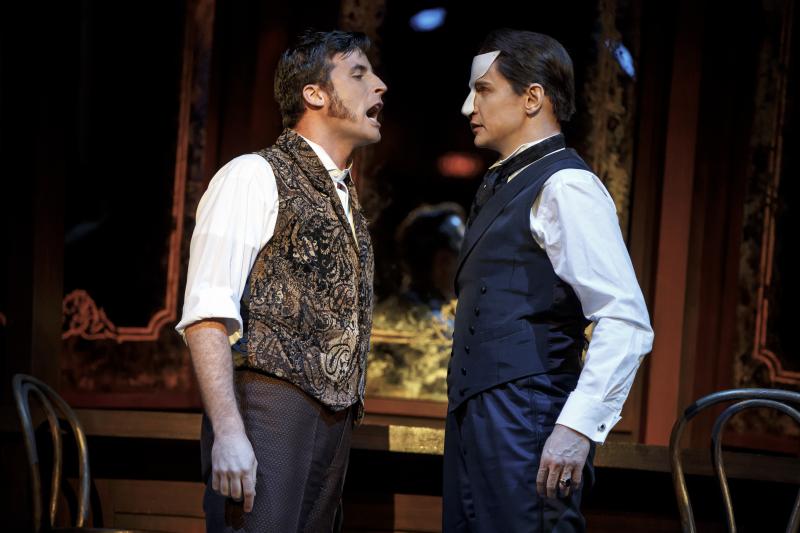 Naturally, there is more to LOVE NEVER DIES than just being a sequel to THE PHANTOM OF THE OPERA. What makes it special?
LOVE NEVER DIES boasts its own dynamic, lush score - comparable to THE PHANTOM OF THE OPERA, but a standalone shimmering success. The sets and costumes are designed by the same brilliant designer. This production is like nothing else that audiences can currently go and see.
You've gotten to play great roles in your career. What advice would you give to someone who is just starting their career in musical theatre?
Do the work, persist, express your gratitude, and never once think you are entitled to or deserve anything you didn't work for!
LOVE NEVER DIES will haunt Houston's Hobby Center for the Performing Arts from July 17 to 22, 2018. Tickets are available by phone (713) 315-2525 or (800) 982-2787; online at
TheHobbyCenter.org or BroadwayAtTheHobbyCenter.com; The Hobby
Center Box Office (800 Bagby, Houston, TX 77002) and all Ticketmaster outlets.