Review: FIDDLER ON THE ROOF at The Comic Opera Of Berlin - Hands down, the very best production I've ever seen in Europe.
Prepare yourself for an unequivocal rave review. However, for you to understand the import of what you are about to read, I must put this review into context.
I am a New Yorker. I am a theater snob. Period. End of sentence.
As a young actor starting my career in Manhattan, I worked two or three jobs, saved every penny and went to the theater as often as humanly possible. There, I was witness to some of the most talented people on the planet, live onstage, in what is arguably, the greatest city in the world for live theater. I have seen the "best of the best" and cut my teeth watching performers and performances, that have since become legendary. I have also been blessed to have shared the stage with international Opera Stars, as well as Tony-, Emmy-, Grammy-, and Oscar Winners and to have worked with some of the very best actors, singers, dancers, conductors, choreographers and directors that have been alive during my lifetime. To say that I am spoiled, or that I am a tough audience is the understatement of all time.
Last night, at the Comic Opera of Berlin I was gobsmacked. Their production of Fiddler on the Roof was hands down, the single best performance I have ever witnessed in my 24 years living and working in continental Europe. Nothing else I have ever seen, anywhere on the continent, even comes close.
To celebrate the 70th Anniversary of Berlin's Comic Opera, General Director Barrie Kosky fulfilled a long-simmering dream to direct a new production of Anatevka (as Fiddler is known in Europe). Mr. Kosky's connection to this material is very personal, as he is Jewish and his own family emigrated from Eastern Europe to Australia.
Aided and abetted by Conductor Koen Schoots and the Comic Opera's orchestra, this musical has never sounded better. To hear Jerry Bock's immortal melodies played by this magnificent full orchestra was thrilling. Some of the ensemble numbers were so spectacularly well-sung and well-played, that they were nothing short of breathtaking. Chills ran up and down my spine numerous times during this performance. Choir Director David Cavelius and the Ensemble Members of the Comic Opera are to be highly commended. The chorus and orchestra alone would be worth the price of admission.
The strength of this production lies in its simplicity. There are only two sets. The lighting design by Diego Leetz is effective but uncomplicated. The eternal struggle between movement and stability, between tradition and modernity, are physicalized using a mountain of heavy wooden furniture, continually rotating on Rufus Didwiszus' turntable set. Another clever directorial idea was the use of wardrobes for entrances and exits. Mr. Barrie expresses the contrasts of life in tiny Anatevka as a series of movements, quite literally, in and out of the closet -- of hiding and being exposed, of safety and danger, of both comfort and claustrophobia.
The Berlin production of Fiddler is not a Star-Vehicle. It is the combination of every element in this production that makes it extraordinary. Markus John as Tevye is not a gigantic stage personality à la Zero Mostel. Neither Mr. John nor any of the performers in this production were overtly "Yiddish" in their inflection, in contrast to the "Borscht Belt" Manner in which Fiddler is often performed in the United States. He is a serviceable singer, with a pleasant voice, nothing more. But despite (or because of) the above, Mr. John dominated this performance through his humility, his humanity and the gentleness with which he approached this material. By not competing with the icons who have played this role before, Mr. John cut a sympathetic figure who won the hearts of the Berlin audience within seconds of his first appearance. He is, in short, a "Mensch."
Dagmar Manzel as Golde, Tevye's long-suffering wife acquits herself nicely. As Tevye's daughters, Talya Liebermann, Alma Sadé, and Maria Fiselier are marvelous. Each of these women sings and acts beautifully. Among the daughter's suitors, Kurosch Abbasi as Perchik gave a standout performance.
Otto Pichler was responsible for the choreography which both honors and updates the spirit of Jerome Robbin's original. The dancers in this production performed with an explosive energy, joy, and synchronicity that I have only ever seen in New York and London. They contribute mightily to the success of this show.
The heartwrenching story of the displacement of Tevye and his family from their beloved Schtetl Anatevka, has a more profound resonance in Berlin, than it can possibly have in New York. With utmost simplicity, Mr. Barrie achieves a coup de théâtre at the end of Act One, that left the audience stunned and breathless. It was a stroke of genius.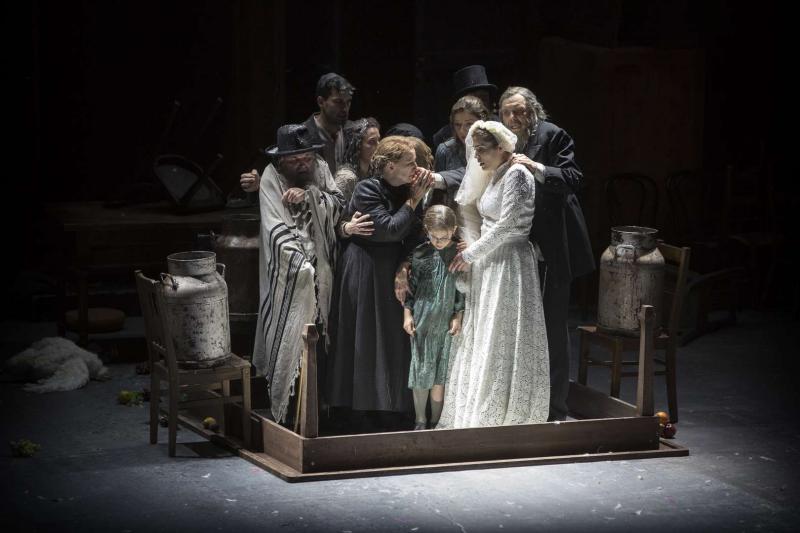 This production could be picked up today, as is, and be directly transplanted to Broadway or the West End, and it would celebrate exactly the same triumph that it is celebrating here in Berlin. Stage Entertainment and the other commercial musical producers on the continent would be well-advised to go to the Comic Opera and watch how Mr. Barrie and his team have brought this production to brilliant life.
Gentle readers, walk, crawl, run, beg, borrow or steal... do what you must do, but get a ticket to see Fiddler on the Roof at the Comic Opera in Berlin. 20 years from now, people will still be talking about this legendary production.
All photos: Copyright Iko Freese/drama-Berlin.de. Reproduced with permission.