Marjory Stoneman Douglas High School Presents New Rock And Roll Version Of A MIDSUMMER NIGHT'S DREAM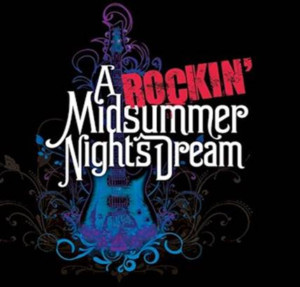 Marjory Stoneman Douglas High School Drama Department presents A ROCKIN' Midsummer Night's Dream - a regional premiere adaptation of Shakespeare's play in a new musical version adapted by Michael Unger and Eric Svejcar with a score by Mr. Svejcar. Orchestrations are by Broadway's Kim Scharnberg. Performances are set for March 7th, 8th, & 9th, 2019 beginning at 7:00 p.m. at Marjory Stoneman Douglas High School (5901 Pine Island Drive, Parkland, FL). Tickets are $8-$15 and can be purchased at douglashigh.seatyourself.biz
Directed by Marjory Stoneman Douglas High School drama teacher and special Tony© Award-recipient, Melody Herzfeld and co-directed by Michael Unger, the cast features Peri Harris (Puck), Alex Wind (Oberon), Sawyer Garrity (Titania), Avery Anger (Hermia), Alex Athanasiou (Lysander), Dylan Redshaw (Helena), Ethan Kaufman (Demetrius), Andrea Peña (Hippolyta), Tanzil Philip (Theseus), David Prengler (Bottom), Jared Block (Quince), Logan Weber (Flute), Alex Duffy (Starveling), Bailey Feuerman (Snout), Gabe Glassman (Snug), Hayden Redshaw (Philostrate), Delaney Metcalf (Egeus), Morgan Koss (First Fairy), Ashley Paseltiner (Second Fairy), Jessica Bass (Peaseblossom), Caroline Eaton (Cobweb), Sarah Crescitelli (Moth), Melanie Weber (Mustardseed), and Tehaan Philip (Changeling Child).
The ensemble includes Emma Brogna, M'kaila Brown, Nikki Bruner, Ruby Harris, Heather Hart, Desire Lora, Ashley Paris, Milan Parodie, Leah Ronkin, Jersey Roth, Sam Schelin, Lexi Schwartzberg, Sarah Wyner, and River Haneski (Moon's Dog).
The creative team includes Choreography by John Barnitt and Isabela Barry, Orchestrations by Kim Scharnberg, Music Direction by Ed Kolcz, Vocal Direction by Andrea Peña. The Production Stage Manager is Jocey Krooks.
Performances will be March 7th, 8th, and 9th at 7PM at Marjory Stoneman Douglas High School (5901 Pine Island Drive, Parkland, FL). Tickets can be purchased at douglashigh.seatyourself.biz.
Several original cast members from the Newtown production will attend the MSD production.
A ROCKIN' Midsummer Night's Dream was created in the summer of 2014 by NewArts of Newtown, CT, an arts and youth empowerment organization started by local father, Dr. Michael Baroody, in response to the Sandy Hook Elementary School tragedy on December 14, 2012. To date, NewArts has presented 13 large-scale musicals involving over 550 local youth, onstage, backstage, and in the orchestra. These young artists, ages 5-25, work with Broadway professionals on a daily basis and, often, alongside them on stage as well. www.newarts.org
Michael Unger, who conceived and co-adapted the production, was first introduced to the Newtown community when he directed From Broadway With Love: A Benefit Concert for Sandy Hook in Waterbury, CT. Michael also co-directed From Broadway With Love: A Benefit Concert for Parkland, USA at the BB&T Center in FL.
"I was inspired to create this musical version of A Midsummer Night's Dream in 2014, NewArts' second year, because few endeavors can challenge a group of young artists more than creating a new musical and, therefore, few endeavors can make children feel more empowered to look back on what they have created with such pride," stated Michael Unger. "More important, however, is that in Shakespeare's adored masterpiece, love (and the occasional magical botanical) has the potential to restore order out of chaos. This theme of restoration would resonate anywhere in the world, but certainly in no places more than Newtown, CT and Parkland, FL. In the first scene of the play, Hermia says, "I know not by what power I am made bold." I think this production, having been created in Newtown and now being performed in Parkland, is proof of how the arts have helped to make bold the young artists in these two towns that share this horrendous common bond. None are bolder, nor more worthy of national pride, than the young MSD activists, some of them "drama kids," and the national youth movement they have started; who are actively creating change in this country. It is my hope that, as in the play, love, alongside the type of boldness that demands compassion, builds community, and promotes understanding, will combat the negative forces that inevitably get thrown in our paths. After working with the young people of both Newtown and Parkland, I am certain that we leave the world in impressive and eminently capable hands."
Melody Herzfeld, Marjory Stoneman Douglas High School Drama Teacher, shared "A Midsummer Night's Dream is the definition of a world turned upside down but then is righted because at the end of the day, love is everything. I had planned on one day producing A Midsummer Night's Dream at our school and contemplated it for the 2018-19 season, after last year after everything happened. When I spoke to Michael Unger about what shows I might be doing the next school year, he made mention of his musical adaptation and it really seemed the perfect choice. The fact that it was created in a community much like ours, that had experienced the same pain and tragedy, made it seem meant to be. In our production we have student leaders who have assisted in direction, choreography, art, music, and really in every aspect of the show - putting their hands in to make it come together. We are a blessed group and we do know that when all else goes wrong, love is truly what it's all about; how much you give, how much you take and how much you share with others - in the end love will right this world we live in."
Related Articles View More Fort Lauderdale

Stories

Shows
More Hot Stories For You