BWW Review: TWELFTH NIGHT at NEW CITY PLAYERS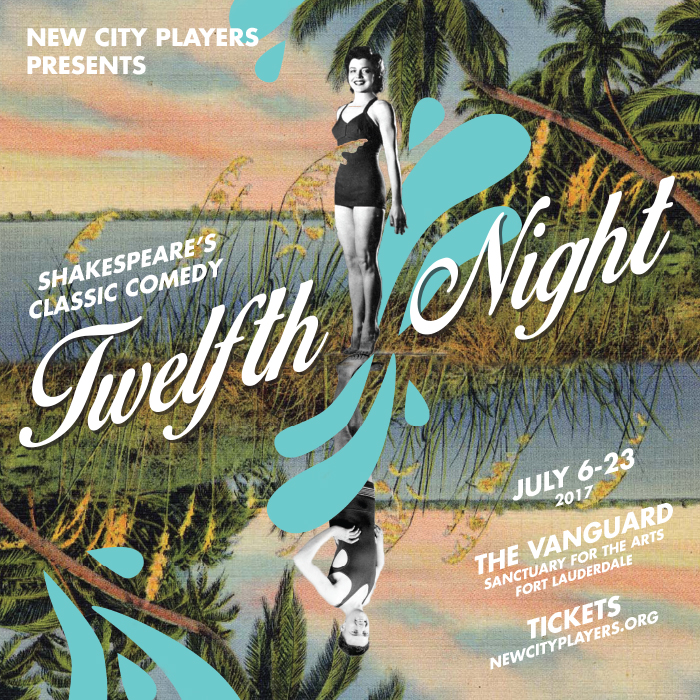 New City Players presents the comedy Twelfth Night (also known as What You Will) by William Shakespeare published in his 1623 First Folio. The first recorded performance was on February 2, 1602, at Candlemas, the formal end of Christmastide in the year's calendar. The play expands on plot elements drawn from the short story Of Apollonius and Silla by Barnabe Rich, based on a story by Matteo Bandello. Observant theatre goers may recognize the exact same plot from movies such as Just One of the Guys (1985), and She's the Man (2006).
The plot of Twelfth Night centers on twins Viola and Sebastian. When Viola is shipwrecked on the coast of Illyria she loses contact with her twin brother, Sebastian, whom she believes to be drowned. Disguising herself as a young man named 'Cesario', she enters the service of Duke Orsino through the help of the sea captain who rescues her. Duke Orsino is in love with the Countess Olivia. Because her father and brother have recently died, Olivia has placed herself in a seven year long mourning period; and will not entertain suitors. When Duke Orsino uses 'Cesario' as an intermediary to profess his love for Olivia, she falls in love with 'Cesario', not knowing he is a woman in disguise. To complicate matters Viola has fallen in love with the Duke Orsino, thereby creating a love triangle between Duke Orsino, Countess Olivia and Viola ('Cesario').
Meanwhile, there is mischief afoot in Olivia's household. Her servants Maria and Fabian, her fool, Feste, her uncle, Sir Toby Belch, and his drunken friend Sir Andrew Aguecheek conspire to make Olivia's pompous steward, Malvolio, believe that Olivia has fallen in love with him. Deceived by their trickery, Malvolio shamelessly throws himself at Olivia. Olivia is shocked by Malvolio's suddenly odd behavior toward her and leaves him to be handled by the others, who lock him up on the premise that he has lost his mind.
When Viola's twin brother Sebastian arrives on the scene he is mistaken for 'Cesario'. Believing him to be 'Cesario' as well, Olivia asks Sebastian to marry her. Dazzled by her beauty, Sebastian accepts and they are married. When 'Cesario' and Sebastian finally appear in the presence of both Countess Olivia and Duke Orsino at the same time there is wonder and confusion at their similarity. Viola then reveals her disguise and that Sebastian is her twin brother. The play ends with the marriage proposal of Duke Orsino to Viola, the marriage announcement of Sir Toby to Maria, and Malvolio swearing his revenge on those who have wronged him.
The setting for this New City Player production of Twelfth Night is on the dock of a beach. This is most fitting as it works well with the story of Viola and Sebastian being shipwrecked on the coast of Illyria. Theatre seating on three sides of this intimate space, with the dock and beach area (with real sand) placed in the middle, means the audience catches everything, and eliminates the need for microphones. The sheer curtains hung on the back of the set could well be those draping Olivia's veranda, and provide the perfect way for eavesdropping characters to poke their heads through to listen in on the action. The casual beach theme is carried into the costuming with pale blues, crisp whites, clam-diggers, sandals and top-siders. My favorite use of this theme is a battle using boat oars instead of swords. It emphasizes the absolute ridiculousness of a hasty confrontation born of pride and indignation, and without genuine conviction or even complete information.
Surprisingly the actor playing Sebastian (Ernesto Gonzalez) and the actress playing Viola/'Cesario' (Erica Rose Dade) actually do look alike in the final scene with the help of costuming, and the reveal does get a chuckle from the audience when we finally see them side-by-side. Dade turns in a nice performance, but needs to work on more clearly defining the difference between when she is speaking/thinking as Viola and when she is presenting herself as 'Cesario'. Gonzalez emphasizes a youthful quality to his Sebastian, aside from of course the moment in which Sebastian is the grateful if surprised recipient of Olivia's advances when she mistakes him for 'Cesario'.
A lovely Jenna Vanweelden carries herself well as Olivia, but can feel a bit stilted at times. Though she is a Countess, she is driven by her desire for 'Cesario' to cast aside her own pledge to give up all things happy and pleasurable, including love, for seven years. So we need to see that conflict brought to the surface. A talented Robert Fritz as Orsino has a fresh, clean feel for his character. His moments on stage were all enjoyable.
Kevin Riley admirably captures the pompous, nearly slimy self-serving nature of Malvolio that makes the character inherently unlikeable. Riley is so successful at making Malvolio irritatingly unpleasant that we feel no sympathy for him even when he is manipulated and imprisoned. He is not a true villain, but is instead a representation of hypocrisy and judgement. The treatment of this character by the other characters is an obvious thumbing of noses at convention.
Bree-Anna Obst brings irreverent and observant musical commentary to the story as Feste. Playing the clown is never an easy gig in Shakespeare, as the role is written to be all over the place. One moment absurd and another profound. Obst's stakes are high, and she is generally on the mark. Her accent wanders in and out on occasion. We are in need of a bit more clarity in the changing direction of her character's intent and their purpose for being the scene.
JohnBarry Green has a huge stage presence as the buffonish Sir Toby Belch. His interpretation of the character is aggressive and appropriately crass. Aside from a couple of moments of over-acting, he is actually a driving force in all of his scenes - moving pacing forward and leading acting beats fearlessly. Ryan Maloney is fine as his wastrel cohort Sir Andrew Aguecheek. Together they are reminiscent of a version of Owen Wilson and Vince Vaughn in the film Wedding Crashers.
Without question the stand out performance of this production is Elizabeth Price as Maria. Seldom have I seen someone so clear in their handling of the language of Shakespeare. Every line was as though spoken in the most familiar every-day usage, thus making it all relatable. Her subtext is always clear, and her physicality is natural and expressive. Her facial expressions, right down to the twinkle in her eye, convey a playful mischief lying just beneath the surface of it all.
Shakespeare may not be for everyone, but the comedies such as Twelfth Night are generally more palatable than the tragedies. This production, coming in at just over two hours with intermission, is more enjoyable than expected, and well worth the time spent to check out the beach themed take on the show, and a wonderful performance by Elizabeth Price as Maria. And after all, we all could use a reminder of what fools love makes of us all!
For those of you who may have somehow missed or forgotten: William Shakespeare was an English poet, playwright, and actor, widely regarded as the greatest writer in the English language and the world's pre-eminent dramatist. Born in 1564, he is often called England's national poet, and the "Bard of Avon". His work includes approximately 38 plays,154 sonnets, and two long narrative poems. His plays have been translated into every major living language and are performed more often than those of any other playwright.
New City Players is a not-for-profit, ensemble theatre company in Fort Lauderdale. They exist to stage exceptional classic and contemporary theatre that provides an emotional and transformative experience for every audience member.
Twelfth Night marks the second production of New City Players' second season. The show will be appearing at The Vanguard through July 23, 2017. The Vanguard is located at 1501 S. Andrews Avenue, in Fort Lauderdale, Florida. Performances are Thursdays-Saturdays at 8pm, and Sundays at 2pm. There will be talkbacks scheduled after the performances on July 9, 16 and 23. Tickets for Twelfth Night are $35 for adults, $30 for seniors, and $20 for students and may be purchased online at newcityplayers.org or by calling (954)-650-5938.
Cast:
Feste, Olivia's clown: Bree-Anna Obst
Orsino, Duke of Illyria: Robert Fritz
Valentine, Orsino's servant/Sebastian, Viola's twin brother: Ernesto Gonzalez
Curio, Orsino's servant/Antonio, friend of Sebastian: Nick Valdes
Viola, Sebastian's shipwrecked twin sister (later disguised as Cesario): Erica Rose Dade
A Sea Captain, Viola's rescuer: Reggie Campbell
Olivia, a Countess: Jenna Vanweelden
Maria, Olivia's gentlewoman: Elizabeth Price
Sir Toby Belch, Olivia's Uncle: JohnBarry Green
Sir Andrew Aguecheek, Sir Toby's friend: Ryan Maloney
Malvolio, Olivia's steward/A Priest: Kevin Reilly
Fabian, Olivia's servant: Johnny Contini
Crew:
Director: Jessica Schulte
Scenic Design: Ryan Maloney
Lighting Design: Joel De Sousa
Costume Design: Ash Joseph
Stage Manager: Conner Reagan
Related Articles View More Fort Lauderdale

Stories

Shows
John Lariviere currently headlining throughout South Florida at local theatres and clubs. In August of 2016, John performed for the second year at the Florida (read more...)