Latest News on Ernesto Gonzalez
Stage Credits
  [Broadway]
1975
Monkey Man (Mututahsh)
Meatball
  [Broadway]
1953
Young Indian
  [Broadway]
1953
Abdullah
Ensemble at the Fiesta
Street Vendor
Stage
Performances
  [Broadway]
1975
Monkey Man (Mututahsh)
Meatball
  [Broadway]
1953
Young Indian
  [Broadway]
1953
Abdullah
Ensemble at the Fiesta
Street Vendor
Ernesto Gonzalez News
BORROWED Premieres at the Game Room in Miami Ironside
by Stephi Wild - May 31, 2022
Two strangers meet for a brief encounter but get more out of their 'borrowed time' together than either could have imagined. With this premise in mind, multiple Tony winning producer Jim Kierstead wrote his first play, Borrowed, which is about to come alive onstage.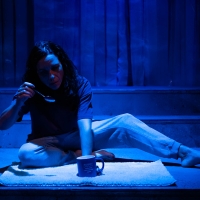 BWW Review: WATER BY THE SPOONFUL at New City Players
by David McKibbin - May 4, 2022
The COVID-19 pandemic has taught us some valuable lessons about life. When we are isolated, there will always be someone to turn to as our family in times of hardship, even if they are not blood relatives. Moreover, the people who hurt us in the past can still be there to help us heal. While Quiara Alegria Hudes' play Water by the Spoonful is set in 2009, its themes pertaining to addiction, loss, and developing interpersonal bonds still ring true in 2022. New City Players took on the challenge of staging Hudes' Pulitzer Prize-winning play with grace and respect.
Measure for Measure Theatre Presents ANGELS IN AMERICA Free Virtual Reading (CANCELLED)
by David McKibbin - Apr 13, 2020
Measure for Measure Theatre, which recently postponed its production of Island Song due to the threat of COVID-19, will be presenting a virtual play reading of Tony Kushner's Angels in America: A Gay Fantasia on National Themes Friday, April 17 through Sunday, April 26 via Facebook Live.

BWW Interview: Vanessa Garcia And Victoria Collado of AMPARO
by Cristina Pla-Guzman - Mar 25, 2019
Approximately 330 miles…That's how far Havana, Cuba is from Miami, Florida. Within that space lies a distance of less than an hour. However, to some people it might as well be a lifetime away. I remember all my childhood being told about what Cuba used to be by my grandparents. As a third generation Cuban American living in Miami, Florida, as soon as we start to crawl, you are hearing about the good ole days before Fidel Castro stole Cuba from the people - people who still long for home. So I was thrilled to research into AMPARO. This one of a kind immersive theater experience is based on the compelling, true story of an immigrant family's triumph through exile. From present-day Miami to 1957-Cuba, where you will follow cast members through the Cuban Revolution, bearing witness to the story of the Arechabala family--founders of THE REAL HAVANA CLUB rum.
BWW Review: TWELFTH NIGHT at NEW CITY PLAYERS
by John Lariviere - Jul 9, 2017
New City Players presents the comedy Twelfth Night (also known as What You Will) by William Shakespeare published in his 1623 First Folio. The first recorded performance was on February 2, 1602, at Candlemas, the formal end of Christmastide in the year's calendar. The play expands on plot elements drawn from the short story Of Apollonius and Silla by Barnabe Rich, based on a story by Matteo Bandello. Observant theatre goers may recognize the exact same plot from movies such as Just One of the Guys (1985), and She's the Man (2006).
Emmy Award Winner Hank Azaria Puts Down Roots in BORDERTOWN on FOX
by Courtnie Mele - Jul 20, 2014
Multiple Emmy Award winner Hank Azaria (THE SIMPSONS) has been cast as BUD BUCKWALD, the lead voice role on BORDERTOWN, the new animated comedy from FAMILY GUY's Mark Hentemann and Seth MacFarlane. Azaria joins the previously announced voice cast of Alex Borstein (FAMILY GUY, "Getting On"), Missi Pyle ("Jennifer Falls," "Gone Girl"), Judah Friedlander ("30 Rock"), Nicholas Gonzalez (SLEEPY HOLLOW) and guest voice Efren Ramirez ("Napoleon Dynamite").
Ernesto Gonzalez Frequently Asked Questions
How many Broadway shows has Ernesto Gonzalez been in?
Ernesto Gonzalez has appeared on Broadway in 3 shows.
How many West End shows has Ernesto Gonzalez been in?
Ernesto Gonzalez has not appeared in the West End