Pianist Michelle Cann Makes Detroit Debut November 5
Ms. Cann will perform two of Florence Price's works, the Sonata in E minor and the Fantasie Nègre No. 1 In E minor.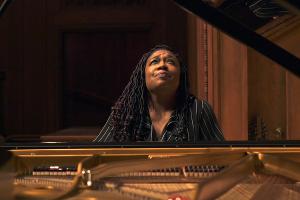 Pianist Michelle Cann is quickly emerging as a major artist following triumphant appearances this summer with the Cleveland and Philadelphia Orchestras. Ms. Cann makes her Detroit debut on the Chamber Music Society of Detroit series with a recital Friday, November 5, 2021, 8:00 PM at Schaver Music Recital Hall on the Wayne State University campus.
Known for championing the music of pioneering African-American composer Florence Price, Ms. Cann will perform two of Price's works, the Sonata in E minor and the Fantasie Nègre No. 1 In E minor. The program also includes music of Chopin, Brahms, Debussy and Clara Schumann.
Tickets for this concert are $30 for adults and $25 for seniors. Student rush tickets priced at $5 are available beginning at 7:45 PM. The concert will be live-streamed, and digital tickets are priced at $10. Tickets are available by phone at 313-335-3300 or online at www.cmdetroit.org. Ticket buyers also have the option to purchase a two-concert Detroit package which includes a recital on March 4, 2022 by violinist Kim Kaloyanides Kennedy, Detroit Symphony Orchestra Acting Concertmaster. Package prices are $50 for adults and $40 for seniors.
Michelle Cann made her orchestral debut at age fourteen and has since performed as a soloist with The Philadelphia Orchestra, The Cleveland Orchestra, the Florida Orchestra, the North Carolina Symphony and the New Jersey Orchestra, among others.
A champion of the music of Florence Price, Ms. Cann performed the New York premiere of the composer's Concerto in One Movement with The Dream Unfinished Orchestra and the Philadelphia premiere with The Philadelphia Orchestra and Music Director Yannick Nézet-Séguin in February 2021, which the Philadelphia Inquirer called "exquisite." She has also performed Price's works for solo piano and chamber ensemble for the Cincinnati Symphony Orchestra, on a Chamber Music Society of Detroit webcast, and with the New World Symphony, among others.
Ms. Cann regularly appears in recital and as a chamber musician throughout the U.S., China, and South Korea, appearing at the National Centre for the Performing Arts in Beijing, the Kennedy Center in Washington, D.C., Walt Disney Concert Hall in Los Angeles and the Barbican in London with members of the Los Angeles Philharmonic. Her festival appearances have included the Taos Chamber Music Festival, the Blossom Festival, Yellow Barn, Perlman Music Program, Music Academy of the West, Geneva Music Festival, and Pianofest in the Hamptons, where she serves as artist in residence.
In 2019 she served as the Cincinnati Symphony's MAC Music Innovator in recognition of her role as an African-American classical musician who embodies artistry, innovation, and a commitment to education and community engagement. Ms. Cann manifests this commitment through her many community outreach activities, including serving as the director of two children's choruses in the El Sistema-inspired program Play On Philly. She was also among the first class of ArtistYear fellows at the Curtis Institute of Music, where she worked with community partners to provide arts education to underserved communities in Philadelphia.
Ms. Cann joined the faculty of the Curtis Institute of Music in 2020 as the inaugural Eleanor Sokoloff Chair in Piano Studies.
Please note that the Chamber Music Society of Detroit will adhere to all state, federal and venue COVID-related policies in effect. For details on the most up to date policies, please visit www.cmdetroit.org.