Photo Flash: Hilberry's THE WAY OF THE WORLD Heads to the National Theatre Archive
The Hilberry Theatre Company presents William Congreve's The Way of the World, which will be recorded for inclusion in the Theatre on Film and Tape Archive in the National Theatre Archive at Lincoln Center. The Archive has been an integral part of theatre history and research since 1970, with a mandate to "preserve live theatrical productions and document the creative contributions of distinguished artists and legendary figures of the theatre." Scroll down for a look at the show!
Theatre and Dance Chair John Wolf states, "The filming is an incredible opportunity for the Company and a distinct honor to have so prestigious an organization think this highly of the Hilberry Theatre's work."
"The Way of the World is the pinnacle of Restoration Comedy," states director Lavinia Hart, "and I am so privileged to have been given this opportunity and thrilled to have this production receive such appreciation from our audiences and from the press. Having this production selected for inclusion in a prestigious national archive is beyond anything imagined. I am so very proud of what the Hilberry Theatre Company and I have accomplished together in bringing this beautiful production to life for Detroit, and now for generations to come, too."
The Way of the World will return for four remaining performances at the Hilberry, March 5 through March 7. The production promises a delightful visual and literary feast, with period specific costuming and scenic design creating English homes and associated locations. This comedy of manners is focused on social behavior, manipulation, and life in high society London households. The story skewers the stratified world of serving and aristocratic classes at the turn of the 18th century, with an emphasis on verbal wit and complicated romantic attractions. Such stories remain fascinating to our more democratic accessibilities, most notably witnessed in popular captivation with series including Downton Abbey.
Cast (in alphabetical order): Bevin Bell-Hall (Lady Wishfort), Miles Boucher (Fainall), Devri Chism (Foible/Peg/Soloist), Julian David Colletta (Coachman/Footman/Messenger), Santino Craven (Sir Wilful Witwoud), Brandon Grantz (Coachman/Footman/Messenger), Logan Hart (Footman), Kyle Mitchell Johnson (Mirabell), Annie Keris (Mistress Millamant), Michael Manocchio (Witwoud), Sarah Hawkins Moan (Mistress Fainall), Taylor Morrow (Footwoman), Brandy Joe Plambeck (Petulant), Mary Sansone (Betty/Mincing), Anna Seibert (Footwoman), Mike Suchyta (Footman), Michael Phillip Thomas (Waitwell), and Tiffany Michelle Thompson (Mistress Marwood).
Production Team: Lavinia Hart (Director), Nira Pullin (Choreographer & Period Movement), Sarah Drum (Stage Manager), Lyndee Hallahan (Assistant Stage Manager), Sarah Pearline (Set Designer), Anne Suchyta (Costume Designer), Amy M. Schneider (Lighting Designer), Mario Raymond (Sound Designer), Tonae Mitsuhashi (Properties Master), Brian Dambacher (Technical Director), JP Hitesman (Publicist), and Felix Li (Assistant Publicist).
Photo Credit: Bruce Giffin (unless otherwise specified)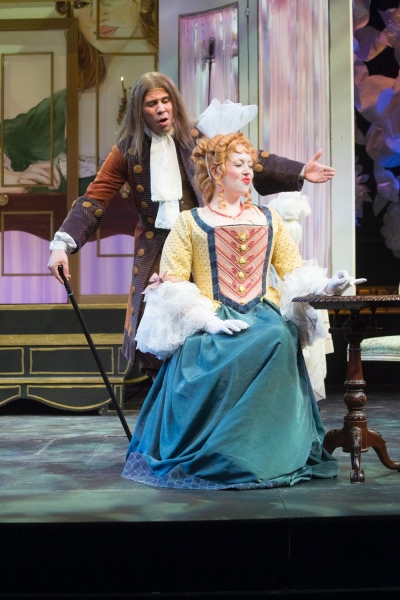 Santino Craven, Bevin Bell-Hall

Michael Manocchio, Miles Boucher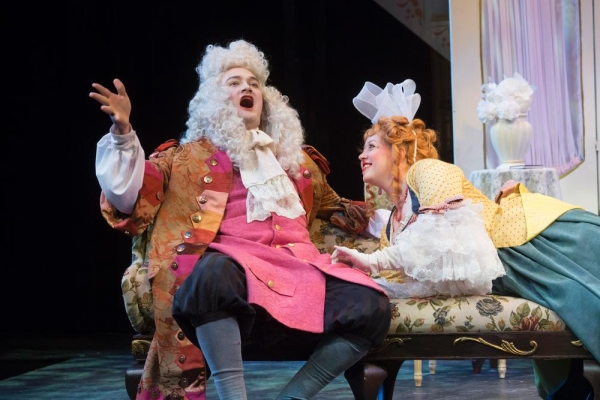 Michael Phillip Thomas, Bevin Bell-Hall

Brandy Joe Plambeck, Annie Keris. Photo by Felix Li.