LaToya Ruby Frazier's Flag Speaks For Justice In Flint, Michigan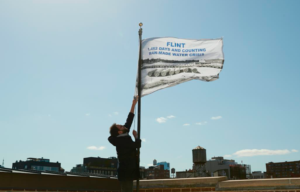 Today, Creative Time raises artist LaToya Ruby Frazier's Pledges of Allegiance flag, Flint, 1,462 days and counting man-made water crisis. The flag, which references the number of days Flint, MI residents have been without water, will be on view at sixteen cultural institutions and universities across sixteen states: Florida, Georgia, Kansas, Kentucky, Maine, Massachusetts, Michigan, Missouri, Nebraska, New Jersey, New York, North Carolina, Rhode Island, and Texas.
With this flag, LaToya Ruby Frazier asks for justice for the communities in Flint, Michigan. The flag serves as a reminder of the number of days residents have been living without water as of April 2018. The photograph is from her 2016 work Flint is Family, where Frazier spent five months with three generations of Flint women who suffer yet still thrive as they face the water crisis in Flint - "the worst man-made environmental catastrophe in recent national memory." "The number 1,462 is the exact amount of days Flint residents have lived without new pipes since the lead leaching took place," says LaToya Ruby Frazier. "And yes, that is a real photograph I took in Flint, where they were keeping locked up pipes behind barbed wire."
Frazier's flag will be raised across the following sixteen locations:

Creative Time Headquarters - 59 E 4th St, New York, NY

21C Museum Hotel Durham - 111 Corcoran St, Durham, NC

Atlanta Contemporary - 535 Means Street, NW, Atlanta, GA

The Commons, in partnership with the Spencer Museum of Art, University of Kansas - 1340 Jayhawk Blvd, Lawrence, KS

Herbert F. Johnson Museum of Art, Cornell University - 114 Central Ave, Ithaca, NY

John Nicholas Brown Center for Public Humanities and Cultural Heritage, Brown University - 357 Benefit Street, Providence, RI 02906

KMAC Museum - 715 W Main St, Louisville, KY

MASS MoCA - 1040 Mass MoCA Way, North Adams, MA 01247

Mid-America Arts Alliance - 2018 Baltimore Ave, Kansas City, MO

Museum of Contemporary Art Detroit - 4454 Woodward Ave, Detroit, MI

RISD Museum - 224 Benefit Street, Providence, RI

Texas State Galleries - 233 West Sessom Drive, San Marcos, TX

The Union for Contemporary Art - 2423 N 24th Street, Omaha, NE

University of South Florida Contemporary Art Museum - 3821 USF Holly Dr, Tampa, FL

Zimmerli Art Museum, Rutgers University - 71 Hamilton Street, New Brunswick, NJ

Upcoming Pledges of Allegiance flags include Ahmet Ögüt, Vik Muniz, and Josephine Meckseper.
ABOUT LATOYA RUBY FRAZIER
Winner of the MacArthur "Genius" grant, LaToya Ruby Frazier's artistic practice spans a range of media that incorporates photography, video and performance and centers on the nexus of social justice, cultural change and commentary on the American experience. Citing Gordon Parks as an influence, Frazier uses the camera as a weapon and agent of social change.
ABOUT PLEDGES OF ALLEGIANCE
Pledges of Allegiance is a nationwide public art project by Creative Time. The project is a serialized commission of sixteen flags, each created by acclaimed contemporary artists: Tania Bruguera, Alex Da Corte, Jeremy Deller, LaToya Ruby Frazier,
Ann Hamilton
,
Robert Longo
, Josephine Meckseper, Marilyn Minter, Vik Muniz, Jayson Musson, Ahmet Ögüt,
Yoko Ono
, Trevor Paglen, Pedro Reyes, Rirkrit Tiravanija, and Nari Ward. Each flag embodies art's ability to channel political passion, providing a unifying symbol around which to unite, as well as a call-to-action for institutions nationwide to raise upcoming Pledges of Allegiance flags in solidarity with Creative Time. Pledges of Allegiance aims to inspire a sense of community among cultural institutions, beginning with an urgent articulation of the political demands of the moment. Each flag points to an issue the artist is passionate about or a cause they believe is worth fighting for, and speaks to how we might move forward collectively as a country. To inaugurate the project, Creative Time raised Marilyn Minter's RESIST FLAG on the roof of its headquarters on Flag Day, June 14. Pledges of Allegiance was originally conceived by Alix Browne and developed in collaboration with Cian Browne, Fabienne Stephan, and Opening Ceremony. ABOUT CREATIVE TIME
Creative Time, the New York based public arts non-profit, is committed to working with artists on the dialogues, debates, and dreams of our time. Creative Time presents the most innovative art in the public realm, providing new platforms to amplify artists' voices, including the Creative Time Summit, an international conference convening at the intersection of art and social justice. Since 1974, Creative Time has produced over 350 groundbreaking public art projects that ignite the imagination, explore ideas that shape society, and engage millions of people around the globe. Since its inception, the non-profit organization has been at the forefront of socially engaged public art, seeking to convert the power of artists' ideas into works that inspire and challenge the public. Creative Time projects stimulate dialogue on timely issues, and initiate a dynamic experience between artists, sites, and audiences. For more information on Creative Time please visit
www.creativetime.org
. To connect with us via twitter use @CreativeTime and find us on Instagram @CreativeTimeNYC. To share the project on social media use the hashtag #PledgesofAllegiance
More Hot Stories For You