BWW Feature: LOVE, LOSS & WHAT I WORE is Brewing as the First Professional Production at Brighton Coffeehouse and Theater March 1-3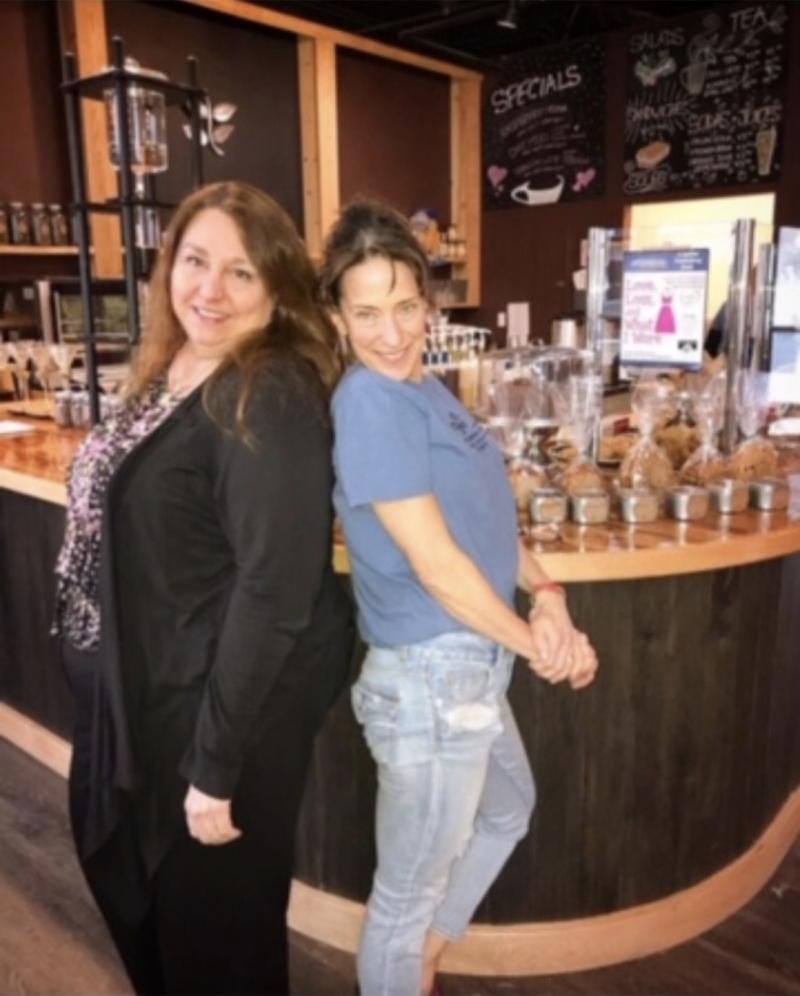 One of the many perks of opening the new Brighton Coffeehouse and Theater (BCAT) is having the variety, versatility and creativity to showcase local talent, serve gourmet, fresh entrees and baked goods, tantalizing coffee and tea drinks and perform professional theater. BCAT opens its first professional production this weekend March 1-3 with Nora and Delia Ephron's Love, Loss & What I Wore in Brighton, Michigan. BroadwayWorld Detroit interviewed Brighton Coffeehouse and Theater Owner, Amy Goller; and Lynn Wilde Concannon, Founder and Artistic Director of A Wilde Theatre whose home stage is at Brighton Coffeehouse about everything brewing at Brighton Coffeehouse.
Here's what they had to say:
How did the two of you meet?
Lynn Wilde Concannon: We met when Amy and Marcus Goller's daughter, Macy, was cast in a Pinckney Players production of The Sound of Music as one of the Von Trapp children. But it wasn't until we started this theatre adventure together that we realized that our paths had actually first crossed 23 years ago when I was working at The Purple Rose Theatre as the Assistant Development Director and Amy had just completed understudying for Harmony Codes and was working on an Educational Outreach project called the Monster. So even though we were in the same building for several months we had never met each other.
What sparked the idea for professional theatre in Brighton, Michigan?
Lynn Wilde Concannon : I recently started working in Brighton and, every day when I would be driving through the beautiful downtown area, I kept wondering why there wasn't a professional theatre there.
Amy Goller: My husband, Marcus, and I were in the planning stages for the Brighton Coffeehouse and Theater (BCAT) when Lynn contacted me that she wanted to start a professional theatre and that she needed a home stage. While I was planning to direct several shows a year for the Brighton Coffeehouse Community Theater, I also wanted to bring in other local theatre productions for the BCAT stage. It was a perfect fit.
Lynn Wilde Concannon: I could tell right away that this was going to be a very special place. We all love theatre and the BCAT is a beautiful space to embrace live arts. Another great thing about the Coffeehouse is that the performance space can be re-figured from a proscenium stage to theatre in the round or even a three-quarter stage area. The possibilities are endless.
Tell us about your theatrical backgrounds.
Amy Goller: I have a BFA in Acting from UC Santa Barbara. From there, I went in to professional acting for live theatre, industrial films, commercial work and voiceovers for TV and radio. I currently direct the plays at Brighton High School and I am a private acting coach. I still do the occasional voiceover. I'm very excited to get back on stage in our first production Love, Loss & What I Wore, which is a lovely, poignant and funny show that Lynn is directing. She chose it as our first show because it could be put up quickly and get our theatre productions rolling.
Lynn Wilde Concannon: Prior to starting A Wilde Theatre, I worked at the Purple Rose Theatre from 1996-2009 as the Assistant Development Director. I left the Rose, to take the Marketing and Development position at Tipping Point Theatre in Northville where I was fortunate to direct three professional shows. Since 1991, I have been part of the Pinckney Players, a community theatre in Pinckney Michigan, where I currently serve as the Board President. There, I have directed over 20 shows, from small-cast to large- cast comedies, dramas and musicals. I love them all. I have a list of great, small-cast shows that will be perfect for Brighton Coffeehouse and Theater's intimate stage for which I will hold general auditions on March 4.
What is Love, Loss & What I Wore about?
Lynn Wilde Concannon: I thought that Love, Loss & What I Wore would be a great opening show for BCAT because it's a very simple set with six talented actresses delivering humorous and touching vignettes and monologues to the audience. It was the winner of the 2010 Drama Desk Award for Unique Theatrical Experience as well as the 2010 Broadway.com Audience Award for Favorite New Off-Broadway Play. It was written by Nora and Delia Ephron and based on the 1995 book of the same name by Ilene Beckerman. The show spotlights Ilene Beckerman's drawings of clothes that she wore during different important moments in her life. They are times that everyone will be able to relate to at some point in their own life, such as your prom dress, wedding dress or outfits from your parenting days, relationships, divorce or even what you wore at your first Madonna concert. As their stories unfold, one's clothing and accessories expand to fill the needs of the moment and, as this wonderfully witty show illustrates, what one wears to the party is sometimes more memorable than the party itself. In addition to Amy Goller, Love, Loss & What I Wear stars Shannon Broadwell, Shannon Smith Egenolf, Laura Mandernack, Kez Settle and Julie Yolles.
How have your families have been involved in starting BCAT and A Wilde Theatre?
Amy Goller: My husband and I have always worked together with our company, Espresso Royale. The BCAT is special because we have no outside partners and we have made all of the decisions together as a family, from the paint chips to the glassware and the menu. Our son, Spencer, would be a junior at the University of Michigan this year, where our daughter, Macy, is currently a freshman. However, he gapped this year to open and manage the Coffeehouse with us. We literally could not have done it without his help. He is amazing. He designed our logo, has done all of our graphics work and is responsible for the Barista training and scheduling among other management tasks. Macy helps as well when she is available. She will be helping me with the BCAT Summer Acting/Musical Theatre workshops that we are planning to host. I worked full-time at TATA Technologies for the past two years to help fund the start of BCAT. I just quit that job last week so, now, I can be found happily behind the counter talking with our friendly customers and talking to myself as I memorize my lines. I also book all of our entertainment and that's super fun. I particularly enjoy our Open Mic Nights hosted by Brighton High School alumnus Syd Burnham. Performers can contact me through Facebook Messenger (follow Brighton Coffeehouse and Theater) if they'd like to grace the BCAT stage.
Lynn Wilde Concannon: This has truly been a family affair for us. My son, Daniel, has been designing all my artwork including the flyers, posters and programs. My daughter, Heather, has set up my social media outlets and my husband, David, has worked tirelessly on the tech end of the show. I have had so much support from all my theatre friends, and I could not do this alone. One of the hardest parts for me has been getting the word out about the theatre. I will be holding General Auditions on Monday, March 4 for the rest of my season and I really hope to see lots of Southeastern talent come out and audition for me. And, of course, I'm also looking for crew, sponsors and advertisers who would love to support live, professional theatre in Livingston County.
PERFORMANCES OF LOVE, LOSS & WHAT I WORE TO BE HELD:
8:00 p.m. Friday, March 1
8:00 p.m. Saturday, March 2
2:00 p.m. March 3
Reserved seats for $35 can be purchased online at www.awildetheatre.com or by going in person to the Brighton Coffeehouse and Theater at 306 W. Main Street, Brighton, Michigan 48116. The proceeds of this fundraiser event will help to cover play royalties for the 2019 season.
A WILDE THEATRE GENERAL AUDITIONS TO BE HELD MONDAY, MARCH 4:
Auditions will be held Monday, March 4 from 5:30 - 8:00 p.m. Actors will be asked to perform a one-minute contemporary comedic monologue and should bring a current headshot and resume to the audition. Callbacks for specific roles will be held at a later date and those candidates will be notified by phone. Auditions will be held at The Brighton Coffeehouse and Theatre, 306 W Main St, Brighton, MI 48116. To sign up for an audition time, please call Lynn at (810) 923-7705. Actors unable to attend general auditions may submit a current headshot and resume to Lynn Wilde, P.O. Box 632, Lakeland, MI 48143. Lynn is also looking for set, lights, costume and sound designers to help with her future productions. www.awildtheatre.com.
Photo: Lynn Wilde Concannon (left) and Amy Goller at the new Brighton Coffeehouse and Theater in Brighton, Michigan.
Photo Credit: Photo by Julie Yolles