Click Here for More Articles on CHARLIE AND THE CHOCOLATE FACTORY
BWW Review: CHARLIE & THE CHOCOLATE FACTORY is a Visual Sugar Rush
You might think you've seen the tale of Willy Wonka's chocolate factory enough, but the musical stage adaptation now playing at the Denver Center's Buell Theatre has got plenty of fresh treats to offer.
The story is generally as you remember it, if you've seen any of its iterations. This one is adapted by David Gregg. Underprivileged Charlie Bucket (Rueby Wood) can barely afford his family's cabbage rations, let alone a chocolate bar. When famous candy man Willy Wonka (Noah Weisberg) announces a contest for an exclusive tour of his factory (located conveniently in Charlie's hometown), he doesn't lose hope until he opens up a chocolate bar with a Golden Ticket inside.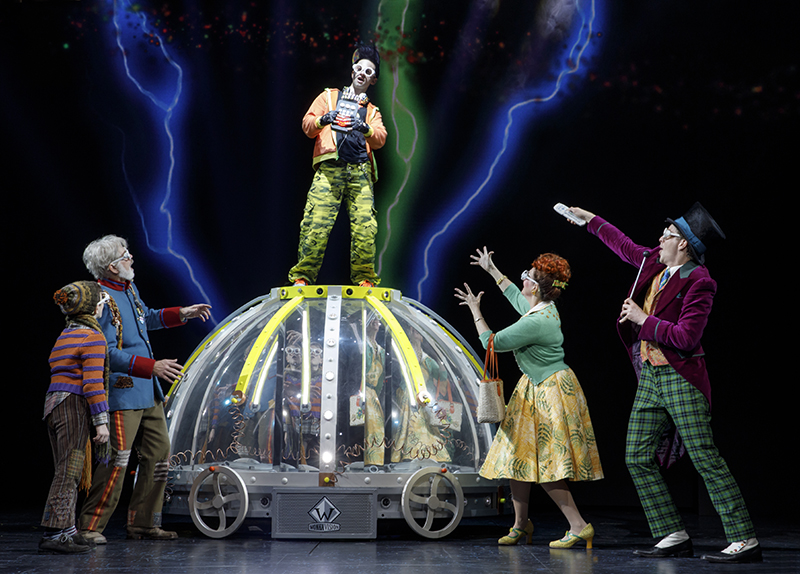 Of course, so do a few other kids, who happen to be kinda terrible. You've got gluttonous Augustus Gloop (Matt Wood), spoiled ballerina Veruca Salt (Jessica Cohen), sassy bubblegum queen Violet Beauregarde (Brynn Williams) and tech-addicted Mike Teavee (Daniel Quadrino). Each kid gets their own introduction song that get better as they come.
All the while, Wonka is undercover as a local candy man in Charlie's neighborhood, bonding with the boy over sweet creations. (Oddly enough, he never really tells Charlie that was him...)
A few songs from the classic film are recognizable (The Candy Man, Pure Imagination, I've Got a Golden Ticket), but generally this show is full of new, original music and lyrics by Mark Shaiman and Scott Wittman It doesn't pack quite the nostalgic punch as the others, but there are a few showy ones that standout.
I was also excited to see the dark humor still present. While it rides a campy line and is still totally family-friendly, Wonka's factory legitimately murders some of these awful children and they do not come back with bandages. Violet explodes, Veruca's torn limb-from-limb by squirrels, and tiny Mike Teavee probably wishes he were dead.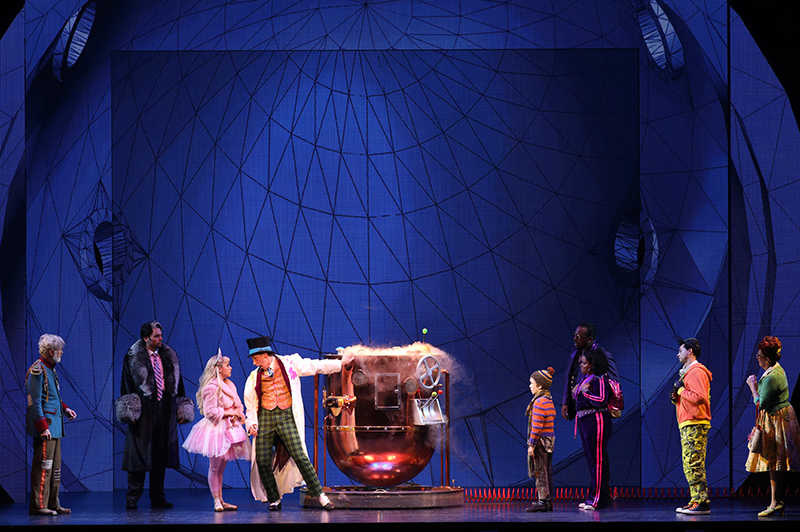 It's the production's technical effects that are truly eye candy. Bright colors, bold set pieces and a few tricks keep the show moving magically throughout the action. It's smarty whimsical and the design stands out from many of the modern musicals you've seen lately.
The entire cast gives entertaining characterizations. Weisberg's Wonka has a lot of heart, but you still get to see his signature snarky side inside the factory. Wood's Charlie is enthusiastic and genuine, which really is the core of the story.
If you catch this one, you've for sure got yourself a Golden Ticket.
Charlie and the Chocolate Factory plays the Buell Theatre with the Denver Center for the Performing Arts through June 28. Tickets at DenverCenter.org.
Photos by Joan Marcus
Related Articles