BWW Feature: SE DET KONGELIGE TEATERS FORESTILLINGER FRA SOFAEN at Det Kongelige Teater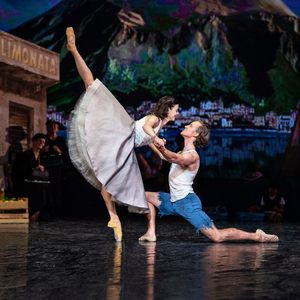 Et udvalg af Det Kongelige Teaters forestillinger er gjort gratis tilgængelige til streaming på KGL Xtra
Det Kongelige Teaters huse er i øjeblikket lukkede pga. coronavirus, men teatret vil fortsat være digitalt til stede for publikum med masser af kunst og gode oplevelser. Derfor bliver det nu muligt at streame udvalgte forestillinger gratis på KGL Xtra, og der vil løbende blive lagt nye forestillinger op til det kulturhungrende publikum.
Den første forestilling er intet mindre end August Bournonvilles mest berømte ballet, Napoli. Om valget af Napoli udtaler balletmester Nikolaj Hübbe:
"Napoli er det mest livsbekræftende værk i hele Den Kongelige Ballets repertoire. Den fortæller historien om Teresina og Gennaro, som sammen formår at besejre selv de værste forhindringer og fristelser, så de til slut kan holde bryllup i Napolis gader. Og midt i en meget mærkelig tid er netop denne ballet med sin vitalitet og danseglæde et must."
Hvis man har børn og har lyst til at danse med på Napoli, genskabe den blå grotte og lære om Det Kongelige Teater og August Bournonville, har Det Kongelige Teater i samarbejde med Forlaget Alinea lavet et undervisningsforløb med masser af undervisningsmateriale til elever på mellemtrinnet, som man kan bruge til undervisningen derhjemme GRATIS - man skal blot have et unilogin. Se mere HER.
De næste to forestillinger, der bliver lagt på KGL Xtra, er
Højskolesangbogen
og
Flagermusen.