Rialto Summer Cinema Opens This Month With JULIE AND JULIA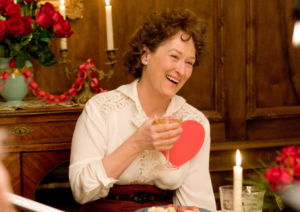 Rialto Summer Cinema 2019 begins with the comedy Julie & Julia, written and directed by Nora Ephron, starring Meryl Streep. The film contrasts the life of chef Julia Child in the early years of her culinary career with the life of young New Yorker Julie Powell. Both women wrote memoirs and find their lives intertwined. Though separated by time and space, both women are at loose ends... until they discover that with the right combination of passion, fearlessness and butter, anything is possible.
The story: In 1948, American chef Julia Child accompanying her diplomat husband, move to Paris where she is drawn into the world of French cuisine. Fifty years later, 30-year-old blogger Julie Powell, decides to spend exactly a year cooking all 524 recipes in Julia Child's recipe book, and write a blog about her experience. With her new project, she attempts to fight depression and escape from her boring and uninteresting job.
Ephron's screenplay is adapted from two books: My Life in France, Child's autobiography written with Alex Prud'homme, and a memoir by Powell, Julie & Julia: 365 Days, 524 Recipes, 1 Tiny Apartment Kitchen (later retitled Julie & Julia: My Year of Cooking Dangerously). Powell's book was based on her blog The Julie/Julia Project, where she had started documenting online her daily experiences cooking each of the 524 recipes in Child's Mastering the Art of French Cooking. The film is the first major motion picture based on a blog.
The film received positive reviews from critics, with Streep's performance gaining the impressions and a Golden Globe, while she was nominated for Oscar for best actress role.
Directed: Nora Ephron
Cast: Meryl Streep, Amy Adams, Chris Messina, Stanley Tucci
In English with Greek subtitles
Information / Reservation: 77 77 77 45, Tickets: € 8, E-ticket: www.rialto.com.cy
Related Articles View More Cyprus

Stories

Shows
More Hot Stories For You