BWW Review: MAMMA MIA! at ACT Of Connecticut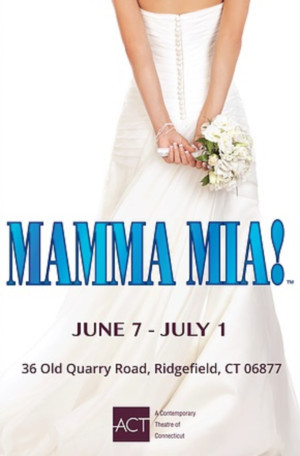 Ridgefield's brand new theater, the ACT of Connecticut, has made an excellent choice for its opening show, MAMMA MIA! This show is based on the music of 1970s Swedish pop group, Abba, songs written by Benny Andersson, Bjorn Ulvaeus, and Stig Andersen, with the book by Catherine Johnson. On Sunday, June 10, I had the pleasure of seeing this show as the first matinee ever performed at the ACT of Connecticut. My high expectations were greatly exceeded!
The theater itself contains a large stage with a rotating center, and seating that is more intimate, yet roomier per seat, than a typical Broadway theater, giving the audience the best of both worlds. The building contains a nice lobby lounge, bar, and a very new and welcoming feel to it.
The set features wavy blue in the background, creating an island aura, as the story is set on an English speaking Greek island. The rotating stage is well utilized to easily move the set from the outside of a hotel to the inside of the hotel.
All the music is live, instrumentation performed by an extremely talented orchestra consisting of guitars, keyboards, an electric bass, and percussion. Led by Evan Zavada, this orchestra sets the feel for the show, right from the overture. While physically concealed from the audience, behind center stage, this stellar orchestra's presence is strongly felt throughout the show, in a very positive way.
The choreography is breathtaking! Every member of this cast is a skilled dancer. The teamwork and coordination between cast members to synchronize their motions as often and as accurately as they do is beyond what I would expect to see, even on Broadway. Choreographer Jason Wise holds nothing back in bringing out the best in the dance moves of this cast that was brilliantly chosen by Binder Casting, Chad Eric Murnane, CSA.
The show opens with talented lead actress Emily Rogers playing the role of Sophie Sheridan, a twenty year old woman who is excited about her up and coming wedding. Never having known her father, Sophie discovers her mother's old diary that contains information revealing the names of the three top suspects. Sophie manages to locate their addresses, and mails each one an invitation to her wedding, but under the guise that her mother had sent the invitations, without even the faintest hint that the bride-to-be was potentially their daughter. Beyond her amazing singing voice and dancing skills, Emily Rogers has the stage presence and facial expressions to sell every line Sophie speaks and every emotion that Sophie feels. Emily Rogers' stage chemistry with all the other cast members makes her varying relationships with them believable, too.
We first see Sophie's interactions with her friends Ali and Lisa who were convincingly played by Erin Riley and Wesley Carpenter respectively. These three actresses gel together so well, that you would think they have known each other all their lives, even though there is no clear indication that such is the case with their characters. Their rather comedic exaggerated excitement upon seeing each other instantly creates the likeability of all three characters. It is to Ali and Lisa that Sophie initially shares her plan to discover her father, with the assumption that she will likely know which suspect he is, when and if she sees him.
The other central female character is Sophie's mother, Donna Sheridan, who is skillfully played by Juliet Lambert Pratt. Donna is a bit leery about her daughter getting married so young, but still supports her daughter's wishes, regarding the wedding. Donna owns a hotel, and is greeted by her friends Tanya and Rosie who are magnificently performed by Jodi Stevens and Sheri Sanders, respectively. It is amusing to see that Donna's exaggerated excitement with her friends, upon seeing each other is identical to that which was earlier shown with Sophie and her friends, reflecting a mother-daughter similarity.
The three potential fathers are Harry, Bill, and Sam, strongly portrayed by Victor Hernandez, Craig Ramsay, and Michael Hunsaker, respectively. Upon all arriving, not realizing the set-up, they all get along nicely with each other. Donna soon sees all three, together, much to her shock and horror. This provokes Donna to start singing the title song, "Mamma Mia." All three potential fathers are likeable in their own ways, none written or performed in a way designed to make the audience specifically hope for him, or hope against him. Rather, the audience is presented with an unbiased choice of who we would like to see be Sophie's true father, a choice that will likely vary among different audience members, for a myriad of reasons.
For those who know the music of Abba, only for their most enduring commercially successful song, "Dancing Queen," this show exposes Abba's other songs to a new and larger audience. For anyone assuming that "Dancing Queen" is all that Abba has ever done, you will be pleased to hear that many of their other songs, are arguably better, including "Mamma Mia," "Gimme Gimme Gimme," "S.O.S.", "Take a Chance on Me," and "I Have a Dream."
MAMMA MIA! is now scheduled to continue to run at the ACT of Connecticut, in Ridgefield, through July 1, 2018. For times and tickets, please hurry to https://www.actofct.org/. The tickets are selling so quickly, that July 1 is already an extension of the originally planned run. In my talking to people around town, the biggest three questions I get about the ACT of Connecticut are location, location, location. If you make a left out of the parking lot of The Gym, heading towards the clothing drop box, but not quite as far as the clothing drop box, you will see, on your right, the sign for the uphill entrance to the theater, a theater that itself can not be seen from the road. If it means anything to you, it is a renovation of the old Schlumberger Theater. For those who just want an address, 36 Old Quarry Road, Ridgefield, CT 06877. I highly recommend MAMMA MIA, and have confidence that the ACT of Connecticut will continue with the high quality production level, in their future shows, such as Evita, Working, and Spelling Bee. They have set the bar high with their first production. I look forward to seeing more from the ACT of Connecticut!